JJ Ramberg on What Works and What Doesn't — Starting and Maintaining a Small Business
By Deborah Jeanne Sergeant
"Understand what's going on in your business so you know if there's a drop somewhere."
JJ Ramberg hosts of MSNBC's Your Business, which targets small business owners. After profiling hundreds of them for four years, Ramberg knows what works and what doesn't when it comes to starting and maintaining a small business. Ramberg is also a regular contributor to the TODAY Show on small business and financial issues.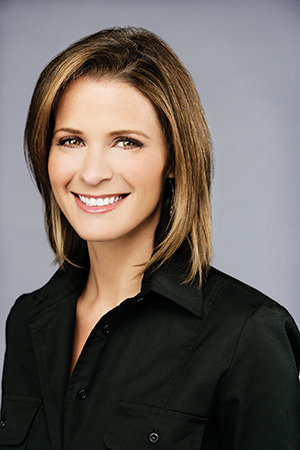 Ramberg's writing includes articles for Cookie Magazine, Conde Nast's Parenting Magazine, and Entrepreneur Magazine. Her forthcoming book is
JJ Ramberg is an author, the host of MSNBC's Your Business, regular contributor to the TODAY Show, and co-founder of GoodSearch.com.
It's Your Business: 183 Essential Tips that Will Transform Your Small Business (Business Plus, Oct. 2012).
Ramberg co-founded GoodSearch.com, a charitable search engine that donates half its revenue to organizations the users select. Home Business Magazine recently spoke with her.
Home Business Magazine (HBM): What is the most common advice of successful business owners?
JJ Ramberg (JR): I receive all kinds of advice from all kinds of people. This book compiles the most practicable and actionable advice people can use. The common stuff is the inspirational things, like "Don't give up" and "Believe in yourself." But this book is filled with practical things you can do. One of my favorites is, "Never say no to a potential customer." I was in a Pilates studio about to do an interview with the owner. Someone walked in and said, "Do you have yoga?" And the receptionist said, "Have you tried cardio-lates?" The owner said, "We train our employees to not say 'no' but to extend the conversation and say what we do provide."
HBM: What are the top mistakes small business owners make when starting up a new business?
JR: When starting a new business, people get blinders on. They have an idea, they stick to the idea, but they don't test it or check with their potential audience to see if this is a good idea. It happens all the time. Talk to your customers, see what they like and what you can change or not change.
HBM: What about conflicting advice?
JR: Have a lot of conversations. Look at the implications of changing, but ultimately, you have to trust your gut. Test your conflicting advice as much as you can through research and conversations.
HBM: Why is supporting charity important to small business owners?
JR: I have a genuine belief in giving back to the community. GoodSearch was based on that belief so people can give back to the community. GoodSearch solves this problem for business owners who don't have extra time or money to donate. We work with 2,500 stores and a percent you purchase goes back to charity. You can purchase all of your office supplies, and the money will go back to a cause you care about, for example.
HBM: How can someone start up a business during a tough economy?
JR: I talked with people starting up in the middle of the recession and employees, and supplies and office space were cheap. As far as companies that are already in existence, many became more creative with how they spent their money. A lot of them stopped wasting money that they didn't know they were wasting after they looked hard at their businesses. Some had to change business models because of the economy. Their market didn't exist or wasn't as big anymore.
HBM: How can home entrepreneurs stay nimble?
JR: A lot of us start out nimble. You need to stay that way. You want to have that in your culture. Check to see why things are going wrong and fix them. Understand what's going on in your business so you know if there's a drop somewhere.
HBM: How important is media outreach?
JR: It depends upon your business. It's a wonderful way to get the word out and to legitimize your company if you have a story done on you. Social media is a great way to get customers. Time is money. If you do this right, it costs money. But social media is great because you put stuff out there and see if it works almost immediately. You can test to see if it will be effective for your company. It's easy if you hit a nerve and talk about something people are interested in. It's easy for them to share with their friends.
HBM: How do you achieve a work/home life balance?
JR: Within five years, I launched a TV show and company, got married, and had three kids. I wish I could say there's an easy way to do that, but I don't think there is. You have to decide what's important to you and work it out. When I'm with my family, I try to concentrate on my family and when I'm at work, I try to concentrate on my work. HBM
Ramberg and her husband, Scott Glass, and their children live in Brooklyn.
Deborah Jeanne Sergeant writes from her home in Clyde, N.Y. Her work includes magazine and newspaper articles, web copy, marketing materials and more. Visit her online at www.skilledquill.net. V19-6 Add:12/12 HP: 1/13/2013