Actor Jude Law Celebrates Stress Rather Than Letting It Overwhelm Him.
By Andy Threlfall, The Interview Feed
Jude Law talks to us about film awards, ceremonies, his fear for the arts in the UK , his next plans, his view on his career so far, and combining being a full-time Dad with being a movie star.
Question (Q): It's been quite a year for you. You've been feted with the Variety Award, a special prize given to an individual who has brought international attention to the British movie scene…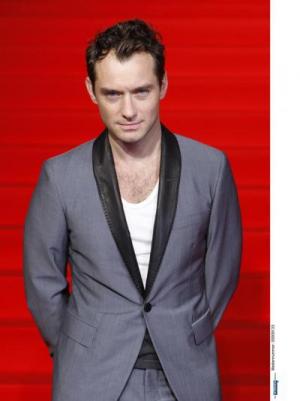 "It really is no harder than it is for anyone else trying to juggle being a worker and being a full-time Dad."
Photo Credits:

Reuters
Jude Law (JL): I've been so lucky. There's a lot of talk about art and acting being cut out of the school syllabus in education. It's more important than ever this year as it looks like the government are going to cut funding even more. Film should be celebrated as an even more important industry than it is done in Britain.
Q: Does it mean a lot to be honored by your peers?
(JL): Yes. And I'm thrilled to be given this award by the British Film Industry.
Q: Do you find getting ready and going to Awards ceremonies stressful?
(JL): Not really, I don't go to many, to be honest. And in this case they were very kindly giving me something. So, no, I don't find it stressful. It's a celebration for me. And it's a very friendly industry.
Q: How are the British Indy Film Awards for you?
(JL): This is a very relaxed event and I've bumped into a lot of friends and had a lot of fun. It's not televised, so that's probably why. It's like the NME awards of the film awards industry. I have song and dance numbers for my big speech. I never get nervous giving speeches.
Q: How do you view your career so far?
(JL): I'm very proud of my body of work in film – but probably not as proud as my mum. She's very proud! I have never gone out to make films to win awards specifically. Looking back on my career, it's been a very interesting, fruitful and thoughtful 20 years in film. It's a thrill when you get recognized. I hope that in my own small way I've been shining a light on UK film.
Q: Do you fear for the arts in the UK?
(JL): We employ not just actors but thousands of technicians, carpenters costumiers, etc. We are globally famous for what we produce. Let's not ruin its future. Artistic education is so important for kids and it must be free and fairly available. But things are looking rather bleak.
Q: Was it cool to be on the Cannes jury in 2012?
(JL): It really was a great honor. Especially because Robert De Niro headed the jury. Cannes is such a great festival, but it was nice to focus on the competition and the glamour this year.
Q: How does it differ from festivals such as London or Toronto?
(JL): Toronto, I suppose, is a lot more of a market, a lot more business goes on there than at London, which is very close to my heart. It's a real privilege to attend the London Festival. I'm a very proud Londoner and I was very proud to play my part in a very international film festival in such an international city as London. It's a great city to live in as well, a great, hearty, important, European city.
Q: How hard do you find it combining being a full-time Dad with being a movie star?
(JL): You know, you do your work and go home and look after the kids. It really is no harder than it is for anyone else trying to juggle being a worker and being a full-time Dad.
Q: Would you like to direct movies one day?
(JL): I make films and I'm very interested in the film process, so, yes, maybe one day I'll even be a director myself. We all have opinions about what's going on in the world and I realize that I have an opinion that I might want to express as a director.
Q: What has been the most rewarding thing for you to see? You've seen so much of the world through acting.
(JL): More than anything, what has helped was being able to feel the hope of the people in the Third World. There's a very cynical, unfortunately violent, image that is projected in the West about Afghanistan and of course there is a front line there. I've seen it myself. But at the same time there's a massive amount of hope coming from people who have endured three generations of war on their doorstep.
Q: Finally, what does romance mean for you these days?
(JL): It means an awful lot. How do I feel about romance? How would I describe it? I guess it means doing something that expresses your feelings for someone.
Q: It sounds a bit like you've found your soulmate once or twice in life. Is that fair to say?
(JL): Well, yes, I believe that we all have a soulmate.
Q: Finally, what's next for you?
(JL): 2013 looks great. I'm going to be in Steven Soderbergh's new film Side Effects. A journey of one man who has three love affairs, one of which is with Catherine Zeta Jones! That's how I fit into it.
1/13 Car: 1/31/13