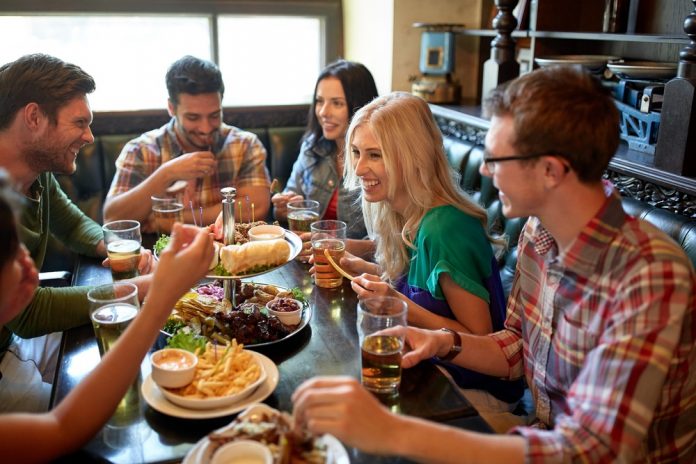 As a restaurateur, the single most important objective in your business should be attaining, retaining and growing your customer base.  While it seems simple, it can be a complex formula which leaves you at the mercy of the whims and changing tastes of the general public and battling the constant influx of competition to the market.
Looking the Part – Building a Brand
A business's front-of-house face is the first impression it will make.  Whether you're looking for hip and funky, elegant and sophisticated or something in between – it all starts here.  Let's face it, people can buy food anywhere.  When they go out to dine they are looking for an 'experience'.  Before opening your doors, equip yourself for success.
Standing out from the crowd by providing customers with quality peripheral goods such as takeaway cups which don't burn their fingers, branded coffee cups and distinctive carrier bags, are the perfect branding opportunity.
Hospitality supplies can be a defining factor in creating a recognisable and identifiable business brand which stays in the consumer's mind for longer.
Keep machinery and front of house equipment uniform and where possible, invest in top of the range products.  Customers have turned away from a restaurant with a poor quality coffee machine faster than any other single piece of equipment.
Selling Yourself
Part of the process in building a recognisable brand is to be seen and be memorable.  You may have the most amazing world class, cordon bleu cooking in town but if no-one knows you exist, you might as well be selling frozen dim sims.
With the constant increase of 'in your face' advertising, standing out from the competition can take some extra pizzazz.  Consider how much impact the following things are representing and growing your business:
Street signage
Shop front
Branding of clothing, equipment and crockery
Logos, colours and designs
Social Media
Snapchat, Facebook, Twitter, Instagram – they are all part of a wider network of social contact sites which have become a valuable and necessary part of marketing a business.  For those unsure of how to set up these accounts, consult the nearest 15 year old!
Facebook can be used to inform customers of locations, opening times, menu offerings and allow them to interact, review and make suggestions. For businesses who don't yet have a website, Facebook can act as an intermediary platform allowing customers to put a face to your establishment.
One rule around social media marketing is – don't bombard your customers.  Only send out relevant messages which will actually be of value, such as two for one offers or special events.
Customer Relationships
Forming an allegiance with customers can keep them coming back.  How important is that?  Harvard Business Review say acquiring a new customer is five to 25 times more expensive than retaining an existing one.
This customer fidelity can be achieved through customer loyalty and reward programs.  By simply offering one free drink or meal for every fifth return visit, you can spice up return business and keep the customers happy.
Investing in reward cards with personalised unique stamps is a great way to begin and they can be printed and purchased through any major printing company.
Email Marketing
Asking customers to give you their email address is a privilege and as such should be treated with respect.  Like social media accounts, customers are constantly confronted with advertising and spam.  Make your email marketing count by only offering customers true value in your email content.
Software such as Mailchimp can personalise and organise email marketing campaigns and best of all, it's free.  Whilst handy, these formal methods are not a necessity and mail outs can be done simply and swiftly by anyone with a basic knowledge of Outlook or similar email platforms.
Exceptional Service
It may be obvious that outstanding service is a valuable attraction for customers but if that is so, why are so few businesses focussed on it.  Creating a customer-centric environment begins with happy, engaged staff who are committed to providing an excellent customer experience.
Put simply, the secrets to restaurant success are:
Build relationships with customers
Offer them value and an exceptional dining experience
Provide outstanding customer service
Advertise, advertise, advertise!
There is no secret formula which will guarantee success in any business arena.  However, there are methods where you can position yourself in the optimum environment to attain, retain and grow your restaurant and its clientele.
Hundreds of Business Opportunities – Visit the Home Business EXPO