Full Print and Digital Circulation – HBM's Best Advertising Value!
Click Here to Order a Classified Ad (1 issue or multiple issues) through HBM's secure Online Order Form.
If you do not want to order online, click here to open a PDF Order Form that you can Fax, Email or Mail in to submit your Classified Ad.
Do you need an economical way to reach Home Business Magazine's (HBM) targeted readers? Then run a Classified Ad in the print version of HBM. Discover one of today's best advertising value on the newsstands and paid subscribers and a FULL range of FREE digital circulation (www.homebusinessmag.com/circulation).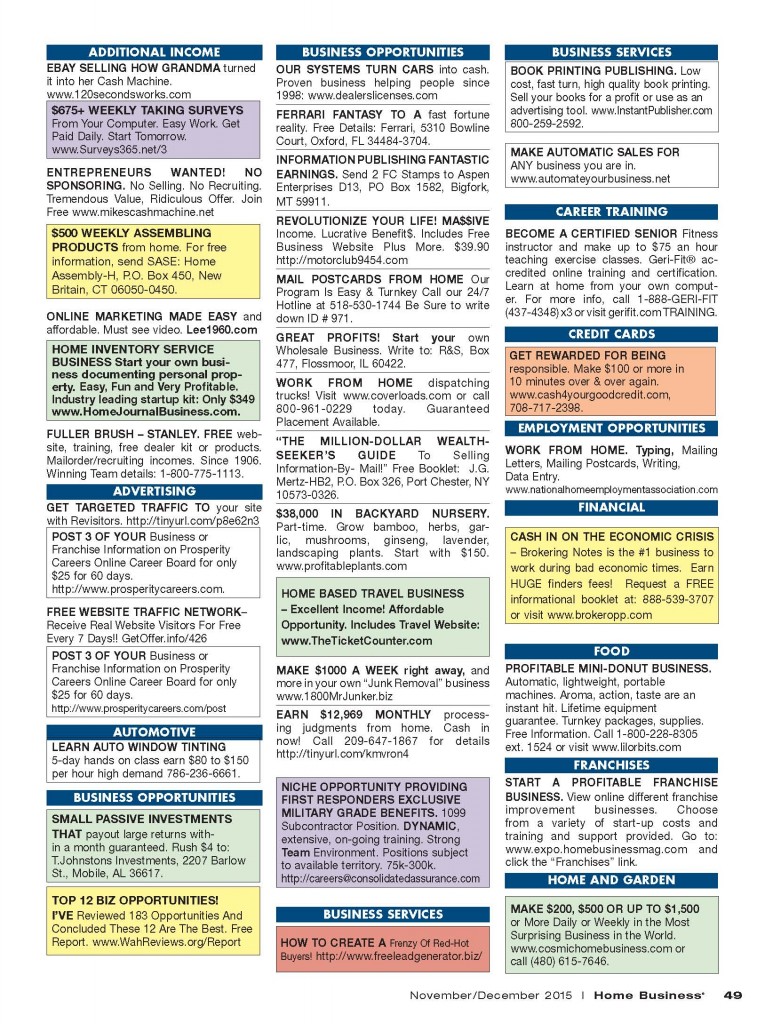 A Classified Ad in Home Business Magazine (HBM) is HBM's best advertising value. Deliver your Ad to tens of thousands of motivated readers for

as low as $45!
HBM Print Classified Ads Offer:
* Low Minimums – Only 15 words – $3.00 per word. As Low As $45!
* Two Months circulation per issue
* Discount Savings: 2 issues–5% off, 3 Issues–10% off, 6 Issues–20% off
* Bold – $.50/word/issue. CAPITALIZE – $.50/word/issue. First 4 words Bolded/Capitalized Free.
* Add Box around Ad: $10 per issue.
* Add color shading to Box: $10.00/issue: yellow, orange, red, blue, green, pink, purple, tan.
Satisfaction Guaranteed! Cancel anytime and receive a full refund on the unused portion of your order.
FREE Digital/Internet Circulation for Print Classifieds
In addition to print magazine circulation, here is FREE additional Digital Circulation for all classified advertisers:
* "DIAMOND" Level E-CLASSIFIED at the HBM EXPO (www.expo.homebusinessmag.com). To order, use the Promotional Code "Diamond" after you purchase and pay for your print classified ad.
* Inclusion in the DIGITAL EDITION of the print magazine. All web site addresses in Classified Ads are "Hyper-Linked"(https://homebusinessmag.com/digital-archives-and-editions).
* Inclusion in the iPad/iPhone custom App (digital version of print magazine)
* ONE FULL YEAR of Advertising Results! Through the DIGITAL EDITION, your Classified Ad will continue to receive RESPONSES for at least one year.
SEE EXAMPLES OF CLASSIFIED ADS – Click Here!
To see how Classified Ads appear in a Print Magazine issue, open a DIGITAL EDITION and view the Classified Ads section in the back of a magazine issue.
** DUE DATES FOR CLASSIFIED ADS: These ads must be ordered and received by the close of business on the "Material Due Date" for each print magazine issue (See Issue/Closing Dates of Print Magazine ).