Full Print and Digital Circulation – HBM's Best Advertising Value!
Click to Order a Classified Ad (1 issue or multiple issues) – Secure Order Form.
Use this SECURE form to order a Print Classified Ad for 1 issue (3 months), 2 issues (6 months – Save 10%), or 4 issues (1 year – Save 20%). Discounts are included in prices in order form. Rate is $3.00 per word per issue, with 15 word minimum. First 4 words of Ad are bolded and CAPITALIZED free, and additional Bold and CAPITALIZED words can be purchased. Please note: Each word, group of letters, abbreviation and zip code count as 1 word. All copy subject to Publisher's approval.
* DUE DATES FOR CLASSIFIED ADS: These ads must be ordered and received by the close of business on the Monday after the "Material Due Date" for each print magazine issue (See Issue/Closing Dates of Print Magazine ).
FREE E-CLASSIFIED: 
Order a print Classified Ad and receive a FREE "DIAMOND" Level E-Classified Ad at the HBM EXPO:
http://www.HomeBusinessExpo.com/classified
 . After you purchase and pay for your print classified ad with this online order form, go to the EXPO and use promotional code "Diamond" to order a DIAMOND E-Classified.
HBM Print Classified Ads Offer:
Low Minimums – Only 15 words – $3.00 per word. As Low As $45!
Three Months per issue
Discount Savings: 2 issues–10% off, 4 Issues–20% off
Bold – $.50/word/issue. CAPITALIZE – $.50/word/issue. First 4 words Bolded/Capitalized Free.
Add Box around Ad: $10 per issue.
Add color shading to Box: $10.00/issue: yellow, orange, red, blue, green, pink, purple, tan Color Shading – Add a Box and then color shade the Box.
Satisfaction Guaranteed! Cancel anytime and receive a full refund on the unused portion of your order.
FREE Digital Circulation in the magazine's Digital Edition and iPad/Native App editions.
E-Classified at the Home Business Expo (www.HomeBusinessExpo)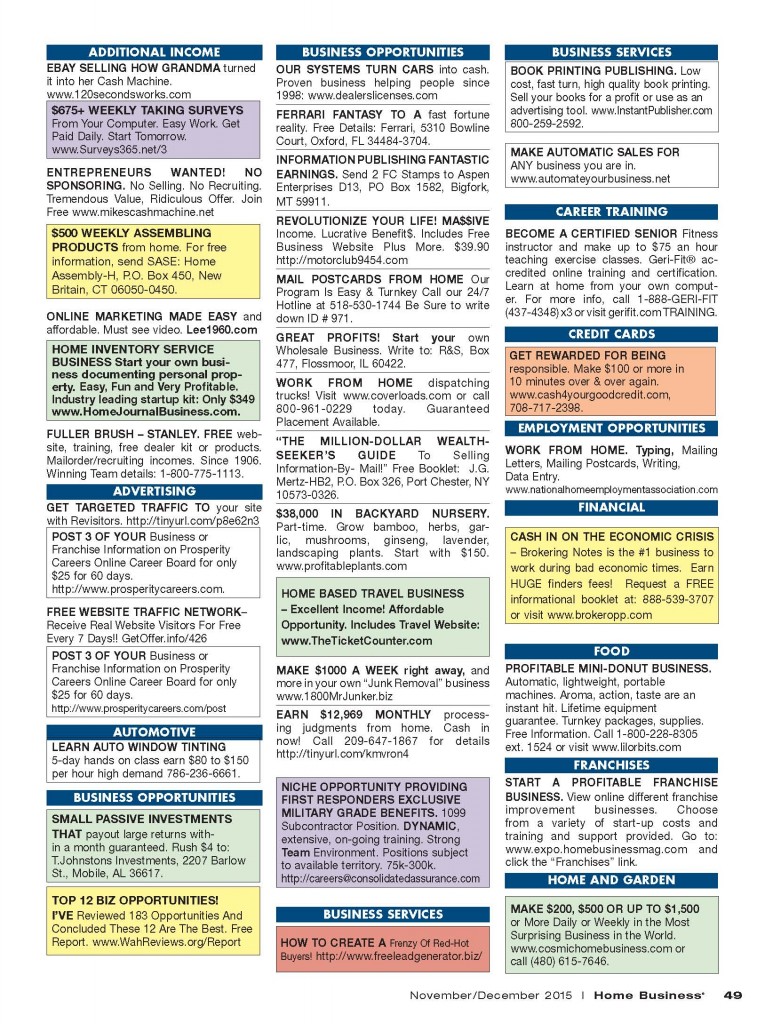 A Classified Ad in Home Business Magazine (HBM) is HBM's best advertising value. Deliver your Ad to tens of thousands of motivated readers for

as low as $45!