Extravagant Beauty Sponsors Made a Huge Presence
By Shannah Carol, Publicity Editor for Home Business Magazine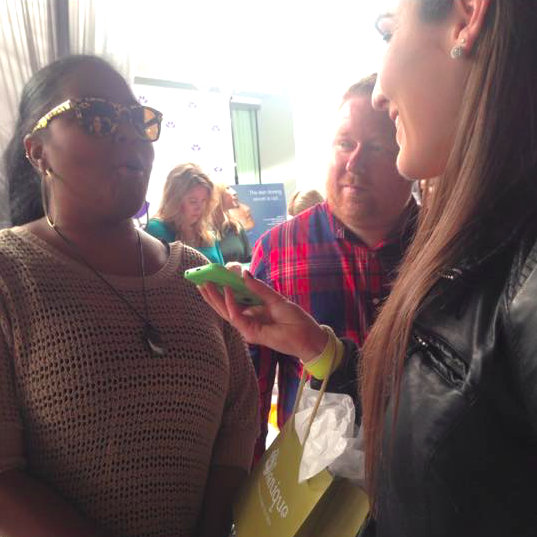 Home Business Magazine's Publicity Editor, Shannah Carol, Interviews Moesha Star Shar Jackson.
The 2015 Golden Globe Awards took place last night, which recognized the year's best of the best in movies and television. Home Business Magazine celebrated the awards with top Hollywood stars at Secret Room Events' renowned 2015 Golden Globe Style Lounge on Friday. Held at the SLS Hotel in Beverly Hills, the posh party gave celebrities like Weeds star Page Kennedy and Moesha actress Shar Jackson the chance to enjoy yummy eats, indulge in luxe fashion and beauty gifts, and toast to the Golden Globes in sophisticated style!
Extravagant beauty sponsors made a huge presence at the Secret Room style lounge. Home Business Magazine and the high profile guests were gifted with platinum sponsor derma e's all-natural hand cream and Microdermabrasion Scrub, Body & Soul's distinguished hair care products, and Finishing Touch Elite's esteemed Personal Hair Remover. Guests also went gaga over the MicroTouch Max All-in-One Personal Trimmer, Bain de Terre's Argan and Moroccan oil-infused hair care products, and Tanique's innovative new Essentials Mitt that exfoliates and erases sunless tanning.
The A-list guests also loved all of the fashion sponsors at the style lounge. The stars received the revolutionary B Belt that features hidden pockets, Golden Girls' trendy and stretchy jeans, Jennifer Reeves' classy Australian opal jewelry, Shimmer jewelry tattoos, and Kathy Fielder's chic infinity scarves and lifestyle gifts. Guests were also presented with Stella Carakasi's refined designer women's clothing and a gift card for platinum sponsor MoxieJean's upscale resale maternity and baby fashions.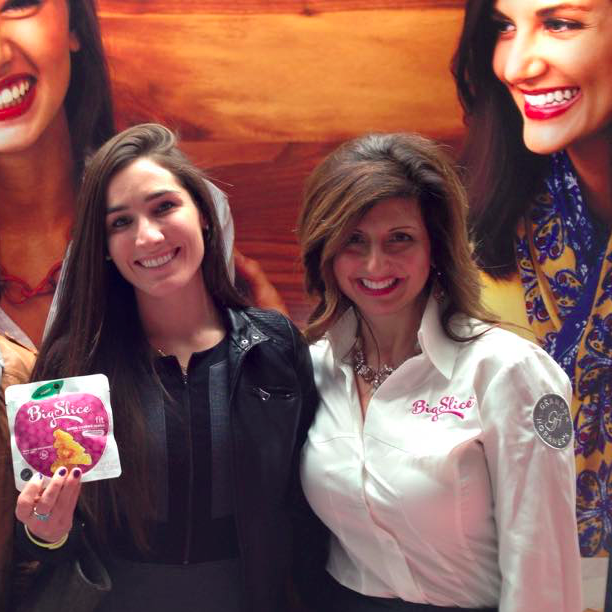 Home Business Magazine's Publicity Editor, Shannah Carol, Enjoys Platinum Sponsor BigSlice Kettle-Cooked Apples.
Home Business Magazine and the stars also loved the food sponsors, including platinum sponsor BigSlice's wholesome kettle-cooked apples, DelGrosso's authentic Italian pasta sauce, Snack It Forward's healthy new fruit and nut Sunkist Blends and Sunkist Fruit 2.0 freeze-dried fruit, and Zend's natural relief for stress and anxiety. New and expectant parents also enjoyed SleepBelt's skin-to-skin baby support system, Belli Vita's blown glass pregnancy belly bowls, and phil & teds luxury strollers.
While learning about the spiritual Fortune Sticks book by Lara Marconi, Ph.D, Home Business Magazine caught up with Weeds actor Page Kennedy. He was happy to share some of his favorite gifts at the lounge.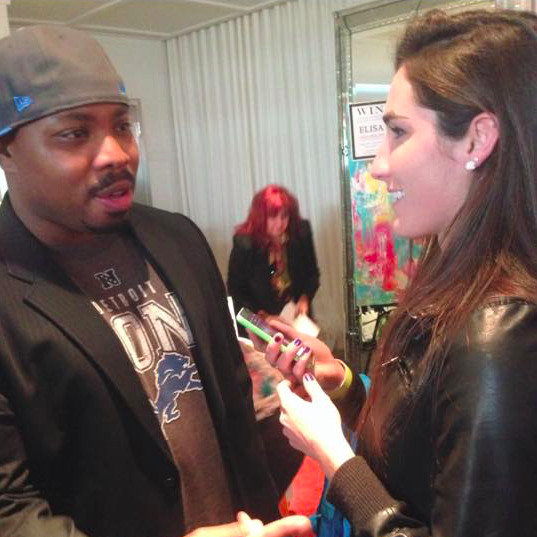 Home Business Magazine's Publicity Editor, Shannah Carol, Catches Up With Weeds Star Page Kennedy.
"So far, my favorite gift is the freeze-dried fruit and fruit and nut blends from Sunkist! I am on this healthy regimen right now, so it is cool that we received those snacks. They will be fun to eat! Those snacks are the best so far," he said.
He also shared his other plans for Golden Globes weekend.
"I will watch and enjoy the Golden Globe," he said. "It's going to be a great awards ceremony to watch, because there are so many great contenders and difficult categories to judge. In regard to my top favorites, I really liked Jake Gyllenhaal in Nightcrawler. There are a lot of great ones, so it's tough to choose!"
And what is the talented actor currently working on?
"I have a new show called Backstrom on Fox, which comes out in two weeks. You should check it out!"
While browsing Susan Devine's lovely contemporary oil paintings and notecards on display, Shar Jackson stopped to chat about her favorite gifts at the style lounge.
"I love anything that is edible, so I definitely enjoyed the Sunkist freeze-dried fruit snacks," she shared.
And what was she looking forward to doing the most during Golden Globes weekend?
"I am excited to dress up after the holidays!" she said. "I also have some top award picks, as there are so many great films. I hope that Selma and About A Boy win big."
To reach Shannah Carol, email shannahch@gmail.com . add: 1/15 hp:1/17/15