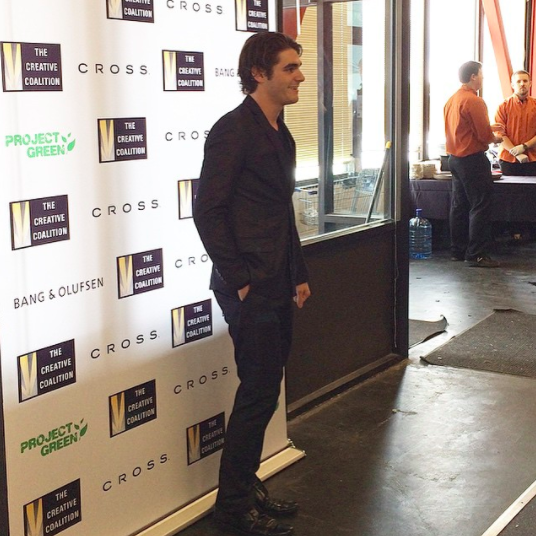 Sundance is world-renowned for its marvelous film selections and stunning gift lounges, but even more important are the many charitable causes the festival benefits. On Saturday, January 24, Home Business Magazine and celebrities like Dancing With The Stars winner J.R. Martinez and Breaking Bad actor RJ Mitte attended The Creative Coalition's annual Teachers Making A Difference Luncheon, presented by Cross Pens. Held at the Bang & Olufsen House by Emerge, the red carpet luncheon reunited superb teachers with their "star students." 
Hosted by The Creative Coalition President Tim Daly and actor Richard Kind, the luncheon was a classy and enlightening experience for all of the Hollywood big names in attendance. On the red carpet, Tim Daly chatted with Home Business Magazine about the importance of the luncheon.
"I am President of The Creative Coalition and we do this event every year," Tim shared. "It's really emotional, because celebrities bring back teachers who were special to them and believed in them when no one else did. These teachers also might have mentored them and set them on the course to where they are now. It's wonderful for the teacher to be here at Sundance to experience all of the excitement. It's also fantastic for the former students to be able to honor their teachers, as it gives them the chance to find out a lot about each other. It's funny and moving and Sundance is the perfect place to do it."
The Wings actor went on to chat about his new show, Madam Secretary.
"I am working on a television show called Madam Secretary and was just barely able to sneak in here and get out," said The Creative Coalition President. "You should watch it on Sunday nights."
All My Children actor J.R. Martinez also stopped by on the red carpet to chat about why The Creative Coalition is so important to him.
"It's about using our platform, utilizing the power that we have in the entertainment industry to speak out, and using our voice to talk about something outside of just us and our projects," J.R. said. "It's about educating others and giving them the tools that they need in order to be creative as well and be artistic. The Creative Coalition gives them the opportunity to feel like they have a voice as well. 
I didn't hear about The Creative Coalition for a while, but I am still learning more about it. It is a lot of people who come together and use their platforms to raise awareness about something good."
J.R. went on to talk about a major reason why he was at the 2015 Sundance Film Festival.
"I am here at Sundance because I am supporting Shriners Hospital," he shared. "They are having a panel to talk about allowing the entertainment industry to accept people with a 'disability.' It's about working with people who may have a burn, a scar, an amputation, or whatever it may be and giving them the opportunity to be on-screen as actors and actresses or work as directors, writers, or whatever. 
There is this misconception in the entertainment industry that when you turn on the television, you have to see someone who is completely perfect. That isn't the case. I think a lot of people at home want to see actors who are real and who have overcome hurdles. Part of that is from the physical element."
And what is the actor currently working on?
"I am currently working on putting together a show that highlights other people and their stories. I've had the amazing opportunity to talk about me over the last 12 years and what I've done on different platforms, but now I am ready to turn the camera around and focus on other people. That's currently what I have going on." 
At the luncheon, Home Business Magazine also caught up with Emmy-winning actor John Leguizamo. He expressed why he was happy to be at the event.
"People mentored me and gave me the chance to make it," he shared. "Now it is my turn to give back, and it feels good to give back."
John went on to chat about his experience at the 2015 Sundance Film Festival.
"It's been good! I saw A Thousand Saints last night and Ethan Hawke was electric. He killed it. It was such a touching and powerful film. I will also see the premiere of my film, Experimenter, go to some parties tonight, get some fun swag, and do photos with my cast, Winona Ryder and Peter Sarsgaard," he said.
And what else is the esteemed actor currently working on?
"I am working on a movie with Bryan Cranston called Infiltrator," he revealed. "I am honored about that! I am also doing a pilot for CBS next week."
John Leguizamo also shared his top tips for people thinking of getting into the acting industry.
"Take some acting classes! So many people want to bypass that and go right to the fame. No! Don't skip the classes and go find a great acting teacher and study. Everything will come to you," he said.
To contact Shannah Carol, please email shannahch@gmail.com.