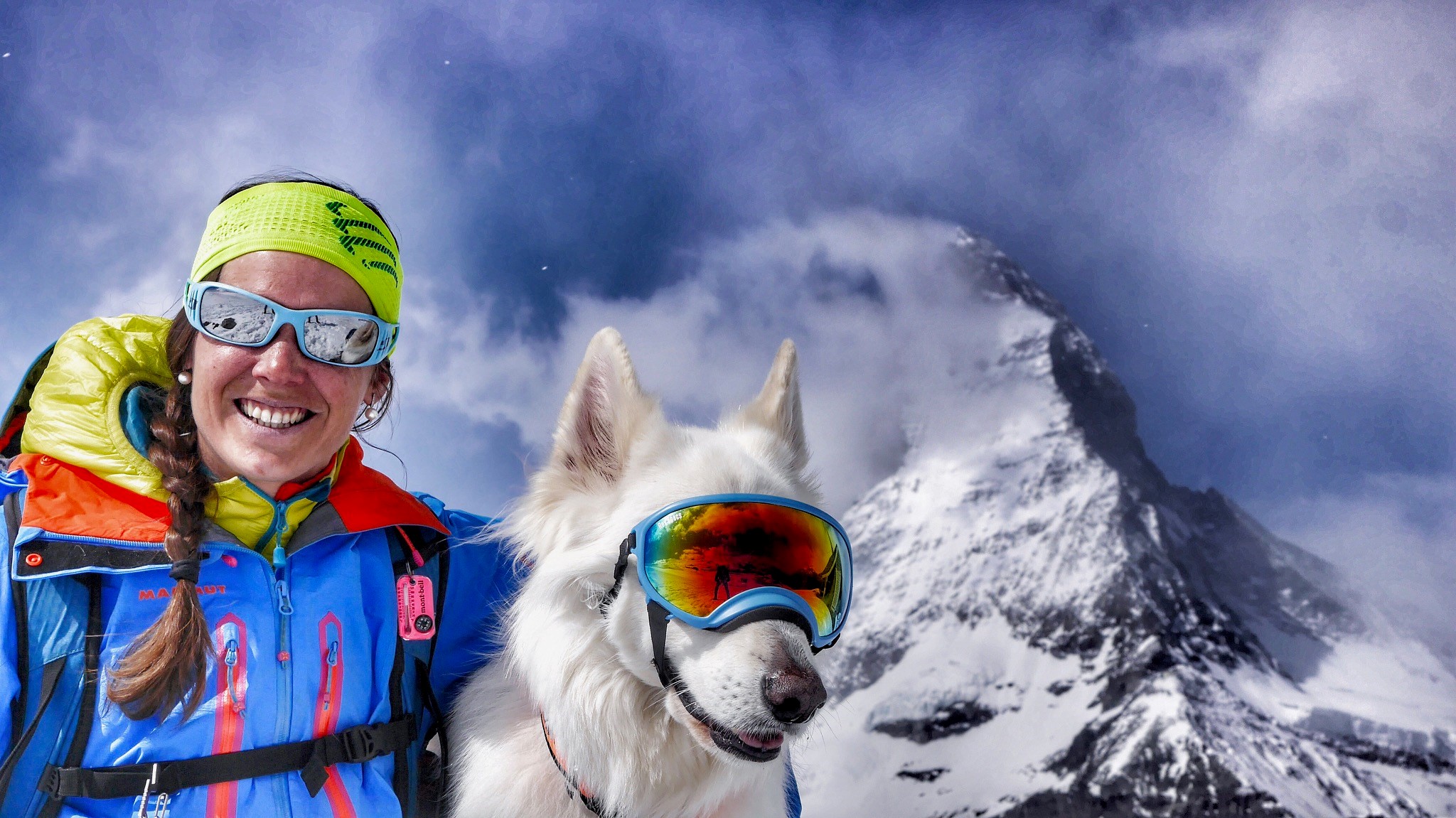 When young entrepreneurs Aiden Doane and Jesse Emilio have a free minute, you'll likely find them outdoors. They're off running trails, fishing the Snake River, trekking in Grand Tetons National Park and enjoying every bit of the rugged adventure that is Jackson, Wyoming. Always by their side are faithful companions Yaz and Tuckerman, the couple's beloved dogs.
But in 2012, news from the veterinarian threatened to change the couple's way of life and confine their active, outdoorsy canines to a life on the couch. Tuckerman, an otherwise healthy two-year-old German Shepard was diagnosed with Pannus, an often painful inflammation of the cornea that can lead to blindness. Yaz, an active husky suffered from swollen, sun-blistered eyes. UV rays make both conditions worse, so treatment included keeping the pups indoors and out of the sun.
"I was bummed! And, I felt responsible and wished I'd noticed the issue sooner or been able to prevent the condition from the start," says Aiden Doane, co-founder of Rex Specs. "But, at the same time I wasn't going to deprive my dog (best adventure pal) from what he and I loved – being outside exploring and adventuring together."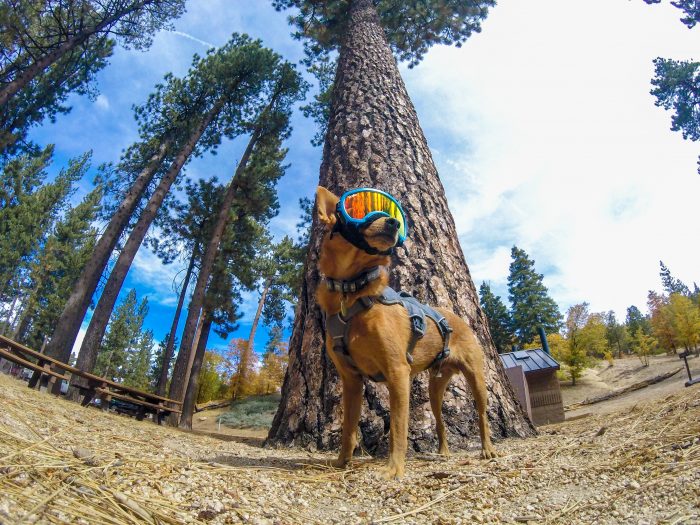 "So, I started the treatments but kept our life the same but the fear of causing further damage always tarnished out time outdoors."
Eye conditions in dogs may be more common than most people know. German Shepherds, like Tuckerman, are prone to Pannus. Dogs with light colored eyes, like Yaz, are often diagnosed with sun- related eye irritation. In fact, one statistic finds most dogs will be diagnosed with some sort of eye ailment by the time they are 8 years old. That includes everything from abrasions to Pannus to cancer. While the numbers can be frightening, there's good news: many eye conditions can be prevented or treated simply by using eye protection.
Learning eye protection could make a difference was the beginning of a journey for the young couple. Jesse and Aiden were determined to find a way to keep their dogs part of the adventure. They began looking at other dog goggles on the market but couldn't find ones that stayed put, fit well, and offered the kind of protection their active dogs needed. So, they decided to make their own – using ski goggles and ingenuity.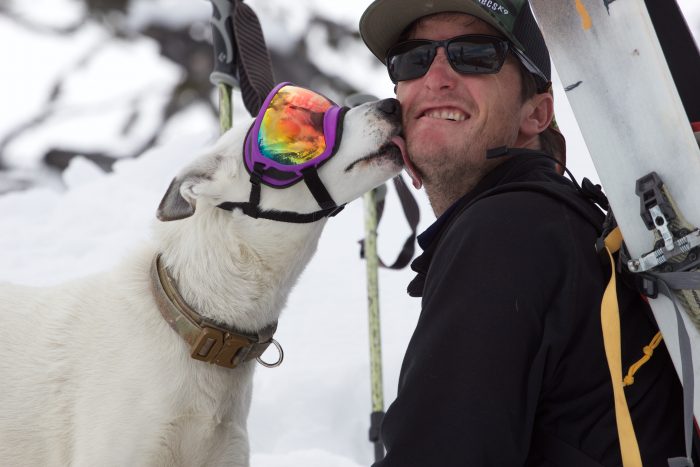 "We cut them up, glued them back together, used parts and pieces, added features – always playing with how the product fit on the dogs' face and functions needed," says Doane. She adds they probably hacked up 30 pairs of expensive ski goggles in the process until they finally arrived at the perfect dog goggle.
Jesse's carpentry experience and Aiden's MBA helped them turn a quest to protect their own pets into a business. They created Rex Specs to help protect dogs' eyes from all sorts of dangers the outdoors can bring, not just the sun. Today, Rex Specs dog goggles are used by all kinds of active dogs including dogs in the military, bird dogs, rescue dogs and family pets that just enjoy the great outdoors. A Yellow Labrador Retriever named Frida made headlines around the world in September when she was seen rescuing dozens of people after a series of devastating earthquakes struck central Mexico. Frida wore Rex Specs to protect her eyes as she made her way through rubble to save lives.
Rex Specs lenses are rated UV400 – that means they keep out 99.99% of UVA and UVB rays. They also protect against wind, sand, sticks and debris. Rex Specs pass the American National Standards Institute's Z87.1-2010 test for impact resistance and they are made to fit comfortably and securely.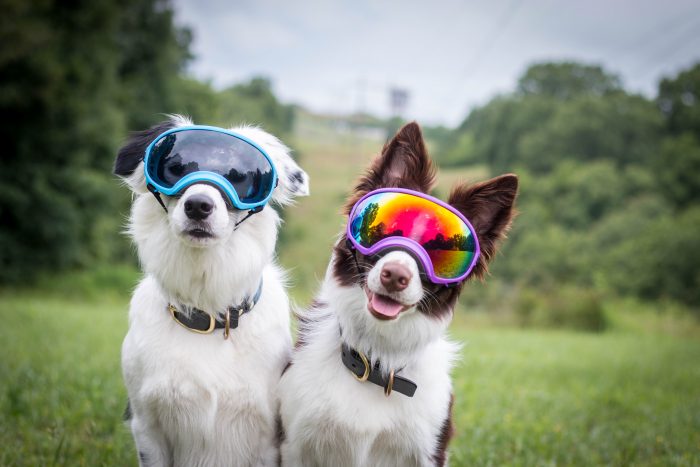 "I will never say that every dog needs Rex Specs, but for those that do we provide the necessary protection. Many dogs will suffer from eye disease or damage at some point throughout their life. Rex Specs can prevent these issues and assist in the management and treatment. From UV protection to post-surgery to helicopter deployments, Rex Specs provide quality, dependable protection," says Doane.
As for Yaz and Tuckerman, they're still enjoying the great outdoors, protected from the sun's harmful rays – and looking ever so cool in their Rex Specs.
For more information on Rex Specs visit www.rexspecs.com.