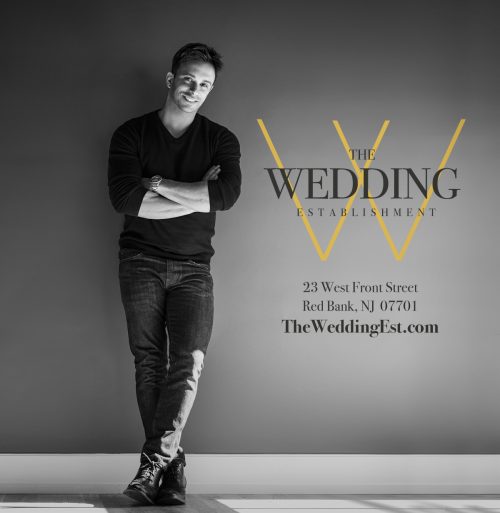 From a young age, Mike Hernandez was intrigued by weddings. He remembers sitting behind the drummer of his father's wedding band as a little kid watching all the components of a wedding come together. After walking out of college 3 credits shy of graduating, Mike rebuilt the family wedding business Sound To Go DJs. Through building the company he realized something was missing within the wedding industry. He imagined a collection of creatives, under one roof with the ability to provide many different services that today's Wedding, Life Event or Corporate function may require and so The Wedding Establishment was born.
The Wedding Establishment has now come to fruition after many years of being conceived in Michael's mind. With 50+ years of experience housed under their roof, The Wedding Establishment offers a variation of services from DJs to Band to Photography/Video to Stationery/Invitations to Officiant to Event Planning to Decor and Furniture and so much more. The creatives of the Wedding Establishment treat each event with its own vision – the customers. All of their professionals provide services without a premeditated product. They use guidance and their creative abilities to provide every event with the unique touches the customers want, yet with the stability that will ensure a wonderful experience for their guests.
---
---
The Wedding Establishment, also offers another unique service that is not just for brides and grooms, the Karma Desk. It's simply a desk for anyone to use. As Hernandez is a small business owner himself, he knows that comes with many challenges, including finding a place to meet or a quiet place to work, which is why he created the Karma Desk; anyone, even direct competition is free to use the desk.
"I've always noticed amazing yet unknown talent in the wedding industry that if given the proper platform would enable talent to excel beyond their own imaginations. The platform I created is hyper focused on talent zoning in on their actual talents and their talent only. No paperwork, no overhead expenses and no stress. I've invested in people that are not only incredibly skilled at what they do, but are equally matched by the character of the person they are, which is monumental in the wedding game. Since day one my mantra has been that we will create the most impactful wedding community of all time and that's where we are heading. We are just getting started."
With one of the most beautiful wedding one-stop shops in the country, The Wedding Establishment sits on Red Bank's waterfront with a stunning 4,000 square foot storefront, with hardwood floors, exposed brick walls, crystal chandlers and Macy's style windows. Displayed are various designs and styles for Weddings and Events that will highlight many areas including Decor, Table Settings, Furniture, Stationery Designs and much more that will be continuously changing, and a living Pinterest-like wall, with invitations, guest seating charts, center pieces and much more; guests are sure to leave very inspired. With the Wedding Establishment, Hernandez is sure to change the industry with this never-before-seen business model.