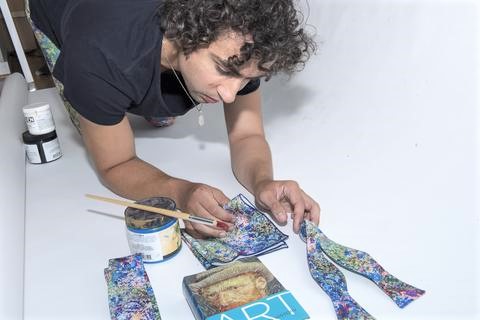 Bringing art to life, Dress Abstract was founded in the Spring of 2014 by Nima Veiseh. As a doctoral researcher in Design and Sustainable Economics and working as a professional painter, Veiseh never expected to find himself in the fashion industry. During his studies, he quickly realized that there was both an enormous amount of material waste and pollution created by the fashion industry, as well as an enormous amount of talent waste in America. While traveling through over 40 countries, Veiseh saw that the textiles industry provided among the most jobs and training to folks in developing countries. His solution was to employ neglected refugee talent in the U.S. to make timeless pieces of wearable art, that must never need to be thrown away, and so Dress Abstract was born.
---
---
As the world's first art publisher of the fashion industry, Dress Abstract creates certified, limited-edition pieces that are tracked and signed by the artist, in a process that is analogous to creating an official print of a museum painting. The collection features a gallery-worthy assortment of Trench Coats, Leggings, Scarves, Jackets, Bow Ties, Neck Ties, and Pocket Squares, ranging in price from $24.00 to $1195.00. At Dress Abstract, their team treats the clothing they design like a canvas as unique as anyone – ignoring trends and focusing on creating treasures that can be embraced by all generations.
The brand imports their fabric and works with American vendors and employees to perfect their products. So other than looking fabulous while wearing these timeless pieces, consumers are actually helping displaced artists and hard-working refugees build a life in America as well. Dress Abstract works closely with each of their partners to make sure that either employment or proceeds from sales go to the benefit of the workers. Dress Abstract guarantees their quality, and if any of their items needs to be recycled, they will send a free shipping label to return it for a gift certificate toward a consumer's next item.