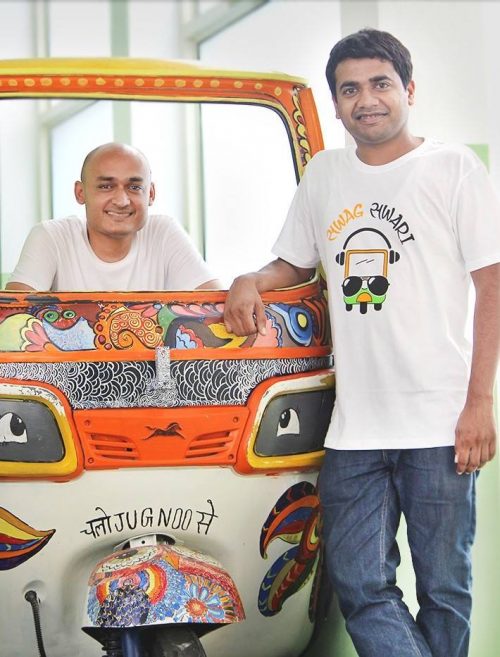 Jugnoo, India's leading auto aggregator is one of the very first one in this segment where they employed auto rickshaws (Tuk-Tuk), an ubiquitous and low-cost transport as their logistic partners. Making its way to the heart of India – Tier II and Tier III cities where 80% population of the country resides, Jugnoo was launched in the year 2014, as an on-demand auto rickshaw aggregator. Soon it evolved, expanding its business operations, technical advancements and verticals and transformed into a go to platform for all hyper-local needs. Founded by Samar Singla and Chinmay Agarwal, Jugnoo thrives on strong work experience of the team along with its muscular technology.
---
---
Both the founders of the company are alumni of IIT( Indian Institute of Technology) – Delhi. Samar, a physicist by education comes from a business family and hence always wanted to be an entrepreneur himself. His first company was Prodigy foods and second was Click Labs, a profitable SaaS technology provider, which he launched in year 2011 along with Chinmay. Chinmay Agarwal, Co-founder and Chief Operations Officer at Jugnoo did his Joint Masters in Advanced Robotics on Erasmus Mundus scholarship from Ecole Centrale Nantes, France and University of Genoa, Italy after his B.Tech and went on with his entrepreneurial journey with Click labs.
In 2014, Samar and Chinmay launched Jugnoo at a leading college fest (PECFEST) in Chandigarh where people were offered free rides. The response received at the fest was phenomenal which gave them the initial kick. It made them sense the potential of such a service in India and led to the start of connecting the Indian auto-rickshaw with passengers, further utilizing it for logistics. Today, Jugnoo is a rapidly growing with team size of around 1000 people, market presence in 40 cities, more than 15,000 drivers and clocking 50,000 transactions each day with 5 million registered users.
Jugnoo was conceptualized with a thought of solving the everyday basic hassle by providing affordable services pertaining to the daily needs of its customers via single platform. There are around 5 million auto-rickshaws in our country, whereas the utilization is only 30%. Thus, Jugnoo was launched to bring structure into this unorganized sector of auto rickshaw, providing work to drivers and affordable means of transportation to the public. Within two years of inception, the company started using their logistics network across different verticals of hyper-local space and launched diverse range of services like Rides, Ready to eat meals, Restaurant food delivery, Grocery and B2B Delivery. Jugnoo also launched a UPI enabled payment interface for its customers as an initiative towards cashless economy.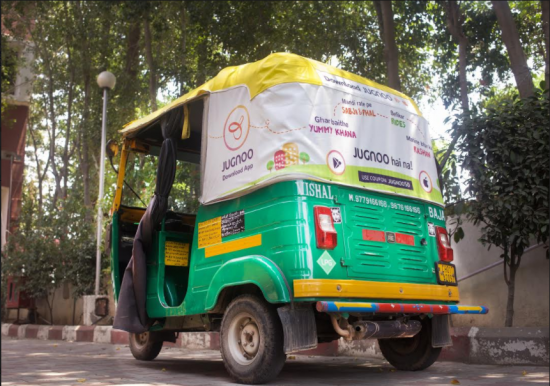 The journey of Jugnoo started when the aggregation concept was fairly new in India and especially in transportation industry. And entering at that time with auto rickshaw segment was very challenging. For this, both Samar and Chinmay had to convince auto drivers to adapt to technology based mobile application for which they showed reluctance initially. Auto drivers came from a section of society which is not familiar with technology or technology based platforms. Convincing them to use tech-enabled platform as a means to earn their livelihood was a big task. Most of the time was invested in educating and training the drivers about the technology. At the same time Jugnoo constantly strived to keep the app as easy to use as possible for them. Drivers were encouraged and made them understand the various advantages of integrating technology in their routine activities and how they can benefit from it in long run.
The unique factor that motivated the company was that it was the only startup in India to utilize the auto-rickshaw sector in so many different verticals. Jugnoo was launched with a vision to bring structure into this space and tap its potential in best possible way. They utilized their workforce into numerous segments. The deliveries are done by drivers who are not taking rides at that time. Company worked on leveraging the existing supply rather than creating a new one. A tangible business model was made without cash burn, unlike other players in this sector who are burning enormous cash to acquire customers, hence making Jugnoo stand apart from all the existing competitions.
With the goal to be an instant on-demand mate for all the daily needs of the customers, company strived to provide all services right at the door step with just one click on mobile phones. It utilized the highly underused resources and at the same time used the brand to uplifts millions of people socially and economically be it drivers or consumers. .
With the investors like Snow Leopard, Rocketship.vc, Alibaba-backed payments firm Paytm, and the CEO of Snapdeal-owned Freecharge, Jugnoo was also able to raise $16 million funding.
Jugnoo started scaling its international operations in 2015 and now has offices in USA, UK, Mexico, Romania, Hungary and Philippines. The company has also diversified into global markets with its B2B ventures, providing cost effective B2B logistics solutions to over 17,000 clients in 150 countries across the world with its B2B technology provider- Tookan. This has been a significant initiative leading to better avenues of growth and generating more revenue for the company.
With the strong belief in "Execution" of the ideas, the company intends to further extend its reach in India, and introduce each of its services across those cities. Its mission is to become a prominent brand in the hyper-local segment in Tier II and Tier III cities in the near future by creating a diverse transportation system that benefits all involved.