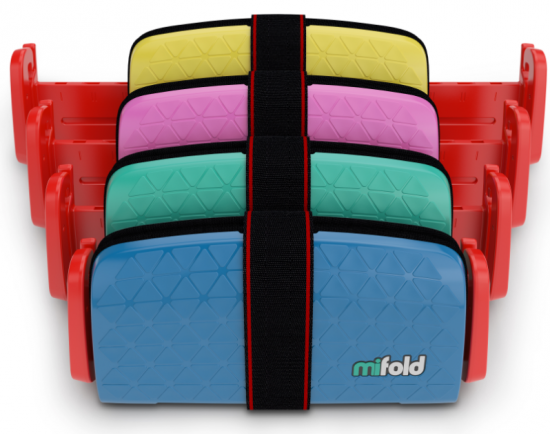 by Laura Richards
Jon Sumroy, the founder and creator of the mifold Grab-and-Go booster seat, says he got the idea for his product around 2002 during the endless carpool shuffle that occupies so much of suburban life. Jon lived in Englewood, NJ, at the time and was working at a tech startup. "I had three young children and they were all using car seats regularly or they were carpooling to school in someone else's car without the right protection and it really bothered me," he says. Sumroy thought a compact version that was safe, light, easy to carry or even put in a car's glovebox would be a great idea. Then, in 2012 a friend sent him a magazine article that said 50 percent of children don't have a car seat when they're carpooling. Sumroy says, "That old light bulb went off: Nobody had yet solved the problem."
Sumroy spent countless evenings and weekends in his garage designing the first prototype himself, fashioning it out of canvas and straps. A year later, he launched mifold, now the most advanced, compact, and portable child car safety seat in the world. It's 10 times smaller than a regular booster and just as safe. It's intended for children between four and 12 years old who weigh between 40 and 100 pounds.
Last year mifold had a hugely successful campaign on the crowdfunding site Indiegogo, where it raised $2.6 million. The company's original target was $40,000, an amount Sumroy says the campaign raised in its first two hours. By the end of the first day, it had raised $150,000. mifold has also raised $3.3 million from investors including $1.5 million from Sweet Capital an investment fund run by the founders of King Digital maker of the popular mobile game Candy Crush.
Sumroy couldn't have dreamed that his desire to make life easier and safer for his kids and their friends would result in worldwide product recognition and help other kids from across the globe. What is especially satisfying are the stories he hears from those whose kids were not just helped but kept safe in an accident. Multiple families have reached out to Sumroy but the White family shared their story and credit their mifold boosters to saving their kids' lives in a significant car crash last year.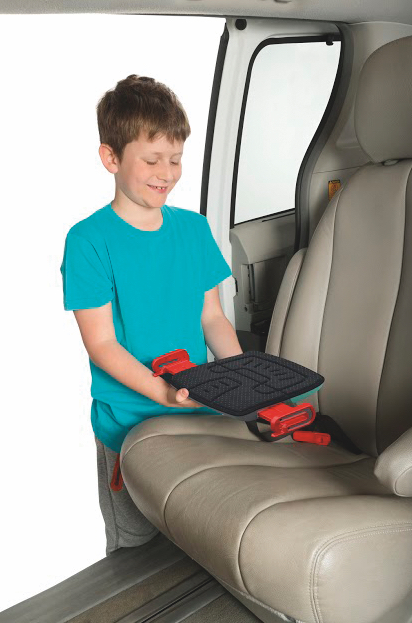 Kylynne Huber shares, "Our accident took place on September 30, 2016. I decided to purchase the mifold booster seats because we have four kids in car seats and I loved the idea of having such small seats to be able to fit my older kids in the back with a 5-point harness car seat in the middle of them. I took the brunt of the impact. When I knew I was going to crash, I turned my van to try and take most of the impact over my kids. Thank goodness it worked. I hit the steering wheel with my chest and my entire face, so I've had residual issues from that, as well as whip lash and back issues."
The entire Huber Family walked away from the wreck without any hospital stays and even used the mifold boosters after the accident to get the kids home as our home was an hour away and they were still safe. Huber says, "I know without a shadow of a doubt that my kids were saved because they were properly placed in car seats and booster seats. I have been wondering how the mifolds would withhold a wreck, and I am now 100% confident in saying they work!! My babies are safe!"
Not only did Sumroy's amazing booster save, lives his mifold booster is now used by the Bradley County Sheriff's Office in Tennessee in some of their patrol cars to transport kids in emergency situations. There is no doubt other police and sheriff's office will follow suit which makes it all worth it to Sumroy!
The mifold® Grab-and-Go booster seat® retails for $44.99. For more information on mifold, visit www.mifold.com
---
---