Man Profits from His Love for Photography and Video
By Home Business Magazine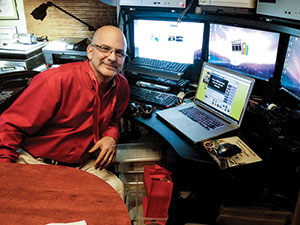 Dan Weiniger isn't afraid of heights. He has worked in high finance at the American Stock Exchange in Manhattan, in high calories as the owner of two ice cream shops in Florida, in high selling of life insurance, and now in high tech as the owner/operator of Home Video Studio in Westfield, NJ. For nearly three years now, Weiniger has been building his home-based business skyward by providing video services — from simple tape/DVD transfers to complex editing — to a host of clients, both personal and corporate.
So how did Weiniger end up working on a quiet street in his two-story colonial after the bustling environs of Wall Street? Like many franchisees (or studio owners, as they're called), he found his way to Home Video Studio by way of his love for photography and video as a hobby and by his vision of making an impact in his customers' lives. Weiniger, who grew up in New Jersey, obtained his degree in finance from Arizona State University. After working those "high" jobs, Weiniger met his wife Jan, moved back to New Jersey, adopted a daughter, and was fortunate to settle in as a stay-at-home dad. As life sometimes goes, however, there was a curve in the plan. Weiniger had congestive heart failure and suffered a heart attack. Upon recovery, he decided to make a few changes in his life. Remembering his abiding love of video and photography, Weiniger enrolled in a class in visual communications. It was in this class that Weiniger met Pete Gallo, who was in the video services business, was enjoying it, and was making good money at home. Pete told Weiniger about Home Video Studio.
Weiniger immediately attended a Home Video Studio webinar hosted by the Founder and President Robert Hanley. It became apparent to Weiniger that he could work from home while bringing joy and laughter to his customers with tape to DVD transfers, old home movie transfers, photo and video montages, and duplications. He knew he'd found what he was looking for.
Soon Weiniger was on the road to studio ownership. His daily diligence, creativity, his customer service skills, drive, and sales skills all make for a good Home Video Studio owner. "I like running a successful business, and I like being home with my family," says Weiniger. "That's why this is a perfect fit for me!" HBM