Woman Trades Fashion Stylist Career to Become a Successful Home-Based Artisan Jam Purveyor
By Home Business Magazine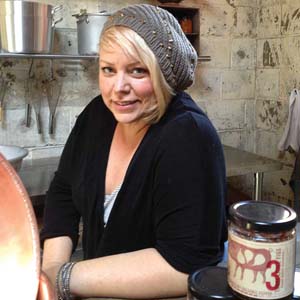 Liz Cowan is the owner and head chef at Three Little Figs, which produces high quality, artisan jams out of a full-sized industrial kitchen in Northeast Portland.
Liz Cowan had worked for 15 years as a sought-after fashion stylist in Los Angeles and in New York for the country's top fashion publications such as Rolling Stone, Vanity Fair, and GQ, and for celebrities such as Angelina Jolie, Ryan Gosling, and Christina Aguilera. Liz is proving her entrepreneurial prowess yet again. Her latest enterprise is a wildly successful home-based empire of small-batch artisan jam at Three Little Figs in her return to Portland, Oregon.
Always the entertainer and entrepreneur, Liz turned her passion for creating the elaborate cheese boards and party spreads into a whole new venture with Three Little Figs. Cowan's funky and savvy sense of style combines of-the-moment design with the highest quality of artisan jams perfect for polished cooks and hostesses. Locally sourced and inspired, each Three Little Figs jam tells a different story of Cowan's travels and her favorite dishes and drinks from around the world. The result is a vast variety of jams bursting with sweet and savory global flavors, such as the case with top sellers Balsamic Fresh Fig, Tomato Tapas Jam and French Onion Confit. All are made while using only the best seasonal Pacific Northwest ingredients, and with each batch of Three Little Figs jam exclusively yielding fewer than 18 jars.
Liz has come a long way from entertaining friends with handcrafted jams out of her home kitchen, and Three Little Figs has bloomed to become the must-have accompaniment for stylish entertaining. Cowan now produces her high quality, artisan jams out of a full-sized industrial kitchen in Northeast Portland, distributing Three Little Figs nationally in boutique food shops such as Bedford Cheese Shop in Brooklyn, New York and Little Vine in San Francisco, California. Proving through her accomplishments in both the fashion and food industries, Liz possesses an unconventional and memorable entrepreneur success story. For more information, visit http://threelittlefigsjam.com.