This is a sponsored post by UnitedHealthcare. All thoughts and opinions are my own.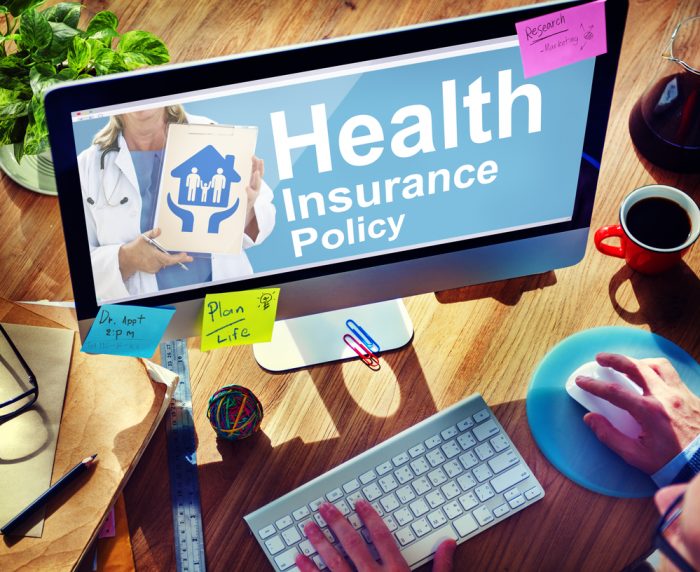 Scrolling through Indeed or Monster.com, a promising candidate narrows down his or her search by checking off a list of criteria. Whether that be the commute time, reviews on the company culture, skill proficiencies desired or the salary range, there are quite a few factors for applicants to consider. Without a doubt, prospective employees place strong emphasis on one vital factor when applying for a job: the benefits a company offers.
Small business owners struggle at times to figure out the proper health care coverage to attain for their employees. 63% of businesses report health care is a major concern due to cost and coverage issues. (1) It can be difficult to afford providing health insurance when a small business's budget is tied down by operational costs. Many small businesses are self-funded and have no outside investors supporting the ventures. Business owners worry about slow quarters where profits take a nosedive or plateau, and they are stuck paying out expensive salaries along with providing insurance, with no cash flow. In a risky economy, entrepreneurs often decide to take the safe route and hire employees as independent contractors to avoid paying insurance. To guarantee company loyalty and a happier employee, a company's best bet is to provide health insurance and draw in valuable talented employees.
On top of the financial concerns, many small business owners struggle with the convoluted nature of health insurance websites, and therefore forgo deciding on plans in fear of misunderstandings or attaining the wrong ones. They find the process of picking the correct health care plans time consuming and confusing. (2) With so many options on the market, and little time to sift through all the websites, small businesses push the task to the bottom of their list, finding the process simply anxiety-inducing.
The benefits of offering health care to employees warrant the attributed costs for an employer. Employees with insurance will be more relaxed in the workplace, and feel secure in day-to-day life. They will receive frequent checkups and be able to take proper care of their health. Healthy employees are far happier, productive, and motivated than employees suffering from illnesses, whether that be sleeping problems or more severe diseases. Having health insurance will enable employees to let go of personal worries and sharpen their focus, performing to the best of their abilities.
One company has stepped up and made it possible for business owners to buy small business health care coverage in a stress-free manageable way. UnitedHealthcare launched a new online shopping experience that enables you to efficiently pick out and purchase health care coverage. They truly keep the process simple with an organized website layout clearly depicting each step for businesses to take.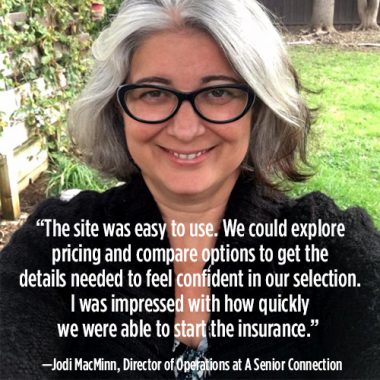 Business owners first have the chance to review the various medical plans based on their location and choose their ideal plans. Next step is submitting the employee information. Basically, you would get prices that are based on the employees' personal information, including gender and age of the employees and their families. Your next move is to set the pricing for your plans—how much you wish to pay per employee. UnitedHealthcare's flexible plans allow for companies to modify plans based on their budget, keeping all parties satisfied. Last step is to checkout and purchase everything online. There's no need to call in to customer service or leave the comfort of your couch.
UnitedHealthcare tackles the health insurance quandary in a few key ways. The website is a perfect fit for small business owners as it is set up to serve businesses with 2—50 employees. The straightforward site design guides visitors through the three-step buying process with no surprises or difficult hoops to jump through. We tested it out here at Home Business Magazine, and found it only took 20 quick minutes to finalize the process. People new to understanding health insurance will be able to make an informed decision in a snap. Should you need help, there are coverage advisers on hand to answer your questions via phone or email. You can bypass the frankly irksome process of finding health insurance by quickly reviewing all the details you need. UnitedHealthcare makes it so visitors instantly feel confident in the choice their making.
So how exactly does UnitedHealthcare help you choose health care coverage for your employees?
They apply no pressure to pick the right plans. By choosing your location, you'll see a list of available plans and you can either offer each plan or customize the package of plans for your employees to choose from. Employees will be able to utilize an employee online plan selection tool that will guide them to decide on a plan that is best suited for their lifestyle and health demands. Employers will need to offer at least 6 plans for this tool.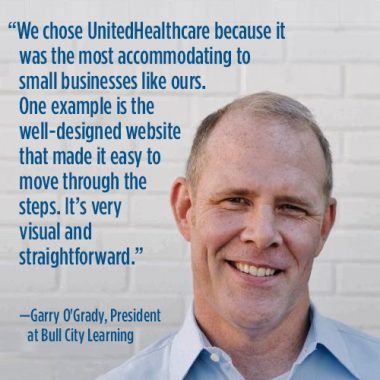 The site offers assistance via "learn more" buttons you can click on to learn more about fundamentals of health insurance or other information that will educate you on the various aspects of using and providing health insurance. As a valuable advantage, employers have the opportunity to provide employees additional specialty benefits, including dental, vision, and life as part of the plans.
UnitedHealthcare provides better pricing information than other sites because as noted, each quote is specialized to your business based upon the characteristics of your employees. Once the information (such as age/gender of the employees and family members) is entered into the website's system, the website will then provide the price quote. Regardless of the price, you can decide the price you pay per employee and how much of the cost will be his or her responsibility. Your financial cost will remain the same regardless of the plans your employees choose.
With many sites online to choose from, Home Business Magazine believes UnitedHealthcare can provide our readers a simple and effective solution to purchasing health care insurance. Start shopping for insurance today at smallbusiness.uhc.com.
(1) Source: The Business Journals SMB Insights, Businesses with 5-499 Employees
(2) Source: Superstore Quant Report, 2015 National Accounts Client Scorecard Survey
The views expressed do not reflect those of UnitedHealthcare nor its affiliates. They are the personal opinions of the authors. While UnitedHealthcare has made every attempt to ensure accuracy, the information contained in these blogs may change and UnitedHealthcare assumes no responsibility for errors, omissions, contrary interpretations of the subject matter or information herein or for any losses, injuries, or damages arising from its display or use. These blogs may connect to other websites maintained by third parties over whom UnitedHealthcare has no control. UnitedHealthcare makes no representations as to accuracy, completeness, suitability, or validity of any information contained in those linked blogs or third party websites.  Blogs are for general informational purposes only and not intended to be medical advice or a substitute for professional health care.