Over the past few years, Bitcoin has grown in popularity and relevancy. Today, nearly twenty-five percent of the American population are familiar with Bitcoin and there are now more than 1,200 Bitcoin ATMs located worldwide. There is an abundance of reasons to purchase Bitcoin but one of the underlying factors that make modern digital currencies so popular is block chain technology. This unique system helps to ensure that the consumer remains in complete control of their wealth without the need of third parties or intermediaries.
While Bitcoin is currently the most widely used digital currency, others have continued to originate from all over the world. The latest is DasCoin. It offers a plethora of new features that may very well give it the ability to surpass Bitcoin in popularity and adoption.
Wider Compliance
Bitcoin and other digital currencies have been shunned by many governments. This is not a coincidence. Many consumers have used such currencies as a way to skirt laws. Bitcoin is commonly associated with illegal activity, such as terrorism, drug trafficking and money laundering. DasCoin aims to be one of the very few crypto currencies to be accepted by governments around the world. The currency is designed to fully comply with current terrorism financing and anti-money laundering legislation.
This will greatly increase the likelihood that more merchants and corporations will begin to adopt this currency, thus making it far more beneficial to holders.
Enhanced Convertibility
Another obstacle for digital currencies like Bitcoin is that most consumers find it very difficult, if not impossible, to convert their digital assets into and out of fiat currencies like the US dollar or Euro. This is where DasCoin completely differentiates itself. After DasCoin have been minted, they can be converted into a wide assortment of assets, including Bitcoin and other fiat currencies. The minds behind the project expect that it will be traded on a number of internal and external exchanges giving consumers the ability to painlessly convert their traditional currencies directly into DasCoin.
The ease of use and fluidity of DasCoin will definitely give it an edge over other current crypto currencies.
Almost Guaranteed Adoption
At this point in time, there is little to no incentive for accepting Bitcoin. This is definitely true for most retail merchants. Massive price fluctuations, slow transaction times and increasing fees make Bitcoin less appealing to brick and mortal stores as well as e-commerce shops. The team behind DasCoin have created partnerships with leading technology providers to seamlessly integrate DasCoin into the point-of-sale (POS) systems of millions of merchants worldwide. DasCoin also uses a referral-based marketing system which is designed to encourage the development of a global network, willing to recognize, promote and adopt DasCoin.
Added Efficiency
Many digital currencies have faltered, due to a lack of efficiency and convenience. In many cases, it can take several hours for Bitcoin to be transferred from one wallet to the next. This can slow down your operations and leave consumers in limbo. This is where the DasCoin Block chain technology truly excels. Unlike other digital currencies, DasCoin will give users the ability to transact within a matter of seconds. It has been confirmed that transactions normally take only six seconds. Plus, the system utilizes a hybrid structure that ensures it can be updated with ease.
More Security
The security required to safely use crypto currencies has always held back a lot of consumers and businesses. Many lack the computer skills needed or simply do not trust Bitcoin in general. This is another problem that DasCoin will address. According to the official website, http://dascoin.com, the DasCoin network ensures greater security for all users. Measures have been put in place to ensure that only authenticated users can participate. And of course, the user is required to always validate each transaction by utilizing a smart-chip enabled wallet. This will ultimately give users more peace of mind when they send and receive DasCoin between friends, family, or strangers.
A Bright Future
There is undeniably a bright future for DasCoin and those that adopt this highly innovative currency. This digital asset can be used for almost anything and it offers major advantages over many of its predecessors. Therefore, it shouldn't be surprising to find that DasCoin grows in popular and eventually dwarfs Bitcoin in terms of adoption and usage around the world.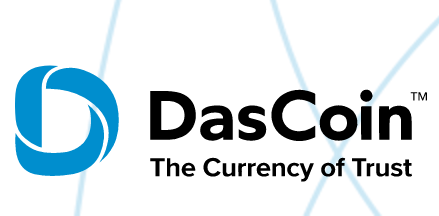 ---
---