I've been a successful professional photographer for 30 years. I have run my business both from my home and in a busy retail space.
I moved my studio back into my home 8 years ago. From a financial perspective, the decision was simple. I was photographing away from my rented studio space or "on location" over 90% of the time. Plus, the work I was doing in the studio didn't require too large space.
Running your business from your home is a big decision. It affects your personal life and your business.
What are the financial benefits or drawbacks?
You can save the monthly expense of leasing space. However, having a space dedicated solely to the business experience may well increase your sales. A careful analysis of your business operation will lead to the best decision. Don't be afraid to ask for an opinion from a few of your most trusted clients.
Having run my photography business both from my home and in a retail environment, I know both can be successful. For me, that success was defined by the nature of my business at that time. Ten years ago, as my business evolved from working with families to more B2B clients, I moved out of a retail space. Most of my work is done on location and my home studio can accommodate any other needs that arise. My home and family life had evolved where having people come to my home studio is no longer an intrusion as it had been with a young family.
When I first started, I ran my studio in my basement. After six months, a single experience informed us it was time for a change. My one-and-a-half-year-old son's heavy breathing at the bottom of the studio door while I was taking a portrait. It sounded like Darth Vader was waiting for us upstairs! That moment taught me and my wife that it's time to find a more professional environment to best serve both my clients and my family.
What do you need to consider?
How frequently do clients visit your business?
Do you have a separate private entrance?
If clients come through to your personal space, are you prepared to keep it pristine?
What about noise in your home while your clients are there?
You must keep the business space separate and professional looking – for your clients and your sanity!
So, you've got that physical space all sorted out. Awesome! What about your mental space? This can be a bigger challenge for many. It requires a certain discipline to work at home. There are many distractions at home vying for your attention. It's a beautiful day outside and the grass needs cutting…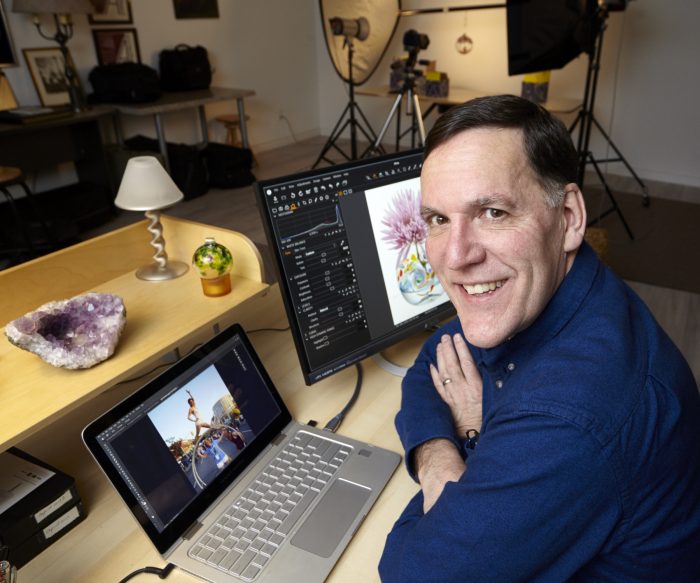 The lifestyle currently works beautifully for me. I can (potentially) work Saturday and Sunday and take time for myself Wednesday or Thursday afternoon if need be. There have been times when I had to set more rigorous timelines to make certain the "less appealing" jobs got done. Let's be honest. As an entrepreneur, you often have to do everything including those jobs you don't enjoy and might be inclined to avoid. And, often, they are the ones that define your success.
Consider setting a defined work schedule:
Monday – business planning/marketing
Tuesday – work production (photography for me)
Wednesday – bookkeeping, client care
Thursday – production
Friday – production/sales
The list above is rudimentary. You can break it down to parts of a day that suits your business. The commitment to a routine keeps you on a task and focused on your business and away from distractions. A useful tool I learned from my wife – on any given day, first do the jobs you dislike the most!
What do you wear when you're not seeing clients? Getting dressed, ready to see someone tends to set the right tone for me. I do know folks who diligently work in, shall we say, more casual attire all day long. You have to find the right fit for you. My only suggestion, be completely honest with yourself.
Here's a little honesty. My biggest challenge can be snacking – it's just too easy while hard on my waistline!
One of the biggest hurdles I faced when I started my own business was not having people around to share ideas with, to socialize with. Running a business from home can feel a little lonely. Join different networks to not only help grow your business but to get out and meet people face to face!
I love running my business from home and don't foresee that changing anytime soon. With planning and commitment, you can create your own success from home!
To learn more about my story including business ideas, I'm temporarily offering a free downloadable copy of my book "Image Power: Balancing Passion and Profit in Business" at https://davidmcphoto.com/imagepower/.