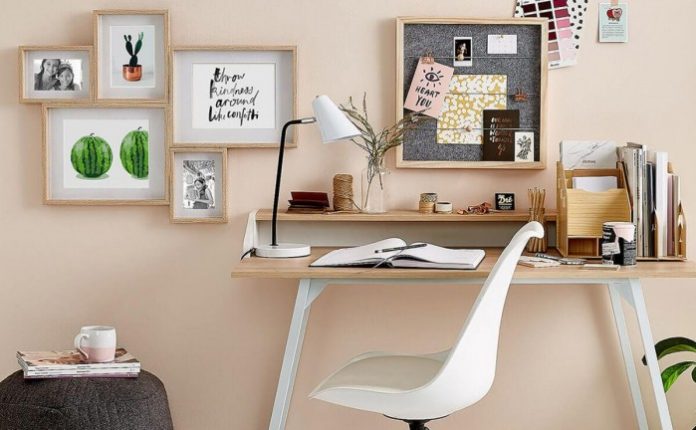 Working from home, especially if you're running your own business, is the ultimate illustration of freedom. However, with the privilege to set your own schedule, an extreme amount of self-discipline, motivation, and an exceptional work ethic are required. To truly enjoy the flexibility that accompanies the job, you'll need the proper office setup. An insufficient space not only increases the likelihood of distractions, but you'll be less productive and efficient, and most-likely lack motivation and focus. However, with all the necessary elements in your home office, you'll be as productive and efficient as ever, producing only the highest-quality work, and enjoying all the benefits associated with the luxury of working from home.
Privacy
The first and most important step in creating your home office is actually designating a private space for your office to be constructed in. Privacy is extremely important. You will not get work done from your living room couch while cartoons are playing in the background and the dog is barking at the squirrel he has spotted across the yard. You'll need your own space with a door. A sliding office door suggests a professional and modern appearance and sets the perfect tone for an office environment.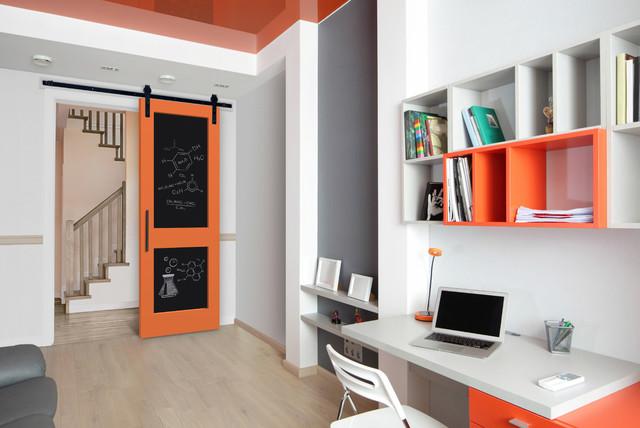 Desk
A reasonably sized desk with proper storage solutions is another priority. You can't work without a desk. The size of the desk and necessary storage will depend on both the size of your office space as well as your job tasks being completed. You don't want a desk so large
that it takes up majority of your office, making you feel crammed and crowded. However, if it's too small you won't have space for anything more than a laptop and pen on the surface.
Your daily tasks should also be considered when choosing a desk. For example, a writer or blogger will need less desk and storage space than the owner of a construction or interior design business.
Chair
Remember, this is the desk chair you'll be sitting in all day long. Choose something comfortable. Ergonomic chairs will improve your posture and balance and offer added comfort while encouraging you into the proper seated position. You may also choose to invest in a desk riser or standing desk to allow you to stand for short periods of time as well.
Just like in any office setting, movement is necessary throughout the day. That's the beauty of working from home. Need a change of scenery? Take your next call from the front porch. Time for a short break? Run to the kitchen and grab some coffee or a snack.
Storage
To avoid a messy and cluttered office and all the stress and distraction which accompanies it, proper storage solutions are required. Again, this will depend on the size of your space and the amount of storage required to remain organized. For some job positions, a few desk drawers or a shelving unit is plenty. For others, you'll need an excessive amount of desk storage and organizers, a filing cabinet, shelving unit, and maybe a second shelving unit. Incorporate only the necessary amount of storage solutions. Keep in mind, organization is mandatory to ensure complete efficiency and productivity in your home office.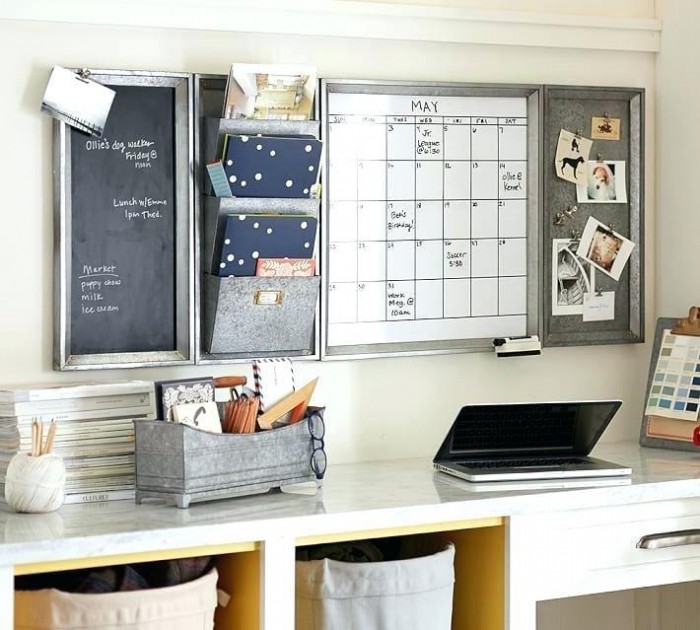 Office Supplies
This one is kind of obvious. Office supplies are a requirement for any office space. How else will you get any work done?
Lighting
It's a good idea to supply yourself with various lighting options in your office. Outfit your space with adjustable natural light by adding curtains to the windows. Include a desk lamp and a floor lamp or ceiling lighting. These various lighting solutions permit you to adjust the light perfectly throughout the day to maximize comfort and focus.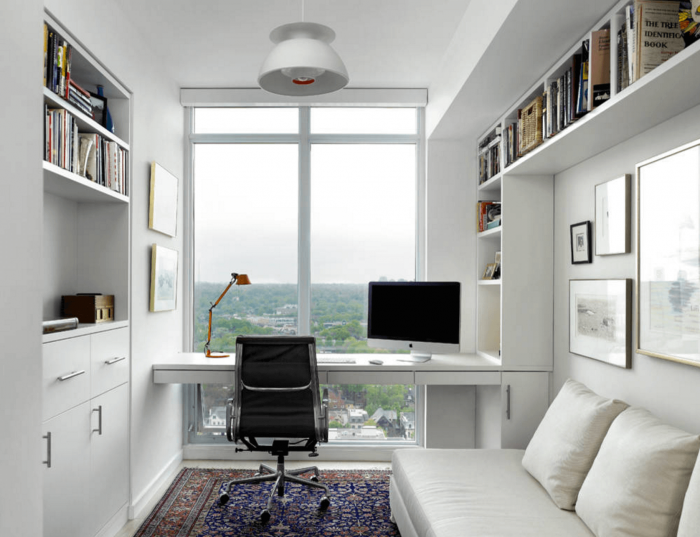 Temperature Controls
In addition to controlled lighting, you'll also want the temperature in your office to be adjustable to ensure your comfort while working. After all, we work best when we're comfortable.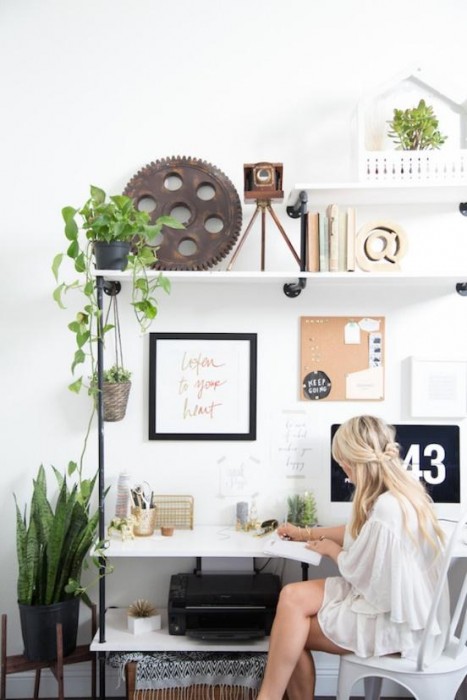 Plants
Not only are live plants an excellent, unique source of decoration, they also add life to your space. The natural lighting and the live plants will make you happier and keep you in a better mood. Just because you're decorating an office space doesn't mean it needs to be drab and dreary.
Décor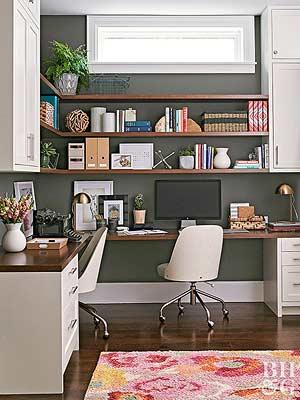 Décor is more important than you may think. Decoration will add personality to your space and make it your own. Create a room that you actually want to spend your day in and not a space that you can't wait to escape from whenever you get the chance; this isn't an office cubicle. Set a mood or theme for your office. Add a decorative rug if you have hardwood floors or a small couch or chair as both a statement piece and a little added comfort if your space has room for it. When painting, consider the mood that specific colors promote. For example, blue is calming and relaxing while yellow inspires creativity. Incorporate pictures of friends and family. Decorate like it's just another room in your house instead of an office. However, keep décor slightly understated. You don't want your decorations to distract you from your work.  
Clock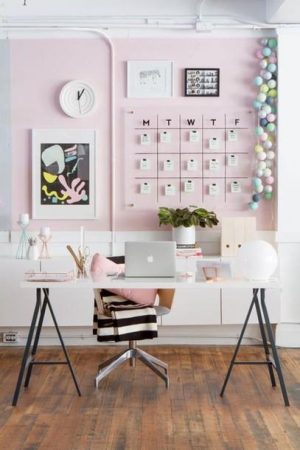 Not only is a large wall clock a great decorative piece, it will keep you on track as the time ticks by while you're hidden away from reality in your little den. Remember to check the time every once in a while. You wouldn't want to find yourself so lost in work that you forget to pick the kids up at school. A calendar or planner will also help you prioritize tasks and stay on track.
Trash Can and/or Paper Shredder
If you plan on keeping an organized, decluttered office space, a trash can or paper shredder (or maybe both) are imperative. Don't congest your worksurface or desktop with old files, outdated emails, and irrelevant sticky notes.
Technology
In order to keep your home office running just as smoothly as your old office building, you'll need a few additional pieces of technology.
A separate work phone (not your personal cell phone or house phone) for work related calls and conference calls.
Computer and monitor
Printer, scanner, and/or fax machine
A network router if there is more than one computer or laptop that you use around the house.
The necessary software to properly run your home business.
Backup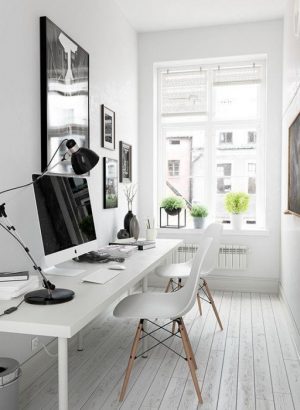 You arguably work harder than the average employee because you work from home. You wouldn't want an important project or presentation to be lost forever because of an electrical interruption. To avoid any hard work being destroyed, invest in these precautious solutions:
A surge protector will keep your computer and equipment safe from voltage spikes.
An uninterruptible power supply (UPS) provides backup power for a limited time to enable you to properly save your work and shut down your computer in case of an unexpected power outage.
A USB flash drive or another storage device to save all your important work, projects, or presentations.
Starting your own business or just shifting to a remote job position can be both exciting and overwhelming if you're not completely prepared. Majority of that preparation includes setting up your new home office with all the necessary equipment to allow you to work effectively. When your home office setup is complete, you're ready to successfully embark on the independent home business journey.