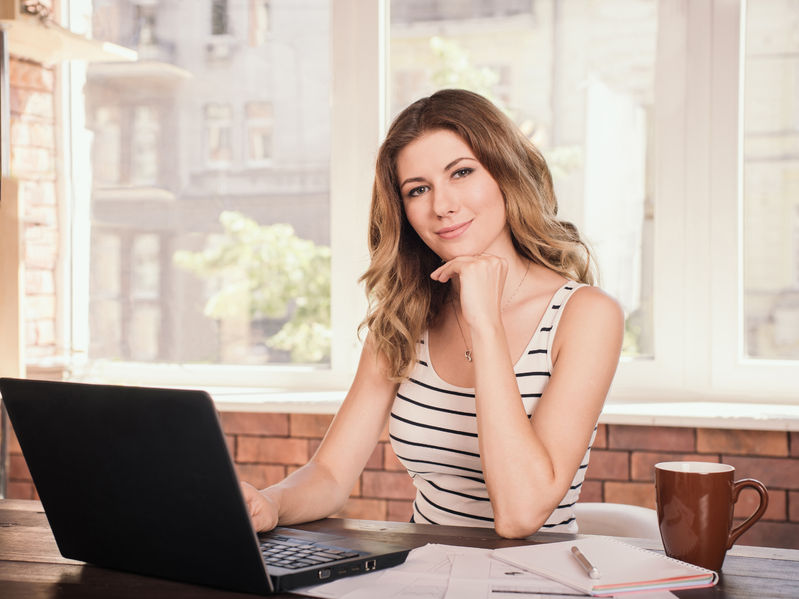 You've been riding the momentum of your hard work. You've been congratulating yourself on reaching your goals and hitting some milestones.
---
---
And then, just when you think you can celebrate the bliss of creating something from nothing and thriving to tell the tale, you hit a brick wall.
You have no idea where to move next.
You feel uninspired by your own invention.
Your revenue stream has slowed down to a trickle.
You need an infusion of…what?
First, you need to know that you are not alone. A home-based business is like an accordion. You will have times when you feel expansive, like the world is yours for the taking, and times when you feel cramped up and contracted in the work.
What to do when you feel that contraction? There's a simple four-step process to get you back on track.
#1. Check the Basics
When anything stalls – your car, your dishwasher or your business, it's time to check out the basics: Do I need gas? Is it plugged in? Have I blown a fuse?
For your business you want to get super clear on the following:
Am I crystal clear about who my best customer is?
Everybody is not a great answer. Successful businesses describe their customers not in terms of the product or service they provide but by solving a problem for their target customers.
Too many businesses believe that the less they narrow their customer focus the more business they will have. The opposite is true. Focus instead on a particular segment of the market.
My customer is a small business owner who wants accurate and timely financial reports along with bill paying, but can't afford a full time professional and doesn't want to pay an expensive accounting firm. You might even refine it further: S/he lives in the greater metropolitan area and has 5 or fewer employees. 

Or:
My customer is a busy parent who wants an easy and secure way to manage bill paying and financial record keeping so that when tax time rolls around, there is no panic, everything is in order.
Who is your customer? Write it out like a mission statement, and post it near your desk at all times.
Am I marketing my product or service where my clients are?
Where is your customer? Knowing where your customer is allows you to target where you will reach them and what service variations you might offer to make your business more attractive.
If the small business owner is your target customer, you might connect through your Chamber of Commerce, a small business networking group, the PTA, your local paper or a nearby pediatrician's office.
You can try speaking engagements, writing an article, or joining an online group for that particular niche.
Am I customizing my offering to make it more attractive than my competitors?
Make sure you are customizing your offer for your niche market. If you are an accounting firm, targeting mid-income parents with a lot on their plates, you may discount pricing for parents or, more broadly, for the small business owner,  or offer evening or weekend hours for working parents.
#2. Assess Your Environment
What are the factors that may change demand for my product?
In looking at demand, you may start with the demand frequency of your service/product. Do they need it once a week, once a month, once a year or once every five years? The longer the time between purchases, the more customers you will need to keep your income steady.
Seasonality may affect this. Folks don't usually buy grills, lawn services, or exterior painting in the winter.
If you have a seasonal product consider other products or services for the off-season. There's a reason there are Hearth and Patio Shops! Another approach is using pre-season discounted selling in the off-season.
You may ask yourself, too, whether your product/service is an essential or a discretionary purchase and whether economic circumstances like trends or the economy have affected the purchase. Can you shift to mirror trends? Can you lower your bottom line if the economy is on shaky grounds?
Which competitors are taking my customers?
Even if you have a "unique" product, there may be other products that fulfill your customers' needs.  Consider how, if you want to be entertained, you could watch Netflix, go to a movie, rent from Red Box, go to a ball game or dozens of other options.
Do some research, understand where your product/service fits in your customers' budgets. And make sure you're filling needs and solving problems no one else does. And that this is being highlighted in your outreach and marketing plans.
#3. Look in the Mirror
It's easy to be enthusiastic about, and to work at, our business when it's going well.  Success fuels energy and vice a versa. But when you hit a wall, it's easy to lose the very energy you need to keep going. So ask yourself some questions about YOU:
Am I as focused on the business as I was? Or has the novelty worn off?
Have I picked up any bad habits – spending downtime scrolling social media, instead of reaching out to prospects or following up with existing clients?
Have I made deliveries later than promised because "something came up"?
Have I brushed off a customer complaint because the guy is a jerk?
Have I been unwilling to ask my clients what they like and don't like about doing business with me?
#4. Evaluate the Bottom Line
Know your numbers. A business is more than buying for X price and selling for 2X.   There are other expenses – some go up as you sell more (variable), some stay the same regardless of whether you sell one or one thousand units (fixed).
Know if your business is really a business. Can it pay you a regular salary and make a profit as well? If it doesn't, the day will come when you won't have either the energy or the money to continue.
All businesses (and business owners) go through challenges. The successful ones face the facts. That means not telling yourself (or anyone else!) that things are either better or worse then they actually. Then they get busy to get the business and themselves out of the stall.  And you can too!
Wishing you much success.