Think about the last time you got online to get some shopping done. If you're like 69% of online shoppers, you went straight to an online marketplace such as Amazon, eBay, or Etsy, according to a new survey by DC-based research firm Clutch.
It's easy to understand why so many people prefer the simplicity and convenience of shopping on a well-known online marketplace. For 57% of online shoppers who prefer to shop on online marketplaces, the promise of lower prices is the most important factor.
But did you know that approximately 40% of Amazon's unit sales were actually fulfilled by third-party sellers in 2013? That's worth over $17 billion of Amazon's gross merchandise for the period.
For many small business owners who sell online, the growth of online marketplaces can feel like a threat. However, the success of third-party sellers on Amazon should provide encouragement. Online marketplaces present an opportunity for online sellers to expand their reach, capture new sales, and drive revenue.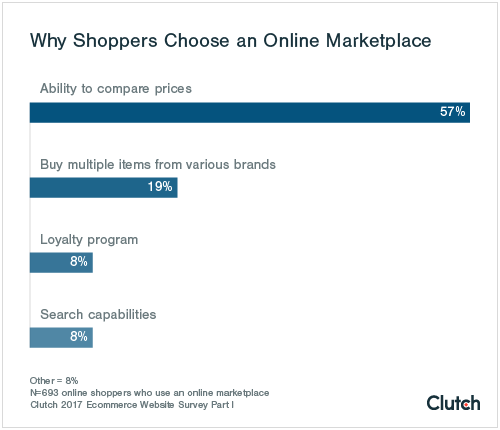 Multichannel e-commerce is exactly what it sounds like. With a multichannel strategy, online retailers list their products on multiple platforms where their potential customers are likely to be looking. Although a multichannel strategy can present new challenges, such as figuring out the complex rules for selling on online marketplaces or managing an increased volume of orders, it also has the potential to drive substantial revenue.
If you sell online, here's a quick rundown of questions you should ask to determine whether a multichannel strategy might be right for your business:
1. What products do you sell?
Because online marketplaces typically deduct a percentage-based fee from revenue generated through their platforms, the most successful multichannel e-commerce strategies rely on increasing the volume of sales.
If you sell unique items or have limited inventory, you may not be able to achieve a high enough volume of sales to make up for these fees. To succeed with a multichannel strategy, stick to products with a deep inventory that you can sell in mass quantities.
2. Can you offer a competitive price?
As mentioned earlier, shoppers who turn to online marketplaces tend to be searching for low or competitive prices. To win sales on online marketplaces, you will need to offer a price that will be at or lower than market value.
Be sure to factor in any fees an online marketplace might charge while calculating whether it will be a viable revenue stream for your business.
3. How do you manage orders?
In a multichannel strategy, you will need a system for distinguishing between orders flowing in through your webstore and any online marketplaces you are using. This is due to the fact that an online marketplace's rules may differ from the practices or customer expectations you've implemented on your webstore.
For example, to keep fulfilling orders placed through an online marketplace, you may need to meet different shipping requirements or honor different return policies than you normally would.
To determine how easy or difficult it will be to organize a potentially much higher volume of orders, spend some time auditing your current ordering system.
If you use an e-commerce website builder, adding an online marketing platform might be as easy as a few clicks on an integrated interface. But if your orders populate a spreadsheet, you may need to spend some time developing a new system to make sure everything is organized and sustainable.
If answering these questions leads you to discover that your business is well-positioned for multichannel selling, you're only a few steps away from unlocking new revenue potential.
1. Prepare your backend systems
As mentioned above, if you choose to move forward with a multichannel strategy, you will need to prepare your backend to handle an increased volume of orders, plus the complexity of applying different requirements to each.
Preparing your backend systems may mean migrating your webstore to an e-commerce website builder such as BigCommerce or Shopify, which both offer multichannel selling tools and features, or developing a system for rigorously coding all of your orders.
The key is to make sure you have a system you're confident in so that you can hit the ground running as soon as your products are listed.
2. Determine which online marketplace is right for your business
Depending on the product you're selling, some online marketplaces will be a better fit for your business than others.
If you specialize in jewelry or luxury home goods, Etsy may be a better showcase for your brand than Amazon. There are even specialty online marketplaces such as Bonanza and GoAntiques that focus on a particular category of goods.
By finding the right online marketplaces for your business, you'll ensure that the right customers find your products.
3. List your products on an online marketplace
Listing products on an online marketplace may require a little housekeeping. Depending on the specific online marketplace's requirements, it may be necessary to tweak the information
For example, you might need to pare down product descriptions to fit within a certain word count. You might also be required to provide additional specs to convey the dimensions or materials of your product.
As online marketplaces continue to expand their share of the e-commerce landscape, multichannel selling can present new opportunities for businesses to reach new customers and drive revenue.
Hundreds of Business Opportunities – Visit the Home Business EXPO