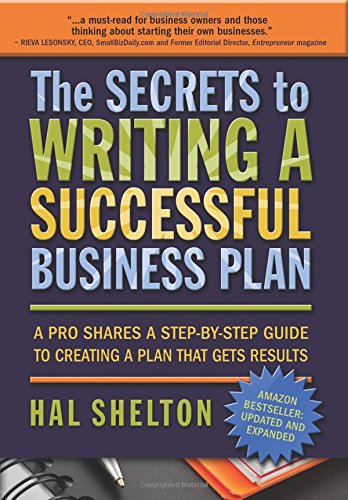 Every year, thousands of creative and determined people pursue a new American Dream—transforming their ideas into their own businesses. Getting funding for any new business is challenging, and in today's tight-money and competitive marketplace, investors demand a solid, convincing and sustainable business plan. Hal Shelton's best-selling book The Secrets to Writing a Successful Business Plan is a proven and essential road map of how to understand, develop and communicate an effective business plan. This new edition also provides updated information on funding options, as well as a bonus section covering key start-up issues. Hal's book is an invaluable resource for anyone who is determined to transform their dreams into a viable and successful business.
---
---
As a small business expert, Hal knows that anyone starting or in business needs a successful business plan. The critical parts of the book that give step-by-step instructions for writing a plan continue to have a laser focus and have helped thousands of people succeed in business. One reader commented, "Not only does it reinforce why you need a business plan, it clearly presents how to put all of the pieces together. The thought of writing a business plan can seem daunting at first. Yet the structure of this book is simple in the way it presents each element of a plan in a way that is not intimidating… After completing the book, I felt more confident in how I should approach writing my plan."
Hal also knows that issues affecting small businesses are evolving, and he has included those changes in the second edition to help readers navigate them successfully. In addition, this expanded version of The Secrets to Writing a Successful Business Plan covers:
The biggest issues for start-ups in their first 100 days, including setting your compensation, hiring staff, and creating marketing programs
Crowdfunding and the significance of the Securities and Exchange Commission's new rules
The pros and cons of alternative funding solutions, including peer-to-peer lending
More real-life examples of people putting Hal's tips and advice to use—and succeeding.
User-friendly worksheets to follow along and write your own plan: www.score.org/secrets_business_plan
"Hal's book is a valuable resource for testing new business ideas quickly and easily," says J.S. GAMBLE, Founding Member and Managing Principal, Blu Venture Investors, LLC. "The 2nd edition provides even more insights on myriad funding options and key start-up issues."
As a SCORE mentor who has advised more than 1,000 business owners, Hal Shelton has real-world expertise that can help businesses avoid failure. With nearly 50 percent of new businesses failing within five years, a well-thought-out business plan can dramatically turn the odds in favor of the entrepreneur.
Hal has had a varied career that positions him uniquely to write this book. He has been CFO of a publicly traded company and nonprofit organizations, board member for for-profits (publicly traded and private) and nonprofits, quarterback for a large IPO, an angel investor and SCORE mentor. As a SCORE mentor, Hal helps small businesses take advantage of new business opportunities, develop business plans, and find and qualify for financing, with the goal of increasing the business's value and adding jobs. In honor of his SCORE service and meaningful impact on small businesses, Hal received the organization's Walter H. Channing Award of Excellence, an honor that has been given just nine times in the association's 50+-year history.
For more information on The Secrets to Writing a Successful Business Plan, please visit www.secretsofbusinessplans.com.