Portable table saws are undeniably a woodwork mainstay on job sites. Offering great versatility, precision and overall reliability, portable table saws are designed to be easy to move around and lift, making them a great option for on-the-move woodworkers and carpenters. If you're planning to buy one, you most likely have questions on how to go about the process.
What are the most important features? What performance indicators should you focus on? Where should you buy? What are the top brands? These questions, among other, have to be answered when you're searching for the best portable table saw for your job site woodwork.
Here is our portable table saw buying guide for first-time buyers.
Familiarize Yourself With the Best Portable Saw Brands
Start by asking friends who already own portable table saws, visit a local hardware store or search online. Of course, you will come across numerous brands, making the selection process even harder. It's always good to familiarize yourself with the best brands available in the market.
Narrow down your search by focusing only on the most reputable brands that with already proven performance and functionality by thousands of woodworkers and carpenters for job site woodwork. This way, you don't have to waste time checking out every other brand you come across.
Match Power and Capacity to Your Needs
With an idea of what brands you should be looking at, it's time to look at power and capacity features. Ask yourself what power you need to complete the various tasks that you mostly undertake on job sites. The power you choose should depend on what you're cutting.
Match the power and the capacity to your day-to-day woodwork needs. Check power requirements too when choosing a portable table saw including the available electrical power. Most portable saws run on 120-volt power, so they need 20 or 30 amp circuit to run on their own.
Smooth, Accurate Cutting
When it comes to finding and selecting the best portable jobsite table saw, the term accuracy is tossed around a lot. It's important to understand that accuracy mainly depends on blade calibration. If you want to deliver professional results, you need to choose the right blade and size that can easily go through any type of wood.
A 24 to 30 tooth blade is ideal for ripping fast. Getting into the 60 tooth class and higher means you get cleaner, smoother results of finished work. Look at the different features of the blades like coating, shock blazing, tooth quality and fence and miter gauge accuracy. You want a portable table saw that allows you to rip cuts, beveled cuts and crosscuts with precision.
Stability
A good portable table saw should have sturdy construction to ensure stability, once set up. Look at the table saw system as a whole including the stands. If you can try out different portable table saws before buying, extend them as far out as possible to determine how much movement you could get when cutting.
Whether you want a portable table saw that stands on outward-angled legs or a wheel-based stand, it's best to go for a table saw that offers a rigid stand and wide stability platform.
Great Safety Features
Safety should always be a priority when buying and using tools. A lot has been done in recent years to improve table saw safety features. The latest portable table saws come with key safety features including anti-kickback pawls, riving knives instead of splitters, large paddle-style switch, blade brakes and clear, flexible blade guards.
Considering that table saws are statistically the most dangerous woodworking tools, it's important to look out for such features when buying your portable table saw.
Consider Portability
While portable table saws are designed for jobsite use, you should also ask yourself what type of portability you want with your woodworking tool. Portability boils down to a number of key features. First, the weight of the portable table saw will have an impact on how you'll be transporting the saw to the job site.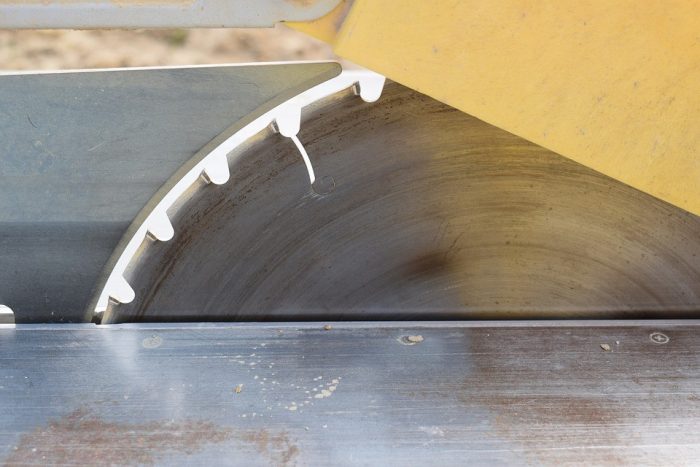 Will you be carrying it on the bed of your truck or transporting it using your trailer? If you have a trailer, then a portable table saw with a wheeled stand will be the best option. If you're simply looking for a tool to carry to job sites occasionally, a retractable stand is what you want.
Dust Control
While dust collection may not be a concern for some woodwork contractors, finish carpenters and remodelers working indoors must consider dust control. If you'll be working mostly inside, go for a portable table saw with a dust collector.
Ease of Adjustments
To make your woodwork easier, you should also consider the ease of adjustments when using portable table saws. From blade height adjustment, bevel adjustments to side extension adjustments, you'll want to look for innovative, intuitive and smooth adjustments that allow you to accurately make the necessary adjustments when cutting.
The Bottom Line
Buying online is perhaps the best option when it comes to buying power tools. Look out for discounts and sales offered by most brands. To get the most out of your woodwork tool, it's important to learn how to get started with a portable table saw.
---
---