The process of choosing a general contractor is complicated – and choosing the wrong general contractor can turn your home improvement project from a dream into a nightmare.
General contractors are basically your go-to person for each and every aspect of your home improvement project – from ordering materials, to choosing subcontractors, to overseeing the actual work at the job site. Since they have so many different roles in your project, insurance brokers in Winnipeg suggest that it is absolutely crucial that you choose a certified, licensed, high-quality general contractor.
In this article, we'll take a look at a few ways you can make sure that you get a licensed, insured, and high-quality general contractor – and ensure the success of your home improvement project, remodel, or home build.
1. Don't Choose A Contractor (Exclusively) Based On Cost
We get it – home improvement projects can be extremely expensive. It's natural to want to save money wherever possible, and for some, this means hiring the most inexpensive general contractor they can find. What's the worst that can happen, right?
Well, choosing a contractor exclusively based on cost is a huge mistake. Long delays and unexpected price hikes are par for the course for home improvement projects, and if you choose a general contractor who is inexperienced, doesn't care about your project, or is otherwise inadequate, these costs and delays can quickly pile up.
A general contractor who performs poorly won't just cost you money – your entire home improvement project could fail. A pinch of prevention is worth a pound of cure – this is true of hiring a general contractor.
You may pay a bit more for an experienced, highly qualified general contractor, but you will ensure fewer headaches, a better timeframe, and a potentially lower overall project cost, as compared to a cheap contractor who turns out to be a bad hire.
2. Check Your BBB Listings
The Better Business Bureau is a fantastic resource when it comes to hiring contractors. You can find links to general contractors and business who are accredited by the BBB, helpful information about their services and special expertise, and information like links to other review pages, customer testimonials, and more.
Hiring a contractor from the BBB is a great way to ensure that your pick is properly certified, licensed, and insured for work on your home improvement project, so this is a great place to start.
3. Get A Deep Pool Of Potential Contractors
Hiring a general contractor is sort of like buying a car – you don't want to fall in love with one right away, and then find out that you could have gotten a better deal elsewhere.
Okay, the analogy is a little clumsy, but the point still stands. If you have only found one or two contractors to choose from, you're probably missing out on some other contractors who may be a better fit for your project.
Spend some time on the BBB, googling around your area for contractors, and using other resources like Craigslist to find potential contractors.
The more options you have, the better – as you interview them, you'll get a better idea of what you're looking for from a general contractor, and be able to understand which contractors will be best for your project.
4. Interview Previous Customers
There is absolutely no better way to get an idea of the quality of a general contractor than by asking them to set up interviews with previous customers.
If your contractor agrees to set up these interviews right away, that's already a great sign – they know that they have provided great service, and that their previous clients will attest to that. In addition, the insight about project details from previous clients will help you understand that contractor's style and the quality of their work, so these interviews are invaluable when it comes to choosing the right general contractor.
Conversely, if your contractor hems and haws about setting up interviews with past clients, that could be a warning sign – why wouldn't they want their clients to talk to you? Is it possible they provide bad service? It may be worth poking around on your own and finding a previous client if your contractor is unwilling to set up an interview.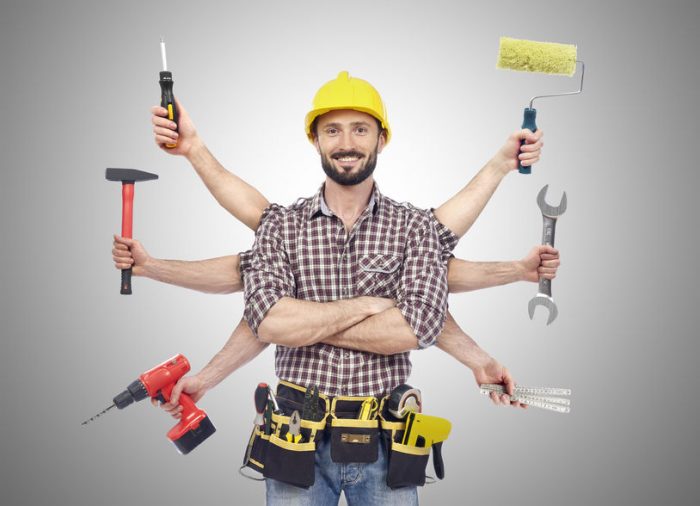 5. Ask Good Questions When Interviewing Prospective General Contractors
There are a huge number of resources you can turn to when interviewing prospective general contractors – and being prepared with great interview questions is always a good idea when you're looking for a general contractor.
You want to truly get an understanding of the contractor, their expertise, their work process, and everything else that is important when beginning a large construction project. If you really feel like doing your homework, this list of 50 questions to ask your general contractor in an interview is certainly comprehensive.
Are you licensed? Are you insured? Do your projects typically finish on schedule? What's your educational background? Do you have trouble staying under budget? Have you finished a project like mine before? What was it like?
As you choose questions, remember that this interview isn't a formality – you truly want to get good responses to your questions, and gain an understanding of the individual you are interviewing. If you ask great questions and get great answers, you're on the right track to finding the perfect general contractor for your needs.
Choose A Great Contractor With These 5 Steps – And Ensure The Success Of Your Project
Home remodels, builds, and improvement projects are still a wild and wooly world – and you can expect plenty of delays, hidden costs, and other issues to crop up – but a smart, experienced contractor can help guide you through these problems, and ensure the success of your project at a minimum of hassle, cost, and time.
That's why choosing a great general contractor is so important. So follow these 5 steps, find a great contractor, and get started on your project. If you've chosen the right contractor, you're sure to knock your next project out of the park.
Hundreds of Business Opportunities – Visit the Home Business EXPO