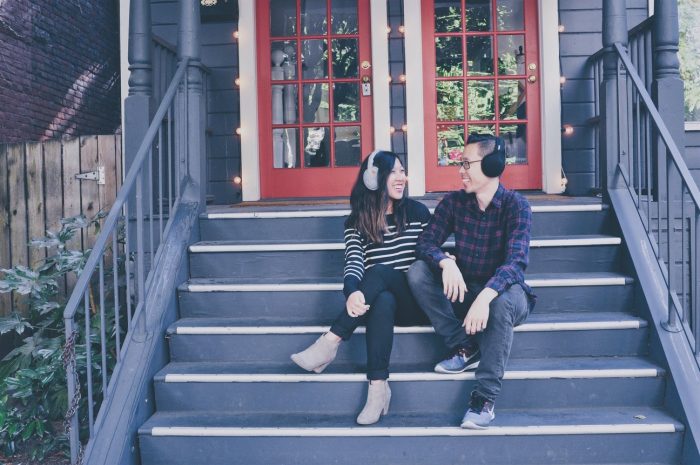 Sometimes the greatest business idea comes from an intense desire to solve an everyday problem. Entrepreneurs Jason Yeh and Samantha Tran culminated this desire into a unique business called Sound Huggle, a groundbreaking product that's about to launch on Indiegogo.
Sound Huggle combines earphones with earmuffs to create an innovative solution to an oddly common problem: wearing earphones while trying to stay warm. Using a warm and soft exterior to emulate the feel of earmuffs, Sound Huggle gets rid of the pain and pressure of wearing earphones under earmuffs and hats by offering a way for users to wirelessly listen to music or answer their phones. The Bluetooth technology features a built-in mic, making phone calls easy while keeping warm under the earmuffs and collapses into a travel-size design for easy storage.
Yeh came up with the idea during a freezing winter in Chicago. The weather was particularly harsh as the city was experiencing record low temperatures from a polar vortex wave. As a graduate student, Yeh walked to school through three feet of snow every day that winter, bundled up in layers of clothing to stay warm against the freezing winds. The harsh weather was especially tough for Yeh, who is originally from California.
Despite the cold, Yeh made the journey by listening to music and podcasts during his long walk to school. He regularly put earbuds on underneath his earmuffs, slipping the cord underneath his many layers. But this posed many problems, including difficulty adjusting volume and songs, keeping the cord from snagging and pulling, and intense pain from the earmuffs forcing the earbuds into his ears.
"Have you ever tried to wear a winter coat and 96 other layers, fumbling around with chords, volume, control, etc. – all while trying to keep warm?" Yeh laughed. "Good luck! Tangled cords and thick winter gear simply doesn't mix. I tried toiling with workarounds, but they didn't work either, and after a while I figured if I was struggling with this, maybe others were too."
After struggling with the pain and frustration for many months, Yeh came up with the idea to combine earmuffs with earbuds, fixing the many problems he encountered. But his innovative solution was shelved as internships, school, and life kept him busy.
It wasn't until he started dating Samantha Tran a year later that the idea resurfaced. Their long-distance relationship found them both in cold climates on opposite sides of the country, spurring them to send gifts to each other to get them through the cold winters.
"We needed to find creative ways to bring those warm moments into our relationship," Yeh said. "The distance between us sparked a creative, competitive spirit to see how we could top each other in the sweetest, most creative way. That's when it dawned on me: what if I sent her a pair of earmuff headphones?"
The respawned idea was set into motion, and Yeh and Tran started working to bring the idea to life. They founded Sound Huggle, dubbed so because it's "a hug and snuggle for your ears." They created the product as a popular and effective solution to staying warm and hands free while listening to music or talking on the phone. Since the idea took off, Yeh and Tran have developed multiple prototypes, testing it out themselves and adjusting the design.
As a former professional DJ, Yeh was particular about the sound quality, and wanted the listening experience to be smooth and strong. Sound Huggle was thus designed to have high quality sound while utilizing discreet controls, keeping the Bluetooth audio technology hidden at the same time as delivering excellent acoustics. The sound quality was toggled until it had clear vocals and defining melodies, making podcasts and music crisp to the ear – much to Yeh's delight.
Two years later after its inception, Sound Huggle is officially launching on Indiegogo. Consumers will be able to help fund this innovative solution and bring it fully to the public. Three styles will be available to choose from: Gray, Red Knit, and Charcoal Fleece, allowing customers to pick a warmth and color that suits their style.
"We're so excited to be officially launching," Tran said. "We've worked hard to bring our vision to life, and we wanted to bring a full working prototype to the table to show people what Sound Huggle can really do. We ensured to prioritize not only comfort, but also the listening experience, and our mission is to empower those who want to get a little more out of life by delivering warmth and unlocking boldness."
Sound Huggle launches on Indiegogo on November 7th, 2017. For more information on Sound Huggle, visit https://soundhuggle.com/.