Watching Son Inspires Pediatrician to Create an Educational Mat and More
It was a "light-bulb moment" for Dr. Jennifer Canter, pediatrician and mother of two sets of twins while watching her son during a speech therapy session. He was working on a paper poster using cards, but sitting atop the poster caused it to rip and the cards became disassembled. Dr. Jen had the idea at that moment — creating an educational mat shaped in a U so the child can sit inside!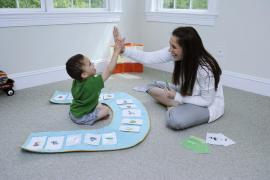 The mat would be around the child rather than the child on the mat. Dr. Jen hired her son's speech pathologist as a professional consultant and her best friend, designer Jenni Vallez who has her own doll company (www.sophieandlili.com) as her designer. She found a manufacturer while networking at the Toy Show in New York and created the now patent-pending U-Play Mat, a U-shaped mat with 15 pockets, 240 themed cards, a tote, and a fabulous manual outlining 10 language exercises.
Dr. Jen is still a full-time practicing child abuse pediatrician and managing her home business on nights and weekends. Play This Way Every Day promotes itself through Facebook, Twitter regional online and print media pieces, and affiliate marketing through ShareASale and Amazon.com. The primary customers are parents of toddlers and preschoolers learning to talk and parents of children one and up with specific special needs for language development. Speech pathologists, occupational therapists, and other professionals are also avid users and repeat customers.
>> Visit the HBM EXPO! Hundred's of Home-Based Businesses, Franchises & Opportunities to Choose From!
Having the business in the house allows Dr. Jen to tuck her own children in bed by 8:30 pm, get on Skype internationally with ease, and enjoy working in front of the television in her pajamas — all with the comfort of home. "Our goal is to expand our product line with the same premise in mind — low-tech, adorable, easy-to-use learning toys for young children," says Dr. Jen. Being a mother of four young children and working full-time outside the home meant only one option for this new endeavor — home-based and flexible! Dr. Jen wants to see children around the world Play This Way Every Day. Contact Dr. Jennifer Canter by mail (Play This Way Every Day LLC, 487 East Main Street Suite 171, Mount Kisco, New York 10549), phone:1-888-400-5740, web site: www.playthisway.com, Facebook: www.facebook.com/playthisway, or Twitter: @playthisway. HBM
Previously published in the February 2010 issue of HOME BUSINESS® Magazine, an international publication for the growing and dynamic home-based market. Available on newsstands, in bookstores and chain stores, and via subscriptions ($19.00 for 1 year, six issues). Visit www.homebusinessmag.com.
V17-1 Add: 3/10 HP: CAR: 5/15/11
>> FREE Business-Building Information. Subscribe to the Home Business Magazine E-NEWSLETTER. Generate More Income!