Entrepreneur Vows to Never Lose Income Again, Thanks to a Growing Home Business
By Home Business Magazine
Mike Kalous, of Western Colorado, started his home business after becoming jobless in a tough job market. When he discovered there were no comparable jobs within a two-hour commute and was faced with possibly having to sell his house, Kalous looked for options and resources to help him launch a home-based accounting and bookkeeping business, Valley Vista Business Services (www.valleyvistabusiness.com).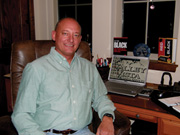 After some online research, Kalous found useful information from Universal Accounting and soon ordered the Professional Bookkeeping and Quickbooks workshop DVDs, and watched them right away. After spending 25 years in corporate accounting, much of it as a comptroller, Kalous needed some help gearing his accounting skills to small business, but what he really needed help with was going out to find clients.
"I talked to two people and got three clients," Kalous recalled. His first client was a friend, and next followed the owner of the shop working on his car, and the man's wife.
Now, almost a year later, Kalous has two automotive repair shops as well as a landscaper, jewelry store, some health clubs, and plumbing contractors as clients. He's been adding a couple clients each month through referrals, networking, and a QuickBooks workshop he held last year.
Encouraged by his initial success, Kalous has gone on to take Universal Accounting's Practice Builder and Client Generator courses to help him market and grow his business even faster.
"Working from home is great," Kalous said. "There's low overhead, I'm not locked into a lease or having to pay utilities, and I can write off a portion of my home expenses."
Kalous said he also enjoys the flexibility. "What are the disadvantages?" he joked, admitting that there are distractions.
Kalous's business may be based at home, but he only spends a couple of days a week working from there. The other days he is at client sites reviewing reports, or entering data on his laptop.
The biggest relief for Kalous is the job security. "I might lose some clients here and there over the years," he said. "But I will never lose my income again." In the years to come, Kalous expects his business to continue to grow, a six-figure income, and to hire a couple of contractors to work for him. HBM
Previously published in the August 2010 issue of HOME BUSINESS® Magazine, an international publication for the growing and dynamic home-based market. Available on newsstands, in bookstores and chain stores, and via subscriptions ($19.00 for 1 year, six issues). Visit https://www.homebusinessmag.com
V17-4 Add: 11/10 CAR: 1/4/11 HP: