* Discounts for Increased Duration's of Time or Blocks of 10,000 Impressions
Join Home Business Online's exclusive group of quality advertisers. HB Online offers advertisers the industry's leading website for home-based entrepreneurs and those looking to start-up a business from home. Satisfaction Guaranteed: Cancel anytime and receive a full refund on the unused portion of your order. Home Business Online is a fully RESPONSIVE website that automatically adjusts to size of a visitor's viewing screen, whether full desktop size, tablet, Smartphone, iPhone, or other mobile device viewing size.
Banner Advertising
Order by durations of time (1 month, 2 mo.'s, 3 mo., 6 mo's) or blocks of impressions (10K, 20K, 30K). Banner Ad Material and Specifications: Includes all industry standard formats including Rich-Media-Enabled, jpg, gif, animated.gif, HTML, Flash.swf (embed URL link into code). Video can be inserted into large banners. Change material any time. Home Business Online can design a Banner Ad for you. Email Banner Ad material to: banner@homebusinessmag.com
Newsletter Sponsor – Secure Order Form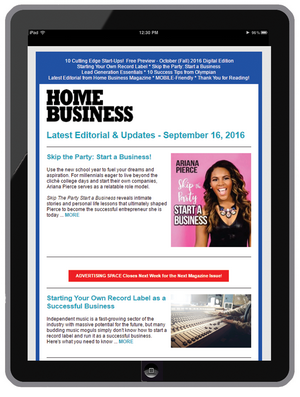 Be a sponsor in Home Business Magazine's Newsletter. Reach 50,000+ Subscribers! Embed your email marketing message into the #1 Newsletter for Home-based entrepreneurs – Home Business Today. Target your marketing! The Home Business Newsletter delivers our latest editorial direct to thousands of home-based entrepreneurs and opportunity seekers. The Home Business Newsletter is also "mobile-friendly" and fully readable on all hand-held internet devices. Newsletter is managed by industry-leading Constant Contact, to assure highest levels of spam compliance, "deliverability," and integrity.
Newsletter Sponsor Ad Material: 150 Characters max (includes spaces). For your URL website, indicate if using a different display name for the URL. No capitalized words. Enter Text Link Ad content in the secure order form, or email to: advertise@homebusinessmag.com
Sponsored Content – Secure Order Form
Post your content as Sponsored Content at Home Business Online, with maximum HOME PAGE visibility. Sponsored Content can include an article post or video. Sponsored Content has the same look, format and appearance as other content within Home Business Online. After end of duration purchased, your Sponsored Content post will stay on the website for at least ONE YEAR. Sponsored Content also receives social media promotion!
The staff of HBM Online will assist you in editing and finalizing your sponsored content, so that it will be engaging to your audience. This can include selecting attractive images to go with your content, editing content for readability and effectiveness, and improving headlines – all at the discretion of the advertiser. Sponsored Content will be placed dynamically within content channels, to link your content with the same format and appearance as other content on the website.
Sponsored Content Material: For an article, email your editorial with any images to editor@homebusinessmag.com.  For a Video, email a link to the YouTube video (preferred) or email the video file to editor@homebusinessmag.com. HBM Online accepts all common video formats. You can also submit editorial content to go with your video.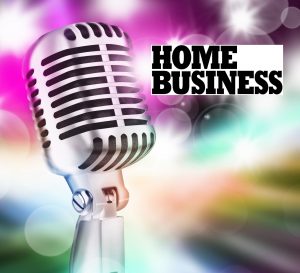 Radio-Podcast Sponsor (New!) – Secure Order Form
Next Available Podcast: November 14, 2017. Sponsor the Home Business Radio Show/podcast. Deliver your message to the Home Business Radio audience. ONLY ONE SPONSOR per episode.  All shows are available indefinitely to download as a podcast. Listen to previous shows for examples. Your Sponsorship message is read live by the show's host, and recorded into the next available podcast.  Or you can submit your own promotional message or audio file (30 seconds max). Home Business can even create the sponsor script for you! In addition, your Company name and website is listed in the promotional page for the Radio Show/podcast Episode. Radio-Podcasts promoted heavily through our social media channels.  Radio Show homepage:  homebusinessmag.com/radio
Social Media Blast – Secure Order Form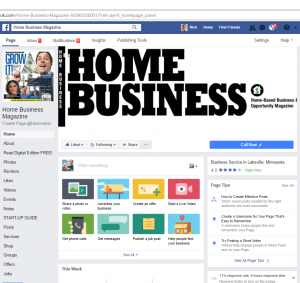 Blast Out your marketing message to Home Business's Facebook, Twitter, and Instagram universe. Social media posts done to your specifications.  Option to let Facebook BOOST your post.  Build your brand and marketing reach with Home Business Online.
Text Link Ad – Secure Order Form
Embed your marketing message direct into an article/video post at Home Business Magazine Online. Your Text link Ad is embedded manually into the post, and cannot be blocked by browser ad blockers. Choose an article post for your Text Link Ad, let HBM select a post for you, or embed your text link in the latest post. Please note that to comply with Google guidelines, links are "No Follow".
Text Link Ad Material: 150 Characters max (includes spaces). For your URL website, indicate if using a different display name for the URL. No capitalized words. Enter Text Link Ad content in the secure order form, or email to: advertise@homebusinessmag.com
Content Marketing
Take your Sponsored Content to the next level, with Content Marketing. HBM will work with you to employ "Content Marketing" techniques to reach your audience through content. This will include increased online exposure, feature promotions, linked articles, video features, HBM Online EXPO promotion, Facebook sharing, SEO, targeted traffic, email marketing, Twitter feeds and more. "Content Marketing" is the future – Let HBM get you there. Contact HBM for further information.
EXPO Advertising 
The HBM EXPO (www.expo.homebusinessmag.com) is the industry's largest directory of Business Listings. Hundreds of aspiring entrepreneurs visit the HBM EXPO each day. EXPO includes low-cost e-classifieds, 
Video Advertising – www.homebusinssmag.com/video-ads
Place your Video Ad within video content at HBM Online. Video Ads can appear pre-roll, post-roll, mid-roll; or through overlays.   
Traffic: 60,000+ Unique Monthly Visitors, 175,000 page views.