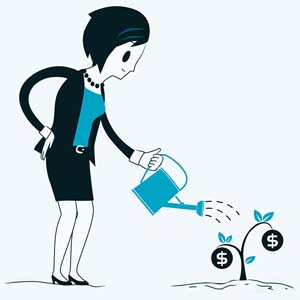 Here are five tips for people who want to feel more confident about managing their finances.
• Start small. Mastering the little things can boost your confidence and give you the ability to tackle bigger issues. If you're daunted by debt, for example, start by simply writing down where you are right now. Write down each company or person to whom you owe money and the interest rate. Numbers can be soothing (even if the story they tell is not) because they're concrete and tangible. Once you know exactly where you stand, you can begin planning your next steps.
• Do something every day to tend to your finances. Money, like a garden, needs attention. Get into the habit of doing something daily, even if it's just five minutes. You might check on your accounts, organize your paperwork, or find out what interest rate you are paying on your credit card debt. Give your relationship just a few minutes each day and you'll watch it come alive. An excellent resource is www.youneedabudget.com.
• Ask questions – even (especially) if you think they're "dumb." When you're at the bank, with your advisor, or talking to your CPA, ask all the questions that lurk in the back of your head. You'll discover that: 1) They're not dumb; 2) You'll get different answers to the same question; and 3) People will respect you for wanting to learn and having the courage to ask.
• Listen to your body when you're consulting with financial professionals. We are so skilled at masking the intelligence of our bodies, it can be hard to recognize when they're trying to tell us something. If your stomach knots up every time you meet with your accountant, financial advisor, or attorney, you should bring it up and talk it out. Are you uncomfortable with the relationship? The topic? Something else altogether? Remember — you do not need a reason to change or end a financial relationship.
• When in doubt, talk it out — with your money. You have the wisdom within yourself to make great decisions. The question is: Will you listen? The next time you feel uncertain about whose advice to follow, or you find yourself returning to old habits that leave you feeling less than happy, sit down with a pen and paper and have a heart-to-heart talk with your money. Dialogue. Ask a question, then write the answer, and trust that these answers come from the deepest place within you. You'll be surprised by what you learn. HBM
Luna Jaffe is a popular speaker, Certified Financial Planner™, and CEO of Lunaria Financial, Ltd. in Portland, OR. She is the author of "Wild Money: A Creative Journey to Financial Wisdom" and its companion workbook, "Wild Money: A Financial Field Guide and Journal," Jaffe holds a master's degree in Depth Psychology and a bachelor's in Bilingual Education. Securities and advisory services offered through KMS Financial Services, Inc.