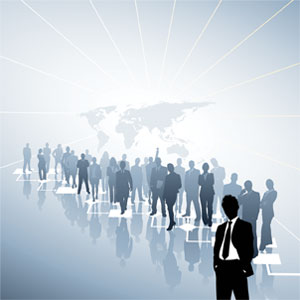 Your customers are changing. You might not notice this right away, but they are changing. They're changing in a way that could make or break your business, depending on your reaction to the changes.
What has changed? Today's buying public — consumers of everything from DVD players to health care — has undergone a dramatic shift in the way they view doing business. The day of the mass market is rapidly fading into the golden glow of history.
The public has been trained to expect products and services targeted exactly to their wants and needs — no matter how obscure those wants and needs might be. This has the potential to be a gold mine of opportunity for home business owners.
Many service providers have been taking advantage of this phenomenon for years. By succeeding in niche markets, they've become Nichepreneurs™ — those service providers who, by marketing themselves as the Expert, managed to find riches in niches.
Being a Nichepreneur™ has clear benefits. The four main advantages they have over their peers are:
1. Fewer Competitors
The smaller a market segment you seek out, the less competition you encounter. The vast majority of business owners try to be all things to all people, concentrating on the marketplace as a whole.
By focusing on a small, select segment of the market, you bypass all of that competition. It's far easier to be the best — and occupy the advantageous Expert position — when fewer people are vying for the honor.
2. Ability to Be More Efficient
A Nichepreneur™ focuses his or her efforts and practice in one narrow area. This makes doing business far more efficient. No longer does a professional have to keep abreast of each and every development in their field on the off chance that they may someday need the information. He or she can instead, delve more completely into the chosen field of study.
3. Become More Profitable
Expert advice carries premium prices. The public, well trained by the media to value the expert, fully expects to pay top dollar for their services. This is a very lucrative position. Although the services and counsel you offer your clients may be very similar to those your peers and colleagues offer, you'll realize greater profit. You're the expert!
4. Increased Visibility
A serious problem exists out there in the marketplace — professionals from every discipline face the unending challenge of sameness — a sea of providers offering identical services. This creates confusion for the customer.
Home-based business owners often have an added visibility problem. Without a storefront or other "official" presence, it's often more difficult to get noticed. There can also be a credibility issue, particularly for the new entrepreneur. This is slowly changing, as society is acclimating to the work-from-home concept; however, it is still an issue that must be acknowledged and dealt with.
Positioning yourself as the expert sets you apart from the crowd. You're cutting yourself out of the herd and putting yourself in a position of prominence. It's a very tangible way to say if you want the best, you want me.
How Do You Discover What's the Right Niche For You?
Identifying a niche is both an art and a science. You want to select a niche that allows you to marry your personal passions with your professional prowess. This is more than a hit and miss process as life's too short to spend it making error after error after error!
To this end, I developed "The GEL Formula" to help would-be Nichepreneurs™ identify the best niche for themselves. While there's not enough room to go into it in depth, let's touch on the main concepts involved.
"The GEL Formula" dictates that a niche must have three components.
First, it must be located in a market segment that is Growing, especially if you're interested in profitability. Second, it should offer a way to incorporate your professional Experience, and finally, perhaps most importantly of all, allow you to do the work you Love.
Pinpointing a market segment that is growing requires doing some research: tracking customer behaviors and buying patterns, identifying demographic changes, and determining the size of your target audience. All of this background work is critical, as a niche needs to be large enough to support your business!
Incorporating your professional experience allows you to capitalize on an existing skill set, and eliminates some, if not all, of the learning curve inherent in changing your professional milieu.
Doing work you love may sound like a tie-dyed remnant of feel-good philosophy. It is, however, essential to have work you're passionate about.
Riches in Niches If You've Already Got a Business
One of the most common questions I'm asked is, "Can you start discovering riches in niches if you already have a home business?" The answer is, absolutely! Let me give you an example.
Annie Hansen is a copywriter. This means she writes the text you see in catalogs, on web pages, and in direct mail advertising. That seems like a pretty narrow field in and of itself — but Annie wasn't as profitable as she'd like to be. She was spending lots of time and energy trying to be all things to all people. One week ,she'd be working on a vitamin catalog, and the next, a direct mail solicitation for a charitable organization, and the third week creating all the text for two web sites — one selling jewelry and the other a subscription-based news service. This made her head spin.
Annie decided to pick one area of her field to specialize in. Web-based copy was the fastest growing segment of her business. She absolutely loves writing sales language: the type of prose that makes people want to buy. With that in mind, she decided to niche herself as the retail web specialist — the copy store owners went to if they wanted to sell their products more effectively online.
She still offered her other services, of course, but her primary focus was on the retail web jobs. She even taught a few classes to small business owners, highlighting what the Web could do for them. Her area of expertise became using words to sell online.
Before long, approximately six months — the lion's share of Annie's jobs was retail web projects. She raised her rates and soon had more work than she could handle — the ultimate Nichepreneur's™ dream, brought to reality.
The same process Annie used can be adopted by other business owners. It's possible to refine one's service offerings gradually, transitioning oneself from a general service provider to a specialist over the course of time. This may, indeed, be the ideal position, as it allows business owners to play-test the concept and see if it works for them.
In Conclusion
If you already have a home business, or are seriously considering starting one, you're already in possession of many of the essential elements a Nichepreneur™ requires: the urge to take charge of one's destiny, the willingness to work hard, and the ability to create your own success. Becoming a Nichepreneur™ merely couples those qualities with the tools needed to position yourself in the most efficient, lucrative corner of the marketplace!