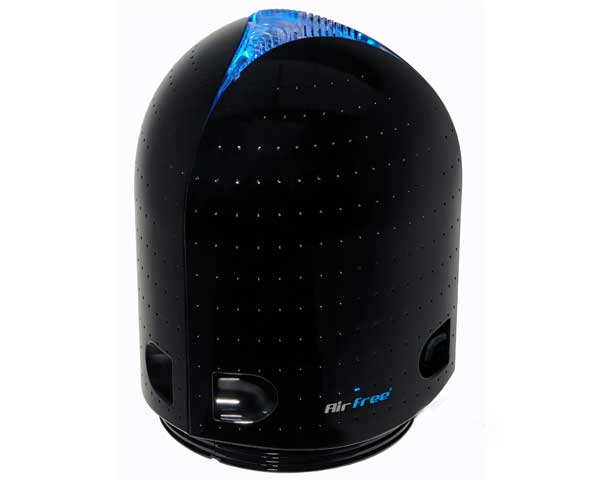 As a home-based business owner, it is crucial to maintain a home office environment that is free from distraction, clean and orderly, has natural lighting, and is personalized yet professional to maintain a comfy and motivating feel. These factors all tie in to encourage a productive attitude and inspire the completion of tasks with vigor.
Many business owners neglect to give attention to a key home office aspect: their air quality. Perhaps they may work out of a garage or basement, or a side room with a window that doesn't allow much air flow. Outside elements may prevent keeping the window open. Any of these reasons can cause a stuffy, poor quality of air in the room. Therefore, it is deemed beneficial to invest in a quality air purifier.
Home Business Magazine's Editor Stacy Henderson received a sample Airfree Onix 3000 to test out, and was very impressed at the results. Her home office space felt less stuffy, a persistent cold she had improved, and it was plain easier to take in a breath. Thinking it may be related to her two cats and dog roaming around, she was surprised to realize a big part of her respiratory problems stemmed from the air quality of her home.
The launch story behind Airfree can inspire all future product inventors. Airfree's technology was developed through the initiative and creativity of a father in an effort to find an effective way to ease his son's allergy attacks. The Portuguese businessman scoured the market trying to find an air purifier that would help his son's respiratory issues but found nothing that suited their needs.
He then began to develop Airfree. The first prototype Airfree air purifier was developed for a natural way of using heat to destroy airborne allergens. After successful testing at the INETI microbiological laboratory in Portugal, the idea of large-scale production of the devices began to take shape. More families worldwide would be able to enjoy the benefits of a simple, effective concept.
In 2004, after a few adjustments had been made to improve electronics and capacity, Airfree was born, marked by the launch of its P air purifier range, attractive and modern in design. A groundbreaking brand was on its way to conquering world markets. Airfree has continued to grow, manufacturing a variety of models of air purifiers in Portugal, intended for use not only in the home but also geared towards trade and industry.
The purifiers are effective against bacteria, viruses, mildew, mold, dust mite allergens, pet allergens, pollen, and tobacco odors. SGS, the world's leading inspection, verification, testing and certification company, and dozens of other international laboratories have proved the effectiveness of Airfree air purifiers at reducing the amount of microorganisms and harmful substances from the air. The TSS technology used is an exclusive and patented technology used in Airfree's air purifiers, is established in over 50 countries worldwide, and is completely silent. With no fans or turbines, a productive workday is guaranteed.
Airfree combines high efficiency with an award-winning design that beautifully complements the appearance of a home office. Airfree air purifiers do not require any maintenance or replacement parts and generates no waste. There is no need to change filters or moving parts. It uses less energy than a 60w light bulb, is easy to transport, weighs less than 5 lb, and takes up very little space – perfect for conserving energy and saving money for a business! For more information, visit www.airfree.com.
---
---