Home Business Magazine Checks in With Entrepreneur First Profiled 13 Years Ago
By Home Business Magazine
(Brian Arrington pictured right)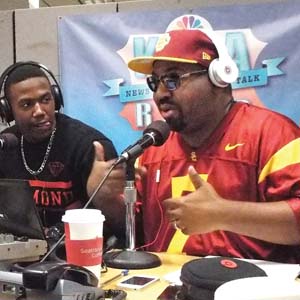 How does a person continue to believe in dreams? How does one continue to pursue the impossible? Home Business Magazine first spotlighted entrepreneur Brian Arrington back in 2001. Brian had built up a successful record label, D.I.M.W Music Group that took years of dedication, belief, and passion, only to be lost in a matter of months and finally resolved in bankruptcy court. Determined to never give up, Brian started over and reinvested as an aspiring radio disc jockey and a new business owner of a radio syndication and production company.
Brian's passion for business and music lead to a music radio show that would be syndicated on five radio stations and on a Los Angeles television station. Home Business Magazine checked in with Brian again in 2009. All was fine until the economic downturn of that time period when his business again was lost in a matter of months. That was the past of Brian, the entrepreneur, who was still determined to be successful. "My goal is to fail forward, learn, and get better every day," he said.
In April 2014, Home Business Magazine again caught up with Brian, who has returned to the radio and television business with an eye on sports. He first became the sports writer for the Examiner.com website. He then created IE SportsNet, a region sports network (RSN) that covers all sports in the Inland Empire area of Southern California, including San Bernardino County and Riverside County.
In addition to broadcasting local prep sporting events on radio, the company has branched out and won contracts to broadcast local minor league teams on radio as well. The flagship project of the company is "Sports Empire," a weekly sports talk radio show that Brian hosts along with Eddie Talbert, Jr. Brian has also created IE Sports Net The Magazine, a quarterly sports magazine covering prep, college, semi-pro, and pro sports in the Inland Empire.
Just as he did in 2001, Brian continues to run his empire from his home. This time around, though, he's focusing on having steady and stainable growth and not being overextended on credit. Those are lessons he's learned along the way as he "fails forward" and builds a stronger business. Visit www.IESportsNet.com, twitter @IESportsNet, email brian@IESportsNet.com, or visit Facebook.com/IESportsNet. HBM Add: 11/14, HP: 10/26/14