A growing number of businesses are turning to the latest CO2 laser cutting machines to improve their product designs so it makes sense to check out all the options and find some ways to embrace this technology in the most cost-effective way.
Here are some tips and pointers on ways to acquire the best laser cutting equipment for your business, including a guide on what you get for your money and a look at the features that can help you find a model that is most relevant to your needs.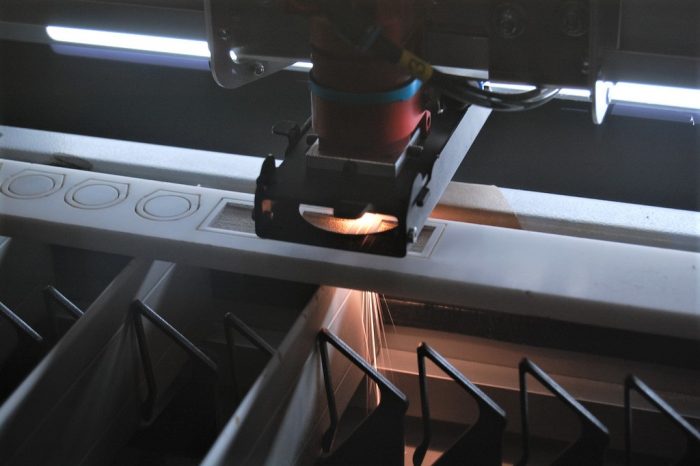 Price point matters
If you are a firm believer in the idea that you invariably get what you pay for then you could certainly apply this to the task of finding the right laser cutting machine for your business.
You will find a wide variety of machines available when you start your search and it can be confusing to try and narrow down your options to a specific model, type, and power of the laser.
A good starting point would be to establish what type of materials you want to cut and what level of accuracy you require. If you are going to be using the machine to cut through metal or similarly resistant materials you will need a higher wattage laser to be able to cut through these thicker materials.
If you want to cut through thinner materials it is possible you might be able to choose a model with a less powerful laser wattage. It is often the case that a higher laser wattage equates to a higher price and you do have to think about these costs when you need to replace the laser tube after a period of use.
What you have to do is try and reach a suitable compromise between price and practicality so that you end up with a machine that is powerful enough to perform to the standard you require and comes in at an acceptable price point.
Be wary of weak lasers
It is easy to be drawn to an entry-level model that seems to offer what you want at an attractive price but you should be wary of a laser cutter that is only designed for light engraving and cutting.
The reason for this is that these units tend to have very weak lasers and this can actually end up costing you more than if you bought a better grade of machine.
Using an underpowered laser to try and cut a thicker or tougher surface could end up causing damage, leaving you with no option than to waste valuable materials by starting over with a replacement.
The most obvious solution to this dilemma is to choose a model with a high watt laser as that will give you the option to cut a number of different materials accurately and efficiently. A powerful laser will enable you to cut and engrave virtually anything, however, that versatility comes at a price.
Will a desktop version work for you?
If you want to be able to conveniently cut materials quickly and cleanly with the minimum of fuss it could be that a desktop CO2 laser cutter will be just what you are looking for.
A desktop cutter can cope with materials like acrylic, plastic, fabric, and wood, but you shouldn't expect to be able to cut metal with a basic desktop model.
Other materials that are within the scope of a desktop version include rubber, cardboard and a number of synthetics. You can also buy a machine that allows you to hold your materials while you are working if that is something that would be a useful feature to you.
Making your purchasing decision
The simplest way to arrive at a make and model that is most suited to your intended purpose and budget is to make a list of all the tasks you want to perform and compare those to the feature of the various models available.
You will almost certainly be required to compromise to a certain extent and need to find a balance between functionality, features, and price.
If you are prepared to pay for more cutting power and speed by investing in a higher wattage laser, there is every chance that you will be rewarded with a machine that manages to deliver on performance and longevity.
Equipping your business with a CO2 laser cutting machine should prove a good move so make sure you ask all the right questions to arrive at the right choice for your needs.