* Discounts for Increased Duration's of Time
Join Home Business Online's exclusive group of quality advertisers. HB Online offers advertisers the industry's leading website for home-based entrepreneurs and those looking to start-up a business from home. Reach over 1,000 high-value prospects each day! Satisfaction Guaranteed: Cancel anytime and receive a full refund on the unused portion of your order. Home Business Online is a fully RESPONSIVE website that automatically adjusts to size of a visitor's viewing screen, whether full desktop size, tablet, Smartphone, iPhone, or other mobile device viewing size. Most Internet users are now on mobile devices, so you must deliver your Ads through a responsive website. Let Home Business Online lead the way for you!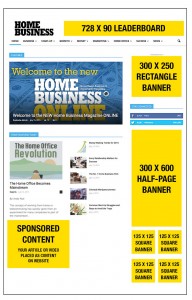 HBM Online accepts all Standard Banner Ad Sizes and Formats, including

 

 
 Video Feeds

 
. Advertise direct at Home Business Online, t
he TOP Home-Based Business industry Website since 1996. 
Satisfaction Guaranteed!
Banner Advertising
Order by durations of time (1 month, 2 mo.'s, 3 mo., 6 mo's) or blocks of impressions. Choose from among multiple sizes and placements. Fully Responsive – Banner Ads RE-SIZE to screen size of a mobile device.
Banner Ad Material and Specifications: Includes all industry standard formats including Rich-Media-Enabled, jpg, gif, animated.gif, HTML, Flash.swf (embed URL link into code). Video can be inserted into large banners. Change material any time. Home Business Online can quickly design a Banner Ad for you. Design Fee is $100 ($140 for 300X600 Banner). Banner Ad material can be emailed to: banner@homebusinessmag.com
* Your Banner Ad will receive at least 25,000 impressions (and likely more!) per month. *
Sponsored Content – Order
Embed your own content seamlessly into content channels within Home Business Online, with home page visibility. Sponsored Content can include an article, post or video. Sponsored Content has the same look, format and appearance as other content within HBM Online.
The staff of HBM Online can assist you in editing and finalizing your sponsored content. This can include selecting attractive images to go with your content, editing content for readability, and improving headlines – all at the discretion of the advertiser. Sponsored Content will be placed dynamically within content channels, to link your content with the same format and appearance as other content on the website.
Sponsored Content Material: For an article, email your editorial with any images to editor@homebusinessmag.com.  For a Video, email a link to the YouTube video (preferred) or email the video file to editor@homebusinessmag.com. HBM Online accepts all common video formats. You can also submit editorial content to go with your video.
Video Advertising – www.homebusinssmag.com/video-ads
Place your Video Ad within video content at HBM Online. Video Ads can appear pre-roll, post-roll, mid-roll; or through overlays.   
EXPO Advertising 
The HBM EXPO (www.expo.homebusinessmag.com) is the industry's largest directory of Business Listings. Hundreds of aspiring entrepreneurs visit the HBM EXPO each day. EXPO includes low-cost e-classifieds,