Online & Internet Advertising – Home Business Magazine
Reach 50,000 Visitors/20,000 Unique Visitors Each Month!
Since 1996, HOME BUSINESS® Magazine (HBM) has offered advertisers the top content site for home business. HBM Online's quality content drives Click-Through-Rates (CTR) that can exceed 1 percent. HBM Online includes the industry's leading website, an online EXPO, Facebook, Twitter, and HBM MOBILE for hand-held devices. HBM Online offers clean rich content portals with no pop-up ads, nor the usual background "advertising noise" that detracts visitors and slows website performance. Test it yourself. See how quickly web pages load, and you are able to navigate through content channels.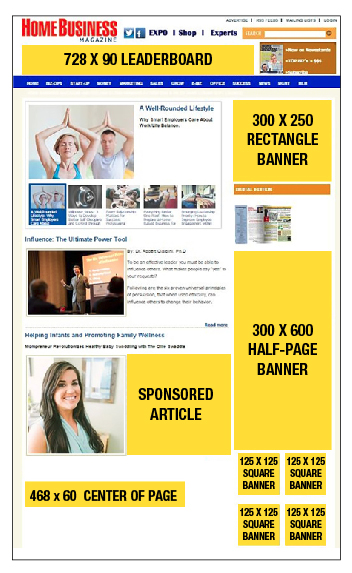 HBM Online accepts all Standard Banner Ad Sizes and Formats, including
Video Feeds
. Advertise direct at HBM Online, a website with Click-Through-Rates among the highest
in the market. The TOP Home-Based Business Website since 1996.
Satisfaction Guaranteed!
Banner Advertising – www.homebusinssmag.com/banner-ad
Choose from among multiple sizes and placements. All common ad formats are accepted. Order by impressions or durations of time. HBM can design a banner ad for you.
Order 728X90 Banner * Order 300X250 Banner * Order 468X60 Banner * Order 125X125 Banner * Order 300X600 Banner
Sponsored Article – NEW from HBM!
Embed your article direct into any content channels within HBM Online, as a "Sponsored Article," with similar appearance as other articles within HBM Online. Includes initial promotion to the home page and at least weekly promotion to home page after initial promotion. HBM can assist with editing content and providing graphic images.
Sponsored Video – www.homebusinssmag.com/vides-ads
Make Video part of your marketing connection. Place your video Direct within any of HBM ONLINE's content channels. Includes promotion to home page. HBM also offers other video advertising options.
EXPO Advertising
The HBM EXPO (www.expo.homebusinessmag.com) is the industry's largest directory of Business Listings. Hundreds of aspiring entrepreneurs visit the HBM EXPO each day. EXPO includes low-cost e-classifieds,
HBM Mobile – View the Live Demo
The Mobile Device version of HOME BUSINESS® Magazine provides an advertising gateway to those who connect to the Internet via hand-held mobile devices. HBM Mobile offers:
Sponsor at HBM Mobile: Heading and Content Channel within HBM Mobile

Banner Ad at HBM Mobile
Satisfaction Guaranteed: Cancel anytime, and receive a full refund of the unused portion of your order.
Traffic Statistics & Traffic Information: www.homebusinessmag.com/traffic-statistics