Here are just a few of the letters to the editor printed in the December 2011 issue of Home Business Magazine.
The Key to Small Business Survival
The small business enterprise is under attack due to socio-economic trends directly connected to the evolution of the Internet. We have quickly evolved into an "on demand" society. Our lives are now filled with downloads and mobile applications for products like iPads and iPhones. This has unintentionally triggered a change in not only how we do business, but also in how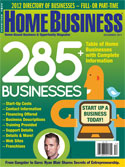 we find new business by affecting our advertisement delivery methods.
Marketing emphasis is now moving towards search marketing (online marketing or Internet marketing) in support of rapid changing customer demand.
Search marketing is not only the key to small business survival but is also is the ultimate business "win-win" scenario since it's the lowest cost, allows easy customer targeting, supports the newest "trends", has the broadest reach and is always working. This is a trend whose time is here and should not to be ignored.
Allen Jordan
Managing Partner of The Farpoint Alliance
www.farpointalliance.com
allen-jordan@farpointalliance.com
"I Don't Have Time" is a Lie!
As a result of the economic collapse of 2008, there are fewer people doing
more work. There is more competition, which means more proposals, more sales
calls, and more projects to be done by fewer people. In short, many of those
who still have jobs are overwhelmed by the sheer volume of things they are
expected to do.
With this increased workload, you've probably heard people say this over and over again, "I don't have time." The fact is that we all have the same
number of hours in each day and we choose what to do with those hours. Since
very few of us can "do it all," we need to find some ways to better manage
our time.
James S. Bain, MBA
Author, speaker, consultant, and business coach
Founder of the Falcon Performance Institute
From the Editor: For tips on becoming more productive and efficient with your time, read the article Organization Solutions for Home Business in this issue of Home Business® Magazine.

HI, I'm the Editor of Home Business Magazine.
Are You Executive Level Material?

Any successful executive will tell you that there's a game in business. If you're not willing to play the game, you can't win at it. "I hate business politics," your readers might say; but who said business politics have to be a negative thing? For instance, there is a difference between being political or a "kiss up," and being gracious and having decorum — two things that will help you climb the corporate ladder
Attaining an executive level position is possible. Readers simply need to go beyond technical or job-specific skills and add focus to an executive presence..

Jean Kelley
President and founder of Jean Kelley Leadership Consulting
Coach and Author of Get A Job; Keep A Job and Dear Jean: What They Don't Teach You at the Water Cooler