Here are just a few of the letters to the editor printed in the August 2009 issue of Home Business Magazine. (This previous issue is now off the newsstands, and it is available for purchase by clicking the "Subscribe" channel on the site and then clicking on "Previous Issue ".)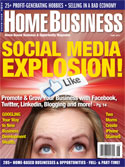 Family Business Tip
Make time during your business schedule to discuss business issues and ideas with your spouse as a business partner (not as a life partner). It is important to separate these business discussions from your personal life discussions. By doing so, you will be able to make the right decisions for the success of the business and keep your marriage more solid. Because your business partner is the same as your life partner, you should avoid business discussions when you are having social or family time. This will assure that you can have fun or relax and enjoy each other during non- business hours. Many couples merge both business and non- business items in conversations at any time of the day. This will cause personal stress and will take away something important from both the business and social aspects of your life.

Laura Michaud, Author of From the Kitchen Table to the Conference Table: Family Business Communication, www.lauramichaud.com
From the Editor: After 16+ years of publishing, we believe that the Number One challenge in operating a home-based business is keeping separate your business life from your personal life.
Can't We All Just Get Along? Understanding Six Workplace Personalities
Managers have the difficult task of overseeing diverse teams in the
workplace, and finding ways for them to be as productive, creative and
efficient as possible. While this may seem impossible, especially as
organizations cut back on resources and spending during the recession, it is
not impossible to create harmony. The key is to understand the different office personality types, and how to motivate them and keep them happy. Each of us has our own natural style of thinking, processing information, problem solving and communicating. Conflict arises when communication is at a standstill – or when someone has mis-communicated.
Shari Frisinger, Corporate trainer, communications expert, and consultant; Author of "Communication Replugged"
From the Editor: Home business owners face the same challenges with people they work with, maybe even greater challenges. They have to overcome personality difficulties with a worker when they are usually not co-located with that worker. That makes solving the communication problem more difficult.
College Graduates: Follow Your Passion
As a longtime career professional, I'm used to dispensing advice and words of wisdom to recent graduates. This year is different, yet familiar. What's unique is that my son graduates from college in a few weeks, yet my advice remains steadfast – pursue your passion and the rest will follow.
Whatever your passion — music, journalism, delving into the health professions, joining a political campaign, teaching overseas or entering the business world — pursue it with vigor and commitment, and good things will follow. Since you're seeking your niche, you'll likely be good at your endeavor, be recognized quickly for your abilities, start meeting the right people, and, with a little bit of luck, start to see your career take shape and definition on your terms. With time, you will realize the compensation and benefits as well as the intrinsic rewards you desire.
Paul Tanklefsky, Director of Career Services and Cooperative Education, Suffolk University in Boston
617-573-8480, ptanklef@suffolk.edu
From the Editor: We hope that many new graduates will choose to become entrepreneurs, and will start up home-based business. Remember, you can pursue your "Office career" during the day, and operate a part-time home business on the side.