Woman's 10-Year Business is a Result of Her Own Experience as a Newcomer to Her Community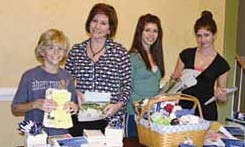 Suzanne Meyer was inspired to start her own business the day her pink slip arrived from her former employer, Welcome Wagon, International. Living in a booming town, and having been a newcomer herself, Suzanne knew what a valuable service the welcome visit provided.
Like many of her former sponsors, she did not want to see the personal welcome visit end. Within four weeks of Welcome Wagon's closing, Suzanne was incorporated and operating her own welcome service business: The Welcome Committee, Inc. Because there was very little overhead to launch her home business, Suzanne broke even in her first month and was earning a profit in her second month.
The Welcome Committee, Inc.'s mission is to: personally welcome newcomers and new homebuyers to the Lake Norman region with free maps and local happenings, coupons, housewarming gifts, and gift certificates on behalf of local businesses and professionals to help transition them to their new community. Suzanne's company is also a grass-roots marketing company, which is where their revenue model comes into play. By introducing newcomers to new businesses and medical professionals, Suzanne's company helps establish long-term business relationships in the community.
Suzanne promotes her company's image by volunteering on service projects and by participating in fundraising events, sponsorship opportunities, speaking engagements, Chamber of Commerce events, trade shows, and Business Expos. Suzanne also promotes newsworthy events through press releases and business announcements and participates in trade agreements with local newspapers, magazines, real estate newsletters, and relocation guides.
In just a few months, The Welcome Committee, Inc. will celebrate its Ten- Year Business Anniversary. Another accomplishment was her company's ranking #14 in the "Top 25 Best Places to Work" (in the 16-county Charlotte region) by the Charlotte Business Journal in the small business category. The Welcome Committee, Inc. was the only home-based business finalist among local, regional, and national corporations. Suzanne also authored a book in 2006 titled "Home-Based Business: The Complete Guide to Owning and Operating a Successful Welcome Service Business."
"The primary advantages of working from home are having control over my daily schedule and balancing my personal and business obligations," says Suzanne. "With three busy kids, my schedule has to be flexible."
Three years from now, Suzanne plans to continue coaching others how to start and operate welcome service businesses in their communities. She also plans to complete her second book. Visit www.TheWelcomeCommittee.net. HBM
V16-1 Add: 1/09 HP: