Use Testimonials and Other Techniques to Improve Your Marketing Response.
By Paul Groth
Why do you need to prove your credibility? Potential customers want to know who they're dealing with. They want to know if you are a legitimate business. If you're selling a service, proving your credibility is a must because potential customers want to know that you know what you're doing and that the service they are about to purchase is worth their hard-earned cash.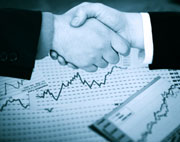 Internet marketers use success stories from previous sales campaigns to persuade people that their product has been proven to work and therefore, if they purchase it they could expect the same. If they are selling a money making system and show proof of their earnings while using the system, that is good proof of their credibility.
There are plenty of ways to demonstrate your credibility and the worthiness of your product or service. The main objective you want to keep in mind is to prove that your product/service/system has been used successfully, and therefore "tried and true".
Testimonials from Customers
Prove the success of your offering by showing testimonials from customers who have used your product or service. These people could have been end users of a great product, proud recipients of a service, or replicators of your successful system. Testimonials are a very persuasive tactic, because people "just like you" have bought the product or service, and now they are so happy with the benefits that they are willing to talk about it, recommend it to anyone, and endorse it.
Case Studies
Case studies are like in-depth testimonials, interviews with good customers where the questions cover benefits, initial objections and how they were overcome, and generally a bit of hype to portray a positive impact on the customer. Case studies, like testimonials, are very important but are sometimes hard to get. Try a few ways to extract them from your customers — by phone, email, or letter. Case studies and testimonials are like virtual versions of word-of-mouth advertising.
>> Visit the HBM EXPO! Hundred's of Home-Based Businesses, Franchises & Opportunities to Choose From!
Visual Aids

Photos
Photos of people who give you case studies and testimonials add visual persuasion to their text. You can also prove the worthiness of your product or service by showing photos of people using your products or photos of results from using your service. Even better than that are photos of well-known people or companies who are benefiting from your offering. Using the well-known adds a feeling of a connection to your product through someone potential customers know or know of. Customers will say, "If that guy is using it, it must be good."
Video or Audio
Take the visual aids a bit further by showing video or audio of your customers using your product or services, or of interviews with your customers. It's a bit harder to get these, but they are proven to attract much more general interest in your offering.

Stating the Age of the Business
Try connecting your years of establishment to the perfection of your products and services, reliability, or fantastic customer service. You could also connect your years of establishment to your own guru status — explaining how you've been through tough times, thick and thin, seen all of the issues, and busted down the barriers of any customer dissatisfaction. You have learned from your experiences and have constantly upgraded your customer service or your knowledge to give the customers the best experience that only someone of your stature could achieve.
Showing Numbers
Show how many products have you sold, how many services have you performed, and/or how many of your customers are repeat customers. Be very careful, though. Don't get caught up with boasting that you're the best salesperson. That can turn off customers, because the first thing that comes to their minds is being harassed by some pushy salesperson so he or she can get that hard-earned commission. Customers may feel they are just there to supply a salesperson with his or her commission that comes with the sale.
All of the above can be easily done to prove your credibility if you have a history, but what if you're a brand new start-up business and you don't have any history to reflect on?
>> FREE Business-Building Information. Subscribe to the Home Business Magazine E-NEWSLETTER. Generate More Income!
Try getting testimonials about you from ex-co-workers, past employers, or anyone else who knows that you're good at what you do. If your product doesn't take too much out of your own pocket, give out test-drives or give the product away to a few local people to try out. In return, you can ask for testimonials or even full-blown case studies. If you are meeting people face to face, make sure you dress well according to the standards in your industry. HBM
Check out my blog at www.marketingmixer.com.au for more helpful tips and tactics in marketing. Please leave some comments while you're there.
Previously published in the February 2010 issue of HOME BUSINESS® Magazine, an international publication for the growing and dynamic home-based market. Available on newsstands, in bookstores and chain stores, and via subscriptions ($19.00 for 1 year, six issues). Visit www.homebusinessmag.com

V17-1 Add: 9/10 Car: 11/11/10 HP: ?