Now on the Newsstands: March/April 2017 Issue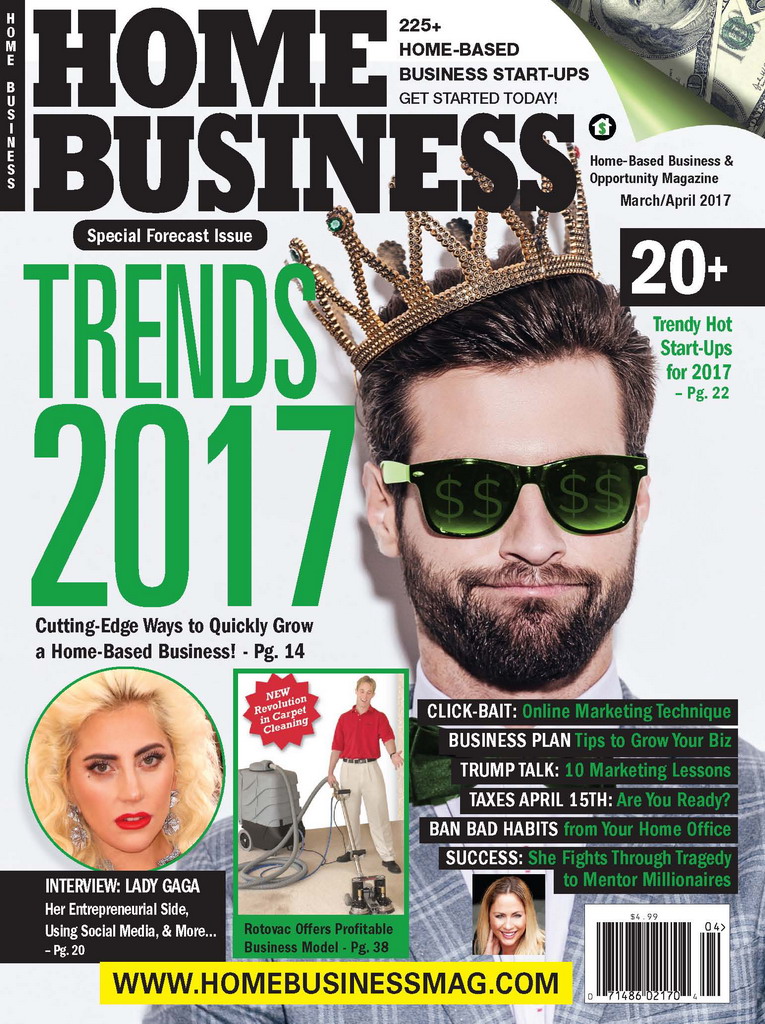 Purchase HOME BUSINESS® Magazine at a retail outlet near you – or subscribe!
Feature: Top Social Media Trends! Successful businesses will need to adapt to the ever-evolving social media in 2017.
*Interview with Lady Gaga. Singer/actress shares her inspiration for her songs, her entrepreneurial side, the recording process, her album "Joanne," cookbook, and more.
*20+ Trendy Start-Up Ideas. Launch a venture in 2017.
*How to Write a Business Plan. A business plan is the first opportunity to make critical evaluations of your idea.
*10 Surprising Marketing Lessons President Donald Trump Can Teach You. You may not agree with his political views but you can't argue with his marketing know-how.
*8 Bad Habits to Ban from Your Home Office Workplace. Some work styles are not beneficial for our physical, mental, or emotional health.
*Why We Need Financial CPR. Steps to achieve financial security in retirement.
*Home-Based Success Stories: Entrepreneur launches smart city digital platform to spur local economic development * Architect turned manufacturer introduces ventless fireplaces with real flames * 13-year-old entrepreneur creates all-natural lip balm with four ingredients * Young pilot launches aircraft re-marketing startup * Rotovac combines innovative carpet cleaning with a profitable business model * Engineer quits job and designs unique and eco-friendly headband brand!
And much more!
Next Issue's Preview:
May/June 2017 – Network Marketing: The Truth, The Hype, The Reality.  With ease of start-up and low entry costs, Network Marketing is a huge player in the home business market. Let us help you avoid potholes and achieve more success.