Now on the Newsstands: Fall 2017 Issue (Click Image to Read)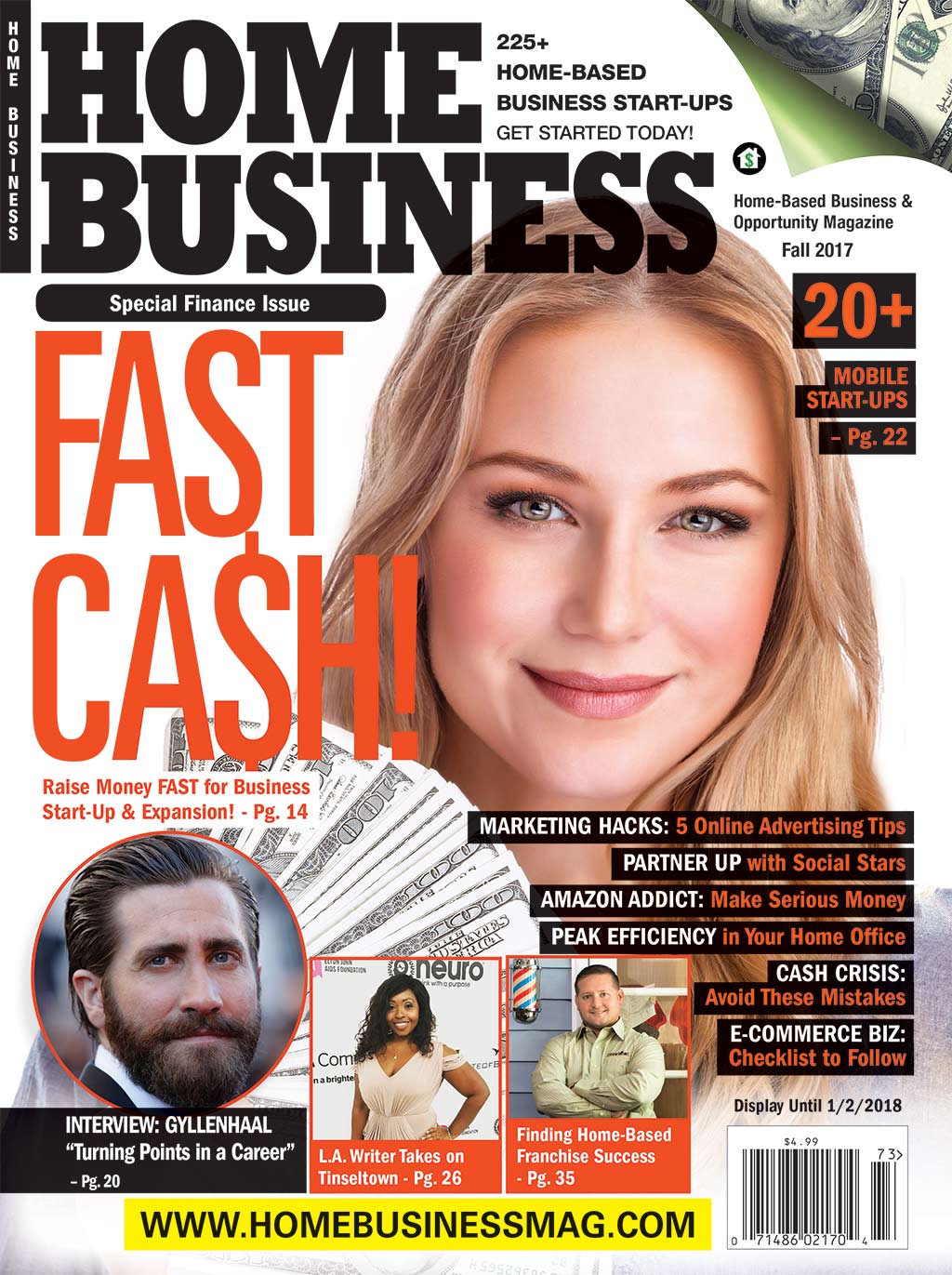 Purchase HOME BUSINESS® Magazine at a retail outlet near you – or subscribe!
Feature: Finance It! Launch a Startup Using Innovative Funding Options. Attain capital for your business this fall with these experts' informative insights. Profitable advice for new businesses.
* Interview with Jake Gyllenhaal. "Turning Points in a Career." Popular actor discusses what gives him comfort in life, career changes, the movie business, and his Netflix work, Okja.
* 20+ Mobile & Home Business Ideas. Top ventures to launch this fall.
* Monetize Online Shopping. Discover 20 tips on how to make serious money on Amazon.
* Protect Your Business from Risks. Check out 9 money-saving tips for buying small business insurance.
* Work-At-Home Success. Master these 6 habits to keep your home office operating at peak efficiency.
* Online Advertising Tips. Tackle these 5 marketing hacks that will grow your business.
*Partner Up with Social Media Stars. Make a business known worldwide through influencer marketing.
* Why Small Businesses Fail. What your accountant is not telling you and steps to take.
* Home-Based Success Stories: Social activist becomes a mogul in male-dominated industry * Marketing specialist launches luxury events company * Entrepreneur shakes up the beverages industry * L.A. writer bridges gap between underground & mainstream * Mompreneurs launch organic skincare company * Company builds a new mover marketing goldmine!
And much more!
Next Issue's Preview:
Winter 2018 – Super Startup (Annual Startup Issue). We show new home-based entrepreneurs how to quickly start and profit from a home business. The latest cutting-edge tactics to launch and successfully market a startup.
Display Advertising – Order Online – Save 35% Off Rate Card