Now on the Newsstands: May/June 2017 Issue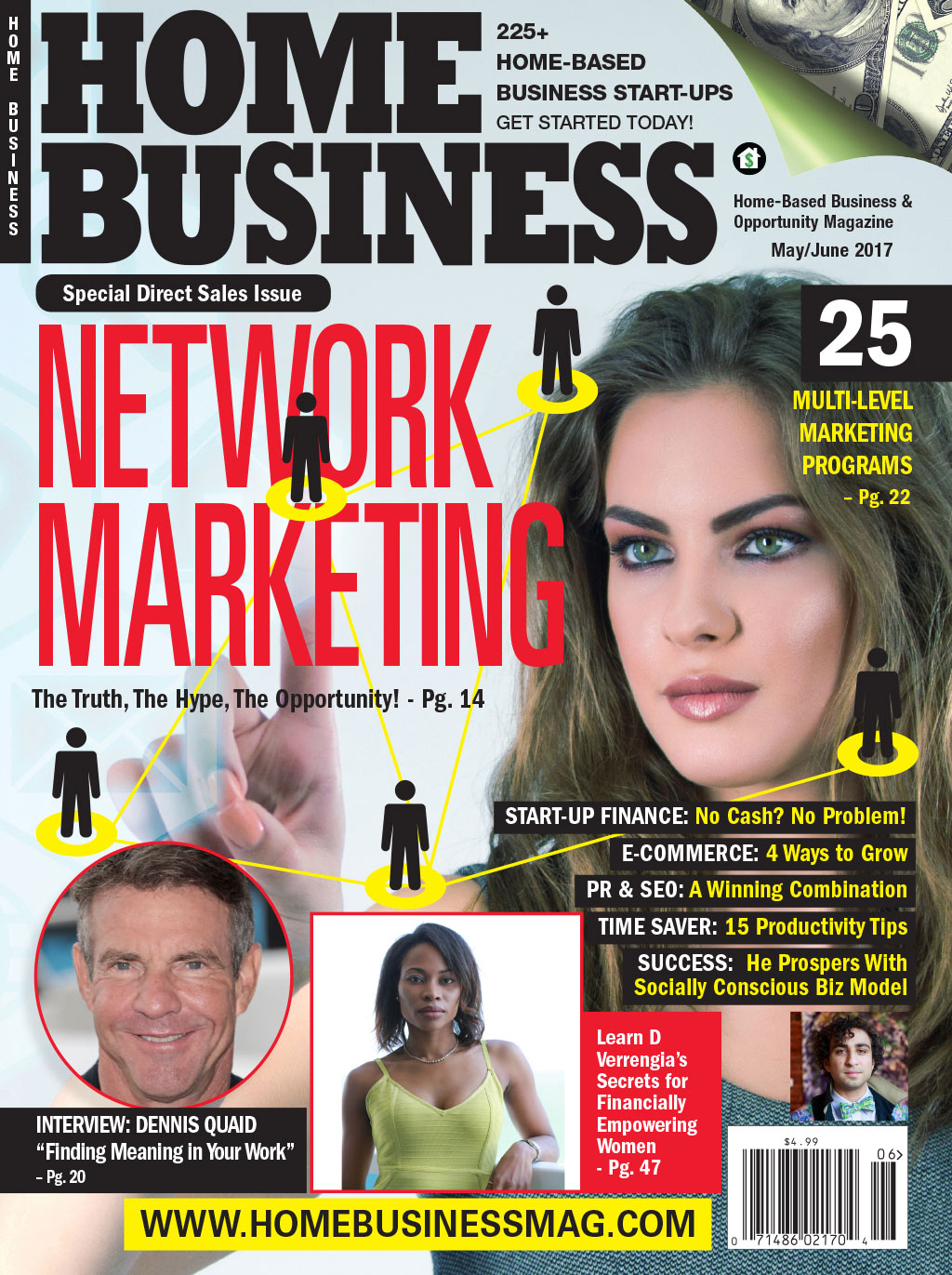 Purchase HOME BUSINESS® Magazine at a retail outlet near you – or subscribe!
Feature: Network Marketing! Discover the truth, the hype, and the reality of running a profitable network marketing business.
* Interview with Dennis Quaid. "Finding Meaning in Your Work." Beloved actor discusses fatherhood, aging, and the early controversial days of his career.
*25 Network Marketing Programs. Join an MLM program in 2017.
*Grow Your Ecommerce Business. 4 tech tools will help you save time and increase your bottom line.
*PR and SEO. This winning combination both aim to bring awareness, visibility and credibility to your brand.
*Four Marketing Pillars. Build a business with a solid foundation as strong as the Parthenon.
*Clean Up Your Home Business Accounts. Keep your business accounts manageable with good accounting practices.
*How to Start a Business with No Money. No cash? No problem! Starting a business with no money (or very little) is entirely achievable.
*Make the Most of Your Minutes in Your Home Office. 15 quick tips will help you master time management skills.
*Home-Based Success Stories: D Verrengia's secrets for financially empowering women * Entrepreneur designs shoe brand that serves humanity * Author starts multifaceted lifestyle company * Artist creates wearable art while supporting refugees * Couple launches beauty and skincare company * 83-year-old entrepreneur invents personal hygiene product * Startup offers world's first gift cards for stock!
And much more!
Next Issue's Preview:
Summer 2017 – Summer Success Tips to Explode Home-Based Business income.