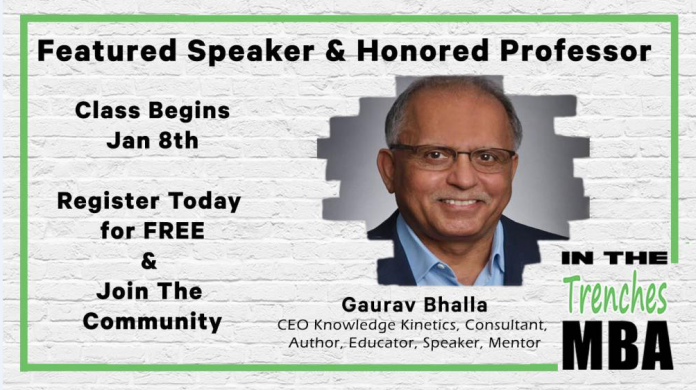 An Online Community with Resources for Business Owners and Entrepreneurs
Entrepreneurs and Small Business Owners often experience problems that pop up and throw them off track; often for days, weeks, and months.
Unfortunately, when this happens, it's not always possible for them – entrepreneurs and small business owners – to find a way out on their own.
Fortunately, there is a solution.
Not expensive consultants or MBA degrees, but a community of trusted business owners to interact with and learn from, to connect with during times of derailment.
This community is called "IN THE TRENCHES MBA"
A custom-built community, it offers the expertise and experience of several trusted advisors who have the knowledge and the first-hand experience of running a business to guide entrepreneurs and small business owners on tackling the daily demands of running a business.
"IN THE TRENCHES MBA" is not theory, or text-bookish ideas.
It helps build a solid foundation of structure, strategy, people, products, sales, marketing and operations, so that entrepreneurs and small business owners feel confident they have a business that will not crumble when tested, and one that is equipped to pursue aggressive growth.

IN THE TRENCHES MBA launches on January 8th, 2018.
GUESS WHAT… registration is FREE*, and backed by a 100% money back guarantee**.
Click the link below to join the online community NOW and get amazing content and bonuses as we get ready to launch this epic community of business owners helping business owners.
Gaurav Bhalla, All Rights Reserved © 2017
Hundreds of Business Opportunities – Visit the Home Business EXPO