Making Yourself Newsworthy
By Lin Grensing-Pophal
You think you've got a great story to tell, but how do you convince the media? And, once they call, what are the dos and don'ts that can help you get effective coverage?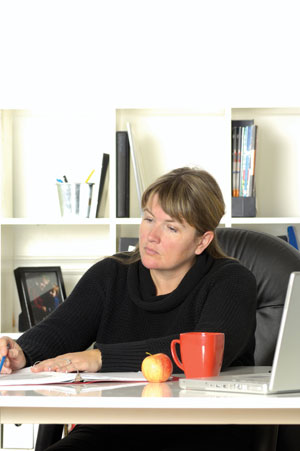 "Reporters are always looking for good sources," says Traci Klein, a former reporter herself with eleven years of experience and currently a media relations professional who offers training and consulting to those trying to get their names in the news.
Home-based businesses are typically closely aligned with a niche, more so than other small business. Rather than having a broad-based market focus, home business entrepreneurs must focus on a niche to be successful. This leads to increased knowledge and familiarity with one's business sector.
The more knowledge you are perceived to have, the more credibility you have by default. The savvy entrepreneur can leverage this credibility for news coverage and exposure in the media. It begins by understanding your niche.
Finding Your Niche
The key to obtaining effective coverage, says Traci Klein, is having a good understanding of the media market and which publications or broadcasts are likely to reach the people you want to reach. Make a list of the publications or programs you'd like to approach and learn something about them.
If the list is very large, you'll want to do some prioritization. You might want to develop a tiered list of these media outlets, with the top tier representing places you'd most like to receive coverage. Learn as much as you can about each of these media outlets, the type of information covered, the tone, the reporters, etc. The more you know, the better you'll be able to target your own pitches to meet their needs and the more comfortable you'll be in responding to their inquiries.
"Any person who wants to get into a media market either locally or nationally, and wants to be taken seriously, should research their media outlets," says Klein. That can be as simple as making a call to introduce yourself to an editor and finding out about deadlines and the types of stores or sources they're interested in. "You can usually tell if a reporter is interested in what you have to offer, or not," says Klein. If they're not, don't waste your time with them.
>> Visit the HBM EXPO! Hundred's of Home-Based Businesses, Franchises & Opportunities to Choose From!
Making Your Pitch
Once you've identified some potential markets, the next step is to generate interest in what you have to offer.
Cherie Kerr is the president of ExecuProv (www.execuprov.com), a communication training company and principal of Kerr Companies Public Relations. "Find story ideas that are unique, timely and interesting," says Kerr, "ideas that will pique the media's interest. They get hundreds of pitches every day. You need to make yours stand out."
Don't ignore the news, she advises. Tying what you have to offer to something timely, can be a good way to generate interest and coverage.
Take Control
Too often, says Klein, people are intimidated by reporters. Don't be. "Take control of the interview." If you don't feel comfortable answering a question, don't answer it. If you need some time to think about your answer, take some time.
It's important, she says, to have a good idea of what you want to say before the interview. "Develop key messages," she advises, "and stick to those messages."
"You don't have to answer everything. Answer the things you want to answer and go back to those three key speaking points — bring the reporter back to the messages that you want to deliver."
While you can never anticipate with 100 percent accuracy what questions the reporter is going to ask you, you do know with 100 percent certainty what your key messages are. You should refer to those key messages again and again throughout the interview. Don't be afraid to be repetitive. Keep in mind that interviews are made up of "sound bites" and you can never know which comments the reporter will decide to use. If you make the same key points again in again, albeit in slightly different ways, you can be more confident that your messages will reach the audience.
>> FREE Business-Building Information. Subscribe to the Home Business Magazine E-NEWSLETTER. Generate More Income!
Off the Record?
Nothing is off the record, Klein stresses. "The basic rule is 'don't say anything that you don't want printed or publicized.' "Other "no-nos"? Don't ask to see questions beforehand and don't ask if you can review the piece before it's published or aired. It's not likely to happen, and you'll mark yourself an amateur.
But, Klein suggests, you can — and should — probe for some detail about the direction the piece may be taking. "Reporters are good about offering an idea of where they're going with an article, and you should always be able to ask that as a source."
And, while you shouldn't ask to review copy before it's printed, if you're concerned that your topic is complex and might not be covered accurately, make yourself available for follow-up questions. "Reporters should never give a source a copy of the story before it goes to print," says Klein. This can, she acknowledges, "be a real dilemma for a lot of people because they may have been misquoted in the past and may be legitimately concerned."
Letting reporters know that you're available if they have any questions, or if they want to check any details later, is a good way to ensure accuracy. As a reporter, herself, Klein says it wasn't unusual for her to follow up with sources later to make sure she had a particular point right.
Be a Reliable, Trusted Source
Making yourself available to the media is a good way to ensure that you'll get the coverage you're looking for. Always be willing to work on their deadlines and to accommodate their schedules.
And, Klein adds, "Speak in lay terms." Too often, she says, experts use language that's unfamiliar not only to the reporter — but to their audience. "If you want your message to get across to the audience you're trying to reach, boil it down to very simple language."
If the information you're offering is very detailed or potentially confusing, offer to send some background information (e.g. a copy of your book or an article you've done, a fact sheet or backgrounder), or refer reporters to your web site. Professionally prepared press kit materials can be very helpful, says Kerr. Be thorough and provide "enough information to set yourself apart from the 'other guys.'"
Getting your name in the news isn't as difficult as it may seem. If you have a story to tell, if that story is "newsworthy" — and if you can tell it in "sound bites" — chances are you'll be able to interest the media. HBM
V16-3 Add: 07/09 Car: 11/15/10 HP: ??