How the Concept of Networking is Changing for Home-Based Entrepreneurs
By Nora Caley
Networking used to mean attending chamber of commerce meetings or leads groups and trying to start conversations with strangers. They might or might not be interested in your business, and you would have to hear their sales pitches, too. Those events still exist, and some business owners do find those get-togethers to be useful and even enjoyable. But today, much of the interacting has changed with social networking and other online services.
Not only do you not have to leave your home office to meet people, but you can narrow your search so you don't waste your time or the time of people who might not be interested in investing in your business, buying your product or service, or spreading the word about your company.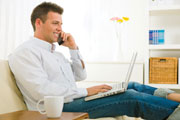 But today, much of the interacting has changed with social networking and other online services.
If you Google "social networking web sites," you will find lists of sites and even some reviews of the most popular or most effective sites. Some are free, such as Facebook, MySpace, and Twitter. Some are business sites such as LinkedIn, where people try to find contacts through other contacts, and Ryze.com, which connects entrepreneurs and other business people. There are also hobby-related sites. Some sites are invite only, and some charge fees for certain levels of membership.
According to a report by Forrester Research, Inc., in Cambridge, Mass., more than four of fi LinkedIn and Fve U.S. adults who go online use social media at least once a month, and half visit sites such asacebook. The report, called "The Broad Reach of Social Technologies," also indicated that the most rapid growth occurred among adults 35 and older.
Facebook
With Facebook you can keep in touch with old friends or send messages to people you met recently. Business owners and others use Facebook to find new contacts, get information about a certain business, or read updates about a club or group.
To sign up on Facebook, start with www.facebook.com and follow the instructions. You can set up your profile to be public or private, depending on whether you want acquaintances and others to contact you. Status Updates allow you to inform your friends and acquaintances about your new product or other development. Other Facebook members can contact you by posting a public message on your Wall, which is the page people can see and read. Readers can also send you private notes through Messages, which is similar to email.
Through Facebook, you can communicate with other people who are also on Facebook. You can also invite people to become a fan of your business, and they don't have to sign up for Facebook. If your business has a web site, or if you write a blog, be sure to include a link that says, "Become a fan of (your business) on Facebook." Readers click on that link and go to a page that says, "(Your business) is on Facebook," and they can read a brief description of your company, contact information, photos, and comments from fans. The fans could be people who enjoyed your customer service, or people who want to put up a sentence about their own business. They can also opt to receive updates from you. Facebook also allows you to set up a network or group.
Twitter
Twitter is a micro blog, which means you can inform others about your business's activities through short messages. The messages, or Tweets, must be 140 characters or less. You can post the messages to your profile on the Twitter web site, to your blog, or to people who are following your business on their mobile devices. You can invite people to follow your Tweets, and you can follow other people's Tweets. Twitter sends you an email when someone new starts to follow you. Your Followers link on your page shows the number of Twitterers who are following you.
To get started, visit Twitter.com and click on "Sign Up Now." Also read the support pages on http://help.twitter.com/home.
Other Sites
MySpace is another way to build a mini web site that you can update easily. The social networking site has features that are similar to other sites, such as groups, updates, bulletin boards, and others. You can post photos and other information for your business. Visit www.MySpace.com and click on Sign Up.
You can upload promotional videos or instructional videos on YouTube or Howcast, to showcase your expertise or highlight how to use one of your products. Keep the videos short and informative. The site allows people to comment on your video, and it also allows them to click on a Facebook icon so they can read your business's Facebook page.
LinkedIn is a site where you can meet people by connecting with people you already know, and asking them to connect with someone else. You might have to make two or three connections before you reach the person you'd hoped to contact. You can also start or join a LinkedIn group in which people discuss small business issues or other topics. To join, visit www.linkedin.com, and click on "Join Today." Be sure to put enough information in your profile so that if a business is searching for a service such as yours, they can easily read about your company.
Ryze is another free site for business networking. You can send messages to other members, join an already existing network, and view other members' home pages. The site also offers services such as Advanced Search, which charges a fee.
Finally, if you do want to meet people in person, try Meetup.com. It's a site that helps you find groups in your local area. Yahoo also has groups in many different categories.
Bringing It All Together
Don't rely on one group or one web site for all your networking needs. Be sure to connect your efforts. Add a link that says, "Follow me on Twitter" as part of your email signature. Your email recipients can click on that link and see your Twitter page, so they can read your profile and read the Tweets you've written lately. Make sure your Tweets are business-related, such as announcements about a special you're offering this week. You can also put "Follow us on Facebook" or "Share on Facebook" and have that link on your email signature or your e-newsletter.
If you write a blog, you can offer your customers, potential customers, and other web users a way to find out more about your business. While some people write their blogs as a sort of diary of what they do each day, other bloggers write about their businesses, and feature updates on new products. Or, if your company offers a service, you can use your blog to offer advice on a topic in your area of expertise. Be sure to include a Comments feature on your blog, so readers can offer feedback or start a dialog.
Visit Blogger.com to view examples of other people's blogs and to find out how to start your own blog. Other blog sites include LiveJournal and Xanga. Make sure your blog includes links to your Facebook page and a sidebar showing your Twitter updates. Also, on Twitter, when you post a Tweet, you can include an abbreviated web address, so people can follow that to your blog and read your entry about a topic.
To find out how to connect these sites with Facebook, visit Facebook.com and click on "About," then "Resources." Under Developers, there are instructions for Facebook Connect, which can link your business's web site or your blog to let readers see your page on Facebook. The link looks like the blue Facebook logo, or the logo and the text, "Share on Facebook." You can also add this link when you leave a comment on another web site, such as a review/opinions site or on someone's blog. Readers can follow that link to your Facebook page.
If you don't have your own blog, ask friends if you can write a guest blog on their site, if it's something that is relevant to your business. Also you can comment on other people's blogs and on their Facebook pages. You can start a polite discussion on a topic that affects your business, for example.
Finally, be sure to read other people's blogs, tweets, web sites, and other pages, to keep up to date about issues affecting your industry, and to stay connected to your peers. Networking is a back-and-forth exchange of information, so keep the communications going. HBM
Nora Caley is a freelance writer based in Denver. She specializes in business articles. V16-6 Add: 03/10 CAR: ? HP: 11/21/12