Use Online Text Ads to Maximize Your Internet Advertising Campaign
By Joe Dysart
Despite all the buzz about rich media lately, the simple text ad is still the most effective way to advertise online, according an October 2008 survey by iPerceptions (http://www.iperceptions.com).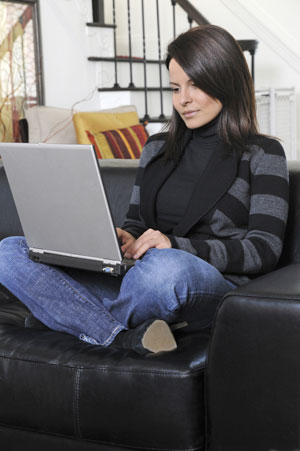 Specifically, the market research company found that 25% of web site visitors are more likely to click on a text-only ad when they visit a web site — a preference that beat out every other ad format.
The study is especially intriguing, given its substantial number of participants. Fourteen thousand people were surveyed about their ad preferences after they visited leading media Web sites, according to iPerceptions. "By having a direct dialog with consumers, we are able to know — with certainty — what consumers want and expect from their online experience," says Jonathan Levitt, the company's vice president of marketing.
Many home businesses are already playing the text ad game. Web design firms, consultants, tax preparers — the full gamut of home-based businesses — regularly run text ads on Google and the other major search engines.
Meanwhile, similar results on text ad dominance also surfaced in an earlier study released in July 2006 by Y2M. That market research firm found that 52% of college community members that read college newspapers online respond most favorably to text ads. The study, which featured input from 7,500 readers of online college newspapers, and included undergrads, graduates, alumni, faculty and parents, also found that pop-up ads were the most unpopular form of advertising.
Fortunately, if you're looking to give text ads a try based on these latest survey results, you're in luck. Getting into the text ad market is extremely easy, given the intense competition for text ad dollars by the major search engines. Here's a game plan:
Experiment With The Big Three Ad Networks First: Google (https://adwords.google.com), Yahoo! (http://searchmarketing.yahoo.com/as/) and MSN (http://advertising.microsoft.com/home/home) all have highly evolved ad networks that have been painstakingly designed for non-techie use. Any of these is a good place to learn the basics of online text advertising.
Plus, once you're acquainted with the medium, your business can begin to take advantage of the ad analytics these companies offer as part of their services, free-of-charge. These analytics will help you hone your text ad message, and ideally ensure you get the best R.O.I. for your ad dollar. (A new service to check out once you're comfortable with online text ads is MySpace MyAds: (https://advertise.myspace.com).
Embed Keywords In Ad Headline And Copy: While it's not always possible, embedding the primary keyword for your product or service in the ad headline and copy will often guarantee you the best results.
Offer A Free Trial Or Discount: As with conventional advertising, free and discounts are reported to be extremely effective words in online text ads.
Eschew Jargon: Again, this should be a no-brainer. But it never hurts to run your ad by your grandmother before it goes live.
Include A Call To Action: Sometimes, businesses get so entranced in the ad writing process, they forget this simple requirement. Always include an explicit request to buy, purchase, order, or perform some similar action.
Create A Custom Landing Page: You'll get more sales if your text ad link leads directly to a specific product/service page for your offer. Ideally, that page will include images and copy designed to help complete the sale, as well as a button visitors can click on to initiate a purchase. Conversely, you'll have fewer sales if your text ad link simply leads to your home page, and consumers are forced to "hunt" for the offer you're advertising.
Set Your Ad Placement on "Rotate": If you're running more than one version of your text ad to see which performs best (good idea), be sure to set your ad distribution on rotate. Some of the bigger ad networks are programmed to analyze which text ad performs best for you, and then automatically run that ad for you to the exclusion of the others.
This is fine for advertisers who would rather not get involved in the selection process for their best possible wording. If you prefer, however, to maintain control over what is seen by your potential customers, make sure all your test ads are evenly rotated.
Test, Test, Test: While experimenting to find the best performing ad is nothing new, having powerful analytics to help you perform those test is. Each of the big three offer varying analytics programs that will help you get at the heart of what text ad is working best for you, and why. It pays to invest a little time, and master these online software applications. HBM
Joe Dysart is an Internet speaker and business consultant based in Manhattan. Voice: (646) 233-4089. Email: joe@joedysart.com. Web: www.joedysart.com.
V16-4 Add: 08/09 HP:?? CAR: ??