Even if Just a Part-Time Business, it Makes Sense to Use a Legal "Professional"
By Jim R. Sapp
While you may be able to handle most of the issues that will arise in a new part-time business, you will want professional assistance for more complex legal issues. Even the smallest businesses need legal advice from the beginning. Don't wait until you have a legal problem to look for an attorney.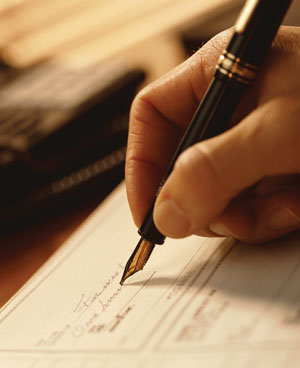 Selecting Process
Use a two-step approach to find a good attorney. First, carefully select a firm by getting personal references and then examining the firm's web site. The web site can give you information on that particular firm's areas of expertise and their specialty. Also contact state bar associations to check an attorney's bar certification.
You don't have the time or money to pay someone to learn about your specific industry, so find a professional who is servicing your business sector already. If your company is highly specialized, a business trade publication may list professionals who will understand your specific needs.
Second, when you have settled on one or two law firms, conduct a face-to-face interview with the candidates before you hire. Interview the specific individuals who will service your business and are close in proximity. Ask questions, such as where they went to school, what their expertise is, and if they have experience in your industry. Other good questions include:
• What is your hourly billing rate?
• How often do you increase your rate?
• Can I talk to one or two other small business people you work for?
• What types of work do you most enjoy?
Make your final selection carefully. It is expensive to switch law firms!
Issues An Attorney Can Help You With:
You should do as much for your part-time business as you can yourself; however, a lawyer should review the complex issues. To begin, write a list of exactly what you want the attorney to do for you.
Choosing a Business Structure
An attorney with small or home business expertise can assist you in selecting the structure for your business: a sole proprietorship; partnership; a corporation; or a limited liability company (LLC). An attorney can also help you complete the necessary forms to incorporate your business. Further, it's important to have the name and address of an attorney for a loan document or any leases you need to have reviewed.
Safeguarding Intellectual Property
An attorney can also help you safeguard your intellectual property, and reserve your own Internet domain name, copyrights, trademarks, and patents. An attorney can also help you to avoid violating other companies' copyrights, trademarks, or patents.
Conflict Mediation
An attorney can also help you mediate conflicts with consumers and with vendors before they become expensive litigation or before relationships with them are beyond repair. An attorney can also advise you on how to handle potential claims and avoid lawsuits.
Drafting of Contracts/Agreements
An attorney can review contracts and agreements drawn up for your work as an independent contractor or to subcontract work out. Prior contracts with former employers can also be reviewed to ensure you are free of any non-compete agreements that you may have signed.
Paying Attorney Fees
Attorneys make their money by invoicing you. Most business owners can do about eighty percent of the work themselves and hire a lawyer to do the rest.
While there are many exceptional lawyers, their image precedes them for a reason. Do not use a "superstar" firm or any firm with more than six to eight attorneys; you cannot afford their rates. Select a smaller firm or a one-person office, preferably someone who has expertise in your area of business. Go in and say, "I am starting this part-time company and here is what I want." Have officers, stakeholders, and addresses all written up. The more preparation you do, the lower your cost will be.
Many times, the problems that businesses encounter could have been avoided by getting the appropriate legal advice beforehand. The advice of an attorney can also save time and money. HBM
Jim R. Sapp is an international business consultant and speaker with more than 25 years experience as a business owner and entrepreneur. He is founder and director of the American Small Business Institute, and recipient of both the "Entrepreneur of the Year" award and "Blue Chip Enterprise Award" for inspirational achievement in business. His book "Starting Your First Business" is available from www.sappbiz.com or by calling 800.570.5436.
V16-5 Add: 11/09 CAR: 1/6/11 HP: ??