Working through New Challenges, Leading Talented Co-Workers, and His Love for Angelina.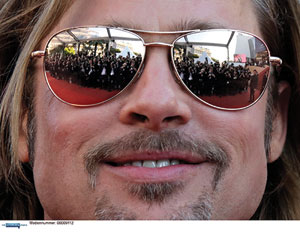 "You want to feel that you've given it your best at the end of the day. We all want to be really good."
By The Interview Feed
Brad Pitt has to save his screen family from flesh-eating zombies in his latest film, World War Z. Shereen Low finds out why, in real life, the actor would risk everything for his nearest and dearest. Family means everything to Brad Pitt.
Once famed for being the most attractive man on the planet, these days he's the A-list poster boy for family values, and the devoted dad of six is happy to admit that he's prioritizing his beloved brood ahead of everything else. In fact, it was his fiancée, Angelina Jolie, who recently stole the limelight at the UK premiere for Pitt's latest film World War Z. The event was 38-year-old Jolie's first red carpet appearance since revealing last month that she'd undergone a preventative double mastectomy after discovering she carried the "faulty" BRCA1 gene, which sharply increased her risk of developing breast and ovarian cancer. Her decision to "go public" led to a huge outpouring of respect and admiration for the actress — with Pitt leading the praise. "She's doing great," the actor and producer says today. "It's business as usual and on to the next stage for us." Asked how important Jolie's support at the premiere was, he says, "I've never not had support from her. I love her; it brings you closer and makes you stronger."
Jolie, whose own mother was 56 when she died of ovarian cancer, underwent weeks of hospital appointments, invasive surgery, and recovery during the early months of 2013, but the couple are feeling positive.
"It doesn't have to be a scary thing. In fact, it can be empowering," says Pitt of his fiancée's surgery. "It's been an emotional and beautifully inspiring few months. It's such a wonderful relief to come through this and not have a specter hanging over our heads. "My most proud thing is our family," he adds, knowingly. Pitt's transformation from ladies' man to family man is well and truly complete. Once engaged to Gwyneth Paltrow, he married former Friends actress Jennifer Aniston in 2000, before they split in 2005. It was rumored that his relationship with Jolie, whom he met on the set of Mr And Mrs Smith, caused the break-up, and while allegations of adultery were denied from both camps, Pitt and Jolie later admitted they "fell in love" while working on the film.
With Family in Mind
The couple are parents to three biological children — Shiloh, seven, and four-year-old twins Knox and Vivienne — and three adopted kids: Maddox, 11, Pax, nine, and eight-year-old Zahara. Pitt had his kids in mind when he signed up for zombie thriller World War Z, he says, particularly the two older boys.
As well as starring in it, he produced it through his production company, Plan B Entertainment. "These zombies are scary as hell," he says. "And the movie, I believe, works on numerous levels. But primarily, it's complete summer fun and something I wanted to do for my sons to enjoy.
"Some parents have not agreed with me after seeing it, because it's the most intense film that you're going to see all summer! But my kids are savvy and I figure it's called parental guidance… But yeah, they loved it," he adds. In World War Z, directed by Marc Forster (Quantum Of Solace) and based on Max Brooks's post-apocalyptic horror novel, Pitt plays former United Nations investigator Gerry Lane, tasked with having to save his family while trying to find, and stop, the source of the epidemic that's turning people into zombies.
"Five years ago, I knew nothing about zombies. Now, I consider myself an expert," Pitt jokes. "Max's book treats the zombie genre as a global pandemic, spreading much like we've witnessed viruses like SARS travel. What happens when everything we concern our days with is rendered useless? What happens when power structures and societal norms are obliterated? How will we survive?" The actor says playing someone normal, not a superhero, appealed. "Gerry can't fly. He can't beat up bad guys. He has no super powers. He's a dad, with a burning need to keep his family safe. To do that, he can only rely on his intellect, his instincts, and his experience," Pitt explains.
On Cast and Crew
Pitt has kind words for his on-screen wife Karen, played by Mireille Enos, who's starred in the US version of The Killing. "Mireille is a brilliant partner on set," he says. "She can embody the lovingness of the mother and flip to the ferociousness of the lioness protecting her young in an instant. As in any great relationship, she carried half the weight — a true ally."
As for Forster, who also directed Monster's Ball, Finding Neverland, and The Kite Runner, Pitt says: "He can't be pigeonholed as a director; his experience and interest in many genres and types of film are rarities. His most memorable moments on film are intimate and human. "It was this quality, juxtaposed against our massive global apocalyptic crisis, that we believed would lead to an unusually authentic and grounded action thriller."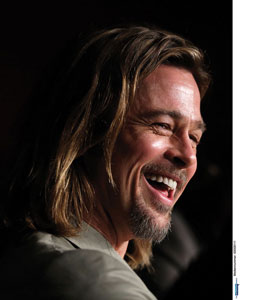 "I don't play the Oscars game… they are never the focus. I believe it's how you personally feel."
Forster returns the praise, calling Pitt "the best partner". "He is a sublime actor and a true artist. His sensibility of what works, what is real versus what rings as false, is right on point," says the director. "We'd never done anything like this and, in that sense, it was a challenge — to work through this genre that was unfamiliar to the both of us, and try and create something fresh and new."
On the Awards Game
Pitt, who became a Hollywood heart-throb after appearing in Thelma And Louise in 1991, and later in films like Meet Joe Black and Fight Club, has received four Oscar nominations in his time, including two for 2011 drama Moneyball. His upcoming roles in Steve McQueen's 12 Years A Slave and Ridley Scott's The Counselor are sure to bring him further acclaim. But awards don't factor in his game plan. "I don't play the Oscars game. I had a Golden Globe [for 12 Monkeys] about a decade ago, but they are never the focus," he says. "I believe it's how you personally feel. You want to feel that you've given it your best at the end of the day. We all want to be really good." HBM V20-5 Add: 11/13 Slide: 11/17/13