Gearing Up for the Coming Wave of Cell Phone Shoppers
By Joe Dysart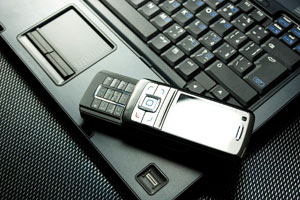 While businesses have long eyed the cell phone as a new revenue stream, recent market developments indicate the technology is finally beginning to deliver on its promise. By 2013, more than two billion consumers worldwide are expected to have made a purchase using their mobile, according to market research firm Juniper (http://www.juniperresearch.com). Plus, more than 20% of all businesses worldwide are already offering customers some way to make purchases or order services via cell phone, according to Juniper.
Specifically, many of these businesses are offering "cell-phone-friendly" versions of their web sites, light-weight alternatives that are specially designed to download more quickly to the relatively tiny cell phone screen. Other businesses are bypassing the Web altogether by texting their sales offers and other messages directly to customers' cell phones, and enabling them to respond — and purchase — in kind.
"Americans are hooked on their cell phones," says Glen Chancy, chief information officer at CorFun (http://www.corfun.com), an e-services and marketing firm. "When you leave the house in the morning, what are the two things you always make sure you have? For most people, the answer is — keys and cell phone. If you want to reach people, texting them on their cell phone is the fastest, surest way to do it."
Derek Brown, CEO of WebXposure.com (http://www.webexposure.com), a Web marketing firm, agrees. "Text messaging is the new wave in marketing," he says, adding that one of the most powerful components of the advertising form is that it is saved — people tend to save their text messages in their cell phones until the messages are actually viewed.
Texting Your Way to Sales
For entrepreneurs of all stripes, probably the easiest and quickest way to connect with the coming wave of cell phone shoppers is to leverage the text messaging side of cell phone marketing. Businesses already engaging in text-message marketing, for example, regularly text-message established customers with news of private sales, special offers, coupons, and one-time clearance events. Others goose sales by alerting customers about coming price hikes.
And some are even using text messaging to enhance the service side of their business, such as alerting customers that a product that they've ordered has arrived, or forwarding along product delivery information from carriers like FedEx, UPS, or USPS. Still other businesses are mixing text-messaging advertising with more traditional forms in print, radio, TV, and Web. Such ads often feature a text message code that customers and potential customers can send to a business for more information about a product or service, or to initiate a purchase.
In each case, these businesses are building these text-messaging lists the same way they built their email marketing lists in the past —offering an incentive in exchange for the information. Simply asking a customer for their cell phone number, for example, probably won't get you very far. But offering a 10% discount on-the-spot for their current purchase, in exchange for a cell phone number, often will.
So far, one of the most accomplished implementations of text marketing is Amazon.com, which offers a TextBuyIt (https://payments.amazon.com/sdui/sdui/productsServices?sn=textbuyit/o) service to customers already in its database. Under the TextBuyIt program, customers interested in buying any sort of product can search for the product on Amazon by sending a text message that includes the company identifier, AMAZON (262966), along with the name of the product, a search term for the product, or a UPC or ISBN product code.
Within seconds, Amazon.com text-messages the customer back with a product or products that matches the customer's query, along with pricing information. Customers complete the purchase by returning a text with the unique single digit number next to the item they want to buy. To close the deal, Amazon.com confirms the purchase with a short phone call.
"With TextBuyIt, any Amazon.com customer can now use any mobile device to shop and buy from Amazon.com, at anytime, anywhere they are," says Howard Gefen, Director of Amazon Mobile Payments. "With TextBuyIt, if you're walking out of a concert and want to buy a CD from the artist you just saw, or if you're at dinner and a friend tells you about a great book you should read, all you have to do is get out your mobile device, send a text message to Amazon, reply to the response, confirm your order, and your item will be on its way. It's incredibly simple and convenient."
Capturing Mobile Surfers on the Web
Meanwhile, cashing in on the other side of cell phone marketing – reaching out to customers who are using their handsets to surf the Web for products and services — takes a bit more effort. The reason: Cell phone screens are tiny in comparison to the average PC screen, and the average connection speeds to the Web via mobile phone are generally much slower than what you'd experience with a PC.
Consequently, you'll need to design a special "cell-phone-ready" site for your customers if you want to tap into this new revenue source. In practice, this means you'll need to design a special web site that uses product images that are smaller, product descriptions that are leaner, and an overall design that is a simple as possible.
Some businesses are attempting to get around the big screen/small screen problem by creating their own shopping applications, which consumers can download by registering at the company web site, or by clicking on a hyperlink that they receive in a text message. In essence, these applications enable a consumer to download an entire web site worth of shopping information onto their cell phones, and work with that data "offline." This greatly speeds the shopping experience, since the cell phone does not need to continually "query" a store web site via the Net for product information, shopping tools, or other data or functions. All the data is already on the phone. Businesses using this format include 1-800-Flowers, which has created a shopping application for the Blackberry (http://web.1800flowers.com/blackberry/) and Amazon.com, which has a shopping app for the iPhone (http://www.amazon.com/iphone_app). "We designed the Amazon app to be a quick and easy way for iPhone and iPod touch users to shop, browse, and buy," says Sam Hall, director of Amazon Mobile.
Unless you're a programming whiz, getting a shopping application up-and-running will require the services of a custom programming shopping, or finding a generica, off-the-shelf shopping app that you're able to install on the Web. You can find service providers who are willing to help with a shopping app by using keyphrases like "m-commerce shopping app software" on Google and similar search engines.
If you'd rather not get involved with a special programming, take heart. There are still ways to cash in on the emergence of the mobile shopping Web without spending a penny. Many cell phone users hip to the mobile Web, for example, regularly use a service known as Frucall (http://www.frucall.com/), to shop price before they buy. By simply texting in a product name or product UPC code to the site, users get a text message back showing them the price offered for the product at various Web and brick-and-mortar retailers.
As a guerilla marketer, you can assure your customer you're offering them the best price by inviting them to use Frucall, and check around to see what other merchants are offering. (Of course, you'll want to know what the competition is charging before you make the offer.) You can use the same approach with a similar service called NearbyNow (http://nearbynow.com), which gives consumers a complete rundown on the prices and inventories offered at their local mall.
Bottom line: No matter how you plan to leverage cell phone marketing, it's important to stay attuned to its ever-increasing potential. Otherwise, you could be letting an entirely new revenue stream whisk right past you.
Joe Dysart is an Internet speaker and business consultant based in Manhattan. Voice: (646) 233-4089. Email: joe@joedysart.com. Web: http://www.joedysart.com.
V16-3 Add: 07/09 HP: ? CAR: ?