Video Production Technology
ej4, a company that has worked with Fortune 500s to produce thousands of promotional and training videos for hundreds of companies,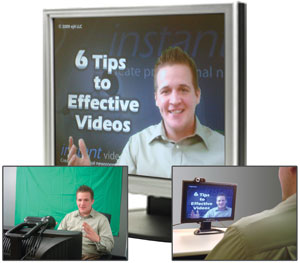 has released Instant Video Presenter™ — a software application that allows users to create professional newsroom-style videos in minutes.
It is optimized to affordably produce persuasive and informative newsroom-style videos in record time.
Instant Video Presenter was designed to allow sales, marketing, training,
and HR professionals to produce an "I need it today" video — today, not in
weeks. It is an unprecedented video capture application, so there is no post production process, compression, or editing needed. When the video is done being recorded, the file is immediately ready to be deployed through email, internet upload or burned to CD.
Instant Video Presenter is specialized video recording software that
captures any presenter and PC application simultaneously using "chroma-key"
and "green-screen" technology. It lets users with no previous video
experience do something that no other desktop software can – capture a
presenter interacting with software applications, PowerPoint presentations,
websites, or pictures in professional quality video on one PC. Visit www.InstantVideoPresenter.com. HBM
Previously published in the August 2009 issue of HOME BUSINESS® Magazine, an international publication for the growing and dynamic home-based market. Available on newsstands, in bookstores and chain stores, and via subscriptions ($15.00 for 1 year, six issues). Visit www.homebusinessmag.com