Innovative Ways to Say "Corporate" on a Ramen Noodle Budget
By Sue Anderson, Marketing Lure, Inc.
Every dollar spent on a home-based office eats away at net income,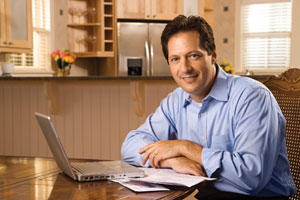 but cutting back too far can negatively impact the amount of revenue and type of clients you attract.
Fortunately, technology makes creating a professional image on the cheap a very realistic and attainable goal. If you already have a computer, printer/scanner combination, and high speed Internet access, you're 90% there. Here's how to complete the image that says corporate-suit-and-tie, even when you're working in your pajamas.
Spend $5 — not $50 — per month for a business phone.
When the phone rings, you want to know it's a customer (not Mom) before you pick up, but a dedicated business line doesn't have to cost $50 or more per month.
VoIP is a great alternative if you live in an urban area and have high-speed Internet connectivity. You've probably seen ads for digital phone service, but much better deals can be found online. My VoIP service costs $60 per year and includes unlimited calls in the U.S. and Canada, voice mail, instant messaging, conference calling, and videoconferencing.
If your computer has a microphone, you already have everything you need, and because it's completely software-based, you can take your phone on the road and use it wherever there's high-speed access: airports, hotel rooms, coffee shops, fast food restaurants, and more. Add a noise-canceling headset to improve sound quality or VoIP phone for more freedom. Two words of caution: If you live in a rural area, VoIP may not work reliably, and if you lose power, you'll lose your phone, too.
Make a good first impression with e-mails.
What company have you done business with that uses free e-mail accounts like @yahoo.com or @hotmail.com to communicate? Companies big and small follow the de facto standard @companyname.com for their e-mails, and you should too! Conducting business with a free e-mail account will only raise legitimacy questions and make you look like small potatoes.
Web site domains are cheaper than you think. For approximately $50 per year, you can get an economy plan with e-mail, web site hosting, and online advertising credit to boot. Not ready to create a web site? No problem. Hosting providers will automatically park the domain when you buy it. Don't however, pick the cheapest provider you can find. You want 99.99% uptime and you want support when something doesn't work, so select a provider based on reputation.
When shopping for a domain name, strive for .com. Granted, it's easier to find the name you want if you opt for a .net extension, but most people still think .com when they're searching for a company web site. Here's where creativity and persistence will pay off. Host providers are highly competitive, so it's easy to find savings on sites like CouponMountain, RetailMeNot.com, and Ebates. Or sign up for e-mails from a few candidate providers to receive discounts directly.
Once you have your @companyname.com account, complete your professional e-mail image with a signature that includes your name, your company name, contact information, and web site URL (if you haven't parked it).
Fax without the fax.
Nowadays you can replace the fax altogether with a printer/scanner, e-mail account, and PDF software. If you have something in printed form that needs to be faxed (e.g. a vendor contract), scan it and send it via e-mail.
If you need to fax something you've created (e.g. a client contract or invoice), save it as a PDF and send it via e-mail. Don't have Adobe Acrobat? There are loads of PDF alternatives (many free) on the web. The freebie software I use is from PDF995. It installs as a printer driver so it virtually works with any application that prints. You'll be subjected to an ad when you use it, but it's a minor annoyance that's remedied with a mouse click. PDF995 even has a free version that allows you to combine several documents into one PDF. On that rare occasion when you physically need to fax something, use your local library or office supply store.
Stop Viruses, Hackers, and Spyware for $0.
Skimping on virus protection isn't just a bad idea, it's extremely bad business if you rely on your computer for day-to-day communication. One virus can put you, and your clients whom you share documents with, out of commission.
Internet protection software typically runs $80 per year but before you buy, ask your Internet service provider if their service includes a security suite free of charge. Mine does, and a quick check of four other big name providers yielded similar results.
Microsoft Office alternatives that look, feel, and work with Microsoft Office!
It's no secret that Microsoft Office dominates corporate America, but that's not to say Office is the only game in town. If you can't afford (or don't want to spend) $400 for Word, Excel, PowerPoint, and Outlook, there are two software's that look, feel, and generally work with Microsoft Office:
Google Docs: This completely free software from Google lets you create and share your work online with others. Its Microsoft look-and-feel means it's easy to pick up and use, and it offers similar, but not identical, capabilities. I couldn't find how to track changes, but in general it's a good Microsoft Office alternative for small businesses that don't need complete Office compatibility.
OpenOffice: This has been around since 2002 as a viable Microsoft Office alternative with a similar look-and-feel that runs on Windows, Linux, and Macintosh platforms. Completely free as well, OpenOffice will open Microsoft 2007 files, but you can only save them in Word 97 format. OpenOffice does however, support change tracking and comments.
Neither Google Docs nor OpenOffice offer an Outlook alternative, but that's not an issue if you use the web client offered by your hosting provider, an e-mail aggregator, or free e-mail software like QUALCOMM's Eudora. For more information about Microsoft Office alternatives, visit CNET's web site where you'll find a comprehensive, side-by-side comparison of Microsoft Office 2007 and eight alternatives.
Business Cards that Don't Say "I Did it Myself."
While print-it-yourself business cards are tempting, the perforations they leave behind are a tell tale sign of a DIY job. Again, the web offers many online deals but read the fine print to ensure the printing company doesn't put their logo on the back of your business cards.
Look for a company that will send you samples so you can preview quality and sign up for e-mail offers. A graphics designer I know recommends Overnight Prints, where she says you can get 100 single-sided business cards for $9.95. Within a few days of requesting samples, I received a discount code worth 25% off my first order.
Collaborate with clients for $0-16 per month.
Ten years ago, face-to-face meetings with clients required cars and planes. Today, web conferencing software options abound and most have plans that fit within the small business owner's budget.
If you go with a well-known provider, you'll pay on average $50 per month. Free software exists, but be forewarned: The ones I tried required advanced networking knowledge. There are happy mediums such as GoMeetNow, which start at $16 per month and are a snap to use.
In general, look for a webinar service that doesn't require your clients to pre-install software on their machine. At a bare minimum you'll want to share your desktop with conference participants. Whiteboards, annotations, video, and calendaring support are nice additions.
If you prefer to conduct business via conference calls, check out FreeConferenceCall.com. True to its name, this free service offers subscribers a dedicated dial-in number and access code. If you just need to capture a portion of your screen to share with others, a free screen capture utility like Wisdom Software's Screen Hunter will suffice.
Create a customer-focused web site with just five pages.
Even if you're not selling on the web or generating leads online, people will want to check you out before they call, and the way they do that is by browsing your web site. To create a professional site, the web site partner you hire should be one part developer, one part search engine expert, and one part marketer.
If you try to skimp by hiring your friend's kid, you'll end up with a site that feels like an amusement park, does nothing to drive visitors into action, and is hard for Google and other search engine spiders to read.
Essentially you'll want web visitors to "hear" three underlying messages: I'm credible, I'm different, and I'm a real person, which a skilled marketer can usually accomplish with a five-page web site. HBM
Software director turned marketing writer, Sue Anderson leverages her 23+ years as a marketing target to transform jargon into clear, credible marketing material that drives prospects and customers to act. Specialists in online marketing, Marketing Lure's website starter kit starts at $99 per month and includes custom-built website, professional copywriting, and ongoing service. To learn more, visit http://www.marketinglure.com or call 630-230-1787 for a complimentary consultation.
Previously published in the August 2009 issue of HOME BUSINESS® Magazine, an international publication for the growing and dynamic home-based market. Available on newsstands, in bookstores and chain stores, and via subscriptions ($15.00 for 1 year, six issues). Visit www.homebusinessmag.com
V16-4 Add: 09/09 HP: ?? CAR: 5/5/11