PDF File of Display Ad Material Specifications
| | | |
| --- | --- | --- |
| Popular Sizes | Width | Depth |
| Full Page | 7″ | 10″ |
| 1/2 Page – Vertical | 4-5/8″ | 7-1/4″ |
| 1/2 Page – Horizontal | 7-1/8″" | 4-3/4″ |
| 1/3 Page – Vertical | 2-1/4″ | 10" |
| 1/3 Page – Horizontal | 4-5/8″ | 4-3/4″ |
| 1/4 Page – Vertical | 3-1/2″ | 4-3/4″ |
| 1/4 Page – Horizontal | 4-5/8″ | 3-1/2″ |
| 1/6 Page – Vertical | 2-1/4″ | 4-3/4″ |
| 1/6 Page – Horizontal | 4-5/8″ | 2-1/4″ |
| 1/12 Page | 2-1/4″ | 2-1/4″ |
| 1 inch | 2-1/4″ | 1″ |
| Full Page – Bleed | 8-3/8″ | 11-1/8″ |
| Full Page – Trim | 8-1/8″ | 10-7/8″ |
Keep live matter 3/8″ from gutter and from trimmed sides.

2 Page Spread: Trim: 16-1/4″W x 10-7/8″D; Live Area: 14″W x 10″D
Display Ad Sizes: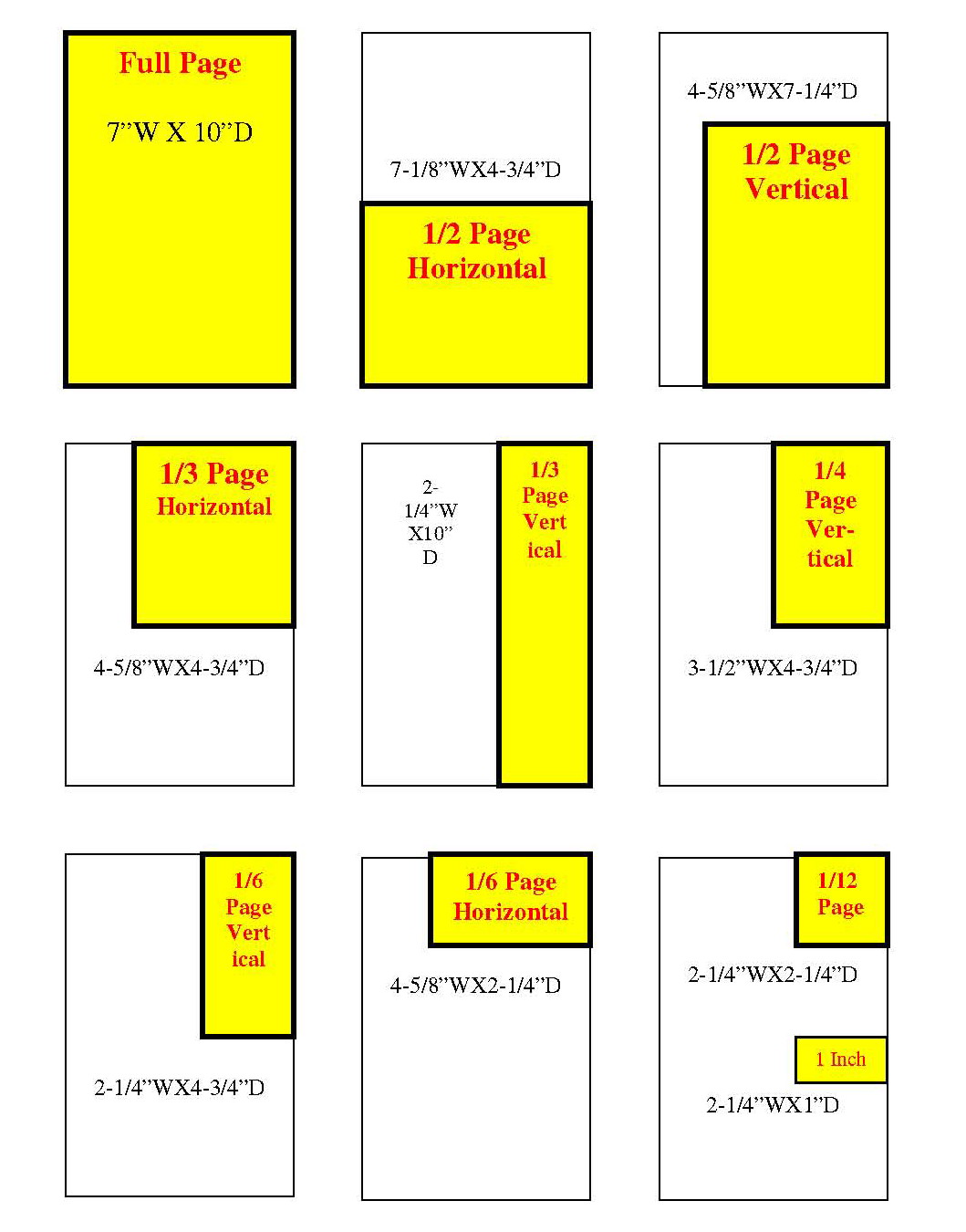 Advertising Materials: 
Preferred display ad materials are a PDF file or other image file (JPEG, TIFF). Scroll down for further details on print specifications and computer files.
Submitting Ad Material Files:
Files less than 5 Megabytes in size can be emailed to advertise@homebusinessmag.com
Larger files can be uploaded online by clicking the link below and following the procedures.
Upload Advertising Material Files Online (files larger than 5 MB):
To Upload Ad Files Online Login at: softproof.ultragraphicsla.com  (Click SIGN-IN)
User Name: HBM_ADS  Password: public
To upload Ad Material: Click "Browse" symbol > Click the Upload Arrow symbol (curved arrow) > Click Browse button > Select File on your desktop > Click UPLOAD button.  File is then uploaded to HBM
For Instructions on How to Upload Ad Files Click Here »
Display Ad Graphic Design Services:
HOME BUSINESS® Magazine maintains a full service graphic design department to help you layout and design your advertisement, from minor edits to an existing Ad all the way through advertising concept development and full-service graphic layout and design:
| | | | | |
| --- | --- | --- | --- | --- |
| AD Size | Design Fee* | | AD Size | Design Fee* |
| 1 Page | $400 – $575 | | 1/2 Page | $300 |
| 1/3 Page | $250 | | 1/4 Page | $200 |
| 1/6 Page | $185 | | 1/12 Page | $160 |
* Fee is based upon text content provided by advertiser. Fee covers full Ad layout and design. Includes 3 rounds of changes. Concept development services avail ($85/hour).
Printing Specifications:
Printing: Web offset
Binding: Perfect bound
Screens: B&W or two-color: 100-133 line screen
Four-color: 133 line screen
240 Total screen density on all flat tints and solids: %
We encourage advertisers to submit their Advertising Materials as computer files. This will ensure the highest quality of production. Home Business Magazine provides state-of-the-art technology to process advertising materials. The following are specifications for display ad materials
Computer Files:
PDF Files:
Hi-Res print-ready PDF files.
CMYK at highest resolution (300 dpi minimum).
All fonts must be embedded.
LW Res 2400
Additional Image files acceptable: TIFF, JPEG
QuarkXpress Software:
Versions (4.0, 5.0, 6.0 )
You must collect for output, ensuring that all images and fonts are included with the document
Adobe Photoshop:
Fonts or Type must be Rasterized.
HBM does not accept layered files.
All artwork must be flattened (no layers), CMYK, 300dpi
Adobe Illustrator Files:
Save Illustrator Images/Documents as Illustrator EPS files
Convert all fonts to outlines
Embed all images
Artwork must be CMYK
Additional Materials:
Laser Prints or Laser-Separated Prints are acceptable for Ad Material, but print quality will be limited.
Camera-Ready Artwork is acceptable for B/W or 2-Color Ads w/o Photos.
Materials Not Allowed:
For software programs not allowed, please generate a PDF file from the program and that file should be acceptable as ad material.
Files prepared with Microsoft Word or other word processing software programs.
Microsoft Publisher files.
Outdated graphics program files.
FILM no longer accepted.
Bind-In Insert Card:
HOME BUSINESS® Magazine can accomodate a full range of bind-in insert cards (BRC). HBM can either design and produce the BRC; or the advertiser can produce and submit the printed BRC card to HBM. General BRC print Spec's:
3/8″ high folio binding lap and an 1/8″ head trim.
Folded-Minimum (front to back): Low 3-1/2″ High 5-1/2″ head to foot 3-1/2″
Folded-Maximum (front to back): Low 8-1/4″ High 8-5/8″ head to foot 11-3/8″
For BRC's produced by HBM, the typical paper stock is 7 point Hi-Bulk. Other industry-standard BRC paperstocks can be used.
Digital Edition: Bind in Inserts can also be included in the digital editions.
Polybags: HBM does no offer poly-bagging.
For help ordering a display ad: