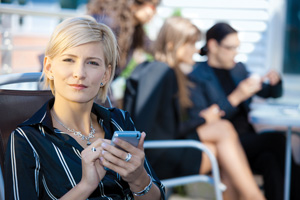 The growing needs and wants of today's dynamic market are never ending. Each and every day, small business owners and their teams are confronted by a relentless list of demands, including everything from making important financial decisions to developing new marketing collateral to catering to customers. On top of all of this, there are the daily distractions, personal lives and unanticipated events that never fail to capture the limited attention of business staff, constantly challenging top priorities.
Sound familiar? Well, don't worry because you are not alone. Although facing these pressures is no easy feat, there is an endless list of solutions that can drive you and your team to increase productivity and effectively maximize time and resources. Believe it or not, each of these solutions can be found within the capabilities of your mobile device.
---
---
While it is undeniable that the smartphone has drastically impacted the unpredictable behaviors and habits of consumers, it has also revolutionized the way that professionals conduct business.
Convenient, integrated and optimized for mobile devices, here are six apps that will help you and your team increase their productivity:
1. Evernote. Right-brain creative thinking skills are imperative to ensure that any given organization stands out among a sea of competitors. As creativity and innovation have an increasingly important role in fostering business growth and development, it is imperative to have a common space where you and your colleagues can share notes and ideas. Evernote does just that.
You never know when or where you will be when a brilliant idea crosses your mind. Moreover, it is often the summation of an array of small ideas that transforms into one, big, great idea. Optimized for iOS, Windows and Android devices, Evernote provides you and your team with the platform they need to take notes, share ideas and track relevant and important research and information. As if this is not enough, this particular app allows you to effortlessly transition from your mobile device to your desktop.
2. Mention. Increasing mobile traffic growth coupled with the popularity and vast communication capabilities of social media indicate the importance of the creation, development, execution and maintenance of a strong a social media strategy. However, consistently managing multiple social accounts can be a challenge.
Mention is a mobile app designed to specifically help you manage your organization's online and social media presence by allowing you to monitor your social accounts in real time. From replying to or retweeting a tweet, to responding to and liking a Facebook post, Mention provides you with capabilities you need to easily, and efficiently, react your social connections and followers. Beyond this, Mention ensures that you are aware of sources using your keywords, allows you to organize and create tasks for members of your team and offers the customized reports to measure your social impact and analyze the success of your actions across multiple social platforms.
3. LinkedIn Pulse. With more than 240 million users and upwards of three million company pages, it is no wonder that the social site LinkedIn has been proven to help businesses attract and attain new customers. LinkedIn Pulse provides businesses with an intuitive way to organize and customize content on their LinkedIn page. With tools that allow you to easily scan and personalize your feed for trending content from trusted influencers, to features that will help you effortlessly connect with others and interact with relevant industry content, LinkedIn Pulse will help your small business manage and maximize its LinkedIn presence.
For more information about LinkedIn, download a copy of WebLink's free e-book, 4 Simple Steps to Growing Your Business with LinkedIn.
4. HipChat. As a business professional it is undeniable that your email inbox is a flood zone. Far too often important email strings get buried in the bottom of your inbox, thus inhibiting your ability to reply to your team in a timely fashion. Luckily for you, HipChat can help you organize and prioritize important tasks. Optimized for iOS, Android and desktop platforms HipChat is a group chat and IM tool that teams can utilize in order to share ideas and important files. The app is free for teams of up to five members, and only $2.00 per additional user per month. Additioanlly, HipChat is private, secure, allows you to view your complete chat history, screen share, video chat, invite third-party guests to see designated content, and seamlessly integrates with multitude of other tools, including Twitter, zendesk, MailChimp, JIRA, Bitbucket, and more.
5. Quip. Team collaboration is crucial to the success of any business. Quip is a multi-platform application that allows you and your team to edit a document collaboratively in real time. This app is optimized for both iOS and Android devices and is equipped with a variety of features including:
– integrated messaging,
– diffs allow you to track and visualize every time a user makes an edit
– shared folders
– @mentions allow you to specifically identify a user within a document in      order to respond and assign tasks
– read receipts allow you to verify who has seen your edits and messages
– nteractive checklists
– chat tabs
– offline access
Put simply, Quip will help to unclutter your email inbox, as well as more effectively collaborate with your team to edit documents in a timely manner.
6. Any.do. At the end of the day, we all just want to be able to say that we got something done. Any.do will help you to ensure that you do just that. This award-winning app is optimized for both iOS and Android mobile users, and allows you to effortlessly plan your day in a fun and engaging way. With the ability to set reminders and sync with your Chrome browser to integrate tasks from your mobile device to your desktop, Any.do will help you keep your to-do list in check. Additionally, this particular application seamlessly integrates with Cal, an interactive calendar app created by the same company.
Download, experiment, test and play with each of these apps to see from which ones you will derive the most value. If you are not seeing real results, remember that these are just six of the mobile productivity apps available and a little bit of research will reveal an array of other options that you can try. Be selective and choose the ones from which both you and your team can benefit.
So, what are you waiting for? The solution to your productivity problems could be lying in that device in the palm of your hands.
Author: DJ Muller, Founder of WebLink International