* Discounts for increased Durations
Your Banner Ad will receive at least 25,000 impressions (and likely more!) per month.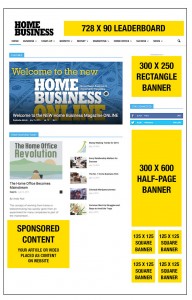 Home Business Online Banner Ads bring targeted home-based entrepreneurs and opportunity seekers to your website. Join Home Business Online's exclusive group of
quality online advertisers. Order by duration of time (1 mo, 2 mo's, 3 mo's, 6 mo's). Contact Sales if interested in ordering blocks of impressions. Choose from among multiple banner ad sizes. Fully RESPONSIVE – Banner Ads RE-SIZE to screen size of a mobile device.  Home Business Online can design a banner ad for you.
Banner Ad Material and Specifications: Includes all industry standard formats including Rich-Media-Enabled, jpg, gif, animated.gif, HTML, Flash.swf (embed URL link into code). Video can be inserted into large banners. Banner Ad technologies change rapidly, and HBM Online will work with you to accomodate new types of banner ads. Change your material any time.
Video in a Banner Ad: Another advertising option is to place your Video as a 300X250 Banner Ad (Rectangle), or embed the video into a 300X600 Banner Ad (Half Page). Your Video then rotates throughout the Home Business Website as a Banner Ad.
Don't have a Banner Ad? Let Home Business Magazine Design a banner for you. In the Online Order form for a Banner Ad, select the option fo have HBM design the banner for a very low additional cost. Banners ususually designed within one business day of ordering. Pricing:
Ad Size                                   Regular                    Animated
300 x 600                                $140                         $180
125 x 125                                $100                         $125
728 x 90                                  $100                         $125
300 x 250                                $130                         $155