Calming Down With Age, His Love of the Arts, and His Transformation as an Actor
By Sian Edwards, The Interview Feed
Lending his voice to the animated feature Rise of the Guardians, Alec Baldwin, 54, stars as Santa Claus, alongside Hugh Jackman and Jude Law. Baldwin has had a long and interesting career, and an equally full personal life.
Recently married to yoga instructor Hilaria Thomas, whom he began dating in the summer of 2011, they moved from the Upper West Side to Greenwich Village, in New York City. The couple married on June 30, 2012, in Manhattan. He was previously married to Kim Basinger, whom he met when they starred in The Marrying Man in 1990, wed in 1993 and divorced in 2002.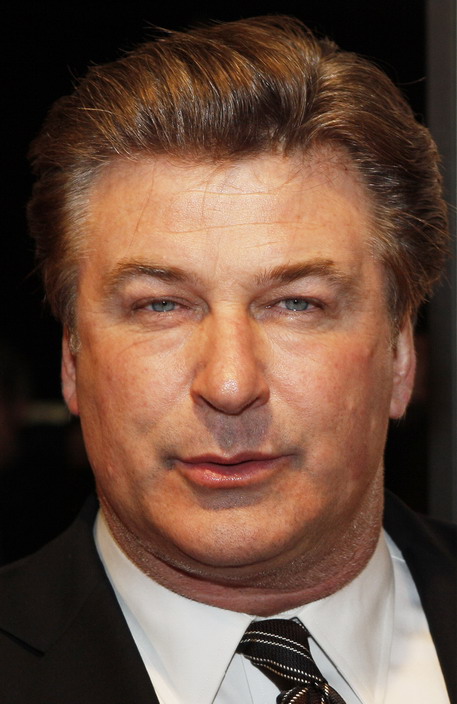 "The older I've gotten, the more my appreciation shifts towards things that are very difficult."
They have a daughter, Ireland, born in 1995. He can currently be seen in the TV series, 30 Rock with Tina Fey.
Alec Baldwin is one of America's most versatile actors: drama, comedy, stage, screen – you name it. Here the Oscar-nominated actor talks about calming down with age, his love of all kinds of arts, and transformation as an actor.
Question (Q): So, it wasn't much of a stretch for you to play a strong, powerful person. Would you describe yourself as a strong, powerful person?
Alec Baldwin (AB): No. (laughs) But you have an ability to think that and when you do films and so forth, and in acting, you have to be able to think that because it's a part you play. What I realized early on was that if you don't commit to that, and one of the truest things to commit to is your own nature, and to play really Type A, hard charging, tough, brutish people, is not at all my nature. But I had to find a way to do that. And I worked with certain directors on pieces early on who were wonderfully gifted directors, who in specific cases, twenty, twenty-five years ago, when I was a bit older and I was getting into my thirties, because when you are in your twenties, it's about something else, I think. I would work with people in the theatre and in film, who kind of freed me to commit to that, even though it's not always the most attractive, but you have a task, and if you don't perform that task in the piece, you fail. Let's say if I add a negative element to the piece, you are not a villain necessarily but you bring a stronger, more negative aspect to the film, and if you don't do that, the film goes off balance where you can't worry about likability, you have to come in and play the part the best way that you can. And then it makes it more satisfying for that person I suppose. That's the cliché, when that person is vanquished at the end of the film, and I find that funny. I always remember the wonderful example someone gave me of the American film actor Vincent Price, who played all these fiendish characters and these diabolical characters, and yet I read a book once where they said that in his private life, he was one of the most famous hosts in all of Los Angeles. He was a gourmand and he loved food and wine and he was a great reader of books and very literary, and he would have these elegant dinners at his house. He was the most charming and elegant man that people had ever met and so his persona and the way that he was privately, completely diametric.
Q: So you do really hang out in downtown New York bars? Is that what you're saying?
AB: No. (laughs) I used to, but not anymore.
Q: But there's a public perception of your nature because of the roles that you play. What is your nature?
AB: I think it's changed over the years. Obviously, I mean, I'm older now and I guess for me now it's more about just exploring different aspects of the culture. I think the older I've gotten the more, like most people, my appreciation shifts towards things that are very difficult, where you see people who have put in tremendous hours and hours of commitment. I was at a fund raiser for the National Dance Institute in New York because Jacques d'Amboise is a friend of mine and his family, Charlotte d'Amboise, her husband Terry Mann, and a famous Broadway performer, singer and d'Amboise is a friend of mine. He asked me to come to these events and when I was available I would come and I went last year and this year with my wife. She was a competitive Latin ballroom dancer for many years so she was very supportive of their work. And you sit next to d'Amboise, and you think, 'My God. To have
lived that life, to have danced with Farrow and to have been choreographed by Balanchine and to have worked at the absolute zenith of that world….' I just find that so fascinating. I find anything amazing where people are talented and hardworking and when all of it comes together, the opportunity and their gifts, their luck and their good fortune, it could be architecture or interior decorating, painting. I am so much of a mind now to be in the audience, to watch and to experience, and to feel, rather than having to get up and perform, I want my life to be less about performing.
Q: Is your wife also a yoga instructor?
AB: Yeah, she teaches yoga now. I do yoga when I am not shooting. We just finished the TV show and I am going to do yoga now, because I need yoga, and not just to get her off my back, (laughs) no, she's very devoted to that.
Q: When are you the happiest?
AB: When I am sitting home, and I am happy and I have my TV show and I don't need to work and I'm married now and I like to be in line by my pool with my yoga instructor wife (laughs) and eating fruit and taking in the sun, then life is good. Life right now is really good.
Q: What do you want to do now that 30 Rock is over?
AB: I mean, work less. (laughs)
Q: Really, is that serious?
AB: Oh yeah.
Q: How do you feel about 30 Rock ending? Is it sadness or gratitude?
AB: I think everybody is very sad in the sense that you go three years and you go four years and it's like the runners who talk about the five mile high, you go and go and I remember we did the fifth year, which was this last season, not the one that we finished now, but the year before, and everybody thought it was our weakest season. Everybody was very unhappy relatively speaking because we had had so much success. Season Five came and everybody thought, 'Let's go home. It sucks, this is it.' And we knew we had to do one more year, and then we came and did it this past year and it did well again, and everybody was like, 'Oh God, this is fun again.' They found a way.
Q: How was that?
AB: How did they do it? I can't speak for the writers; they had some new writers and they just recommitted themselves in some way to telling stories as opposed to just telling jokes, and we all kind of fell in love with it again, and we can do it again. I would have done it next year and the year after. But NBC was in desperate trouble, so they told us we have to go. They have to tear the house down and start all over again.
Q: Did you train your voice for this role as Santa?
AB: I'm doing the dialect and everything. I just think it's a question of you have to distinguish what you are doing, so I wanted my character to sound more sluggish than the other ones, because they can't all be, (perky sounding voice) 'Hi. I'm Santa Claus, good morning, how are you?' (laughs) It can't be all warm and fuzzy, sometimes the guy that's going to get the job has to be a little more straightforward. It's like running a studio, the head guy has to be kind of thuggish, and you hire a lot of sweet people to work for you. (laughs) HP: 1/13/13